Company News • 29.04.2016
Full Power, less energy
Make savings with Bizerba slicers
A newly developed DIN standard for capturing standardized measurements reveals that Bizerba slicers consume significantly less energy than comparable machines.
For the first time, the DIN standard approved in early 2016 enables measuring the energy consumption of catering equipment including slicers, bone saws and mincers. This exactly shows the amount of electricity costs that retail and crafts businesses can save by using slicers featuring smart motor control.
Due to the constant rise of electricity rates during the long-term analysis in recent years, experts believe that this increase will continue in the future. In particular, catering, gastronomy and crafts businesses often overlook the enormous energy bill resulting from the power consumption of seemingly small devices.
Published in February 2016, the DIN 18873-16 standard enables companies to get insight into the energy consumption of their equipment and to compare different devices in the process. Based on this standard, Bizerba demonstrates that manual and automatic vertical and gravity feed slicers featuring smart motor control consume up to 60% less energy than devices lacking this technology.
Supplier

Wilhelm-Kraut-Straße 65
72336 Balingen
Germany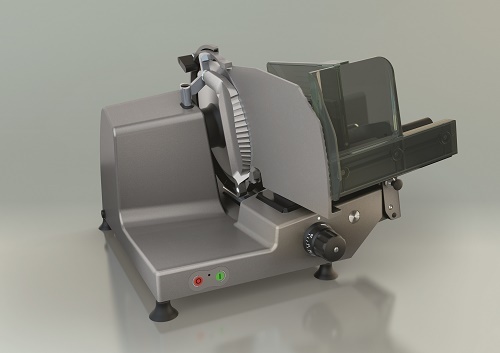 Source: Bizerba GmbH & Co. KG
In order to determine the exact power consumption, the machines operate in two test series under idling and loaded conditions. In the loaded scenario, the machine is loaded with 6kg of merchandise and subjected to an electronic load. This method results in a standardized measurement procedure without the variations occurring when food is sliced under real-world conditions. The average energy consumption is then calculated based on the ratio of the measurement results.
Savings Achieved by Smart Drive
Bizerba developed the 'Emotion' technology in order to save energy in the machine's operational and idle state. This function is based on the assumption that different pieces of sausage or meat exert different levels of resistance when being sliced. The machine responds to the individual counterforce by supplying less energy to the blade motor without changing the motor's speed. The motor will only operate at full torque and maximum power when slicing tough products.
As the machine just consumes the electricity really needed for slicing, it runs cooler. This also has an impact on the machine's hygienic properties. With less heat radiated into the environment, any food in the depositing area heats up less and thus stays fresh for a longer time.
Special Subsidies
When purchasing slicers that are proven to consume less electricity, the KfW bank will grant loans covering the full purchasing price with an actual interest rate of 1% (at the moment). Available to companies and freelancers, this promotion applies to machines consuming at least 10% less energy than their predecessors or the industry average. Eligible Bizerba models include the VSC280, GSC280, VS12 Ee, VS12 A Ee, VS12 D Ee, and GSP HD.