Product • 30.11.2007
Fast, save and cost efficient: The CASIO DT-930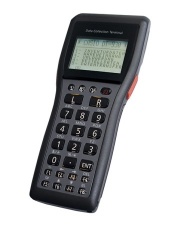 CASIO's high speed data collection terminal, the DT-930, offers everything that is needed by the retail and logistics industries. Featuring improved barcode scanning, the DT-930 is dust and water-splash proof and is built to withstand strong impacts. With an incredible 200 hours battery life up to 10.000 barcodes can be read and transferred via infrared. It also comes with Bluetooth® for connectivity with portable printers.
The new DT-930 inherits the great reputation of the DT-900 as one of the best electronic control and monitor devices for receiving, pick-up and shipping of goods in the transportation and logistics industry, as well as for inventory control and restock ordering in the retail industry.
Rolling out the new, improved DT-930 is simple, thanks to its great hardware and software compatibility with the existing DT-900. Users, many of whom complimented the DT-900 for its slim grip, will be even more pleased by the redesigned body that makes the DT-930 even easier to hold and operate. The new laser scanner delivers a 20% higher resolution and an enhanced scanning performance. The DT-930 is also tougher than its forerunner. It is durable under impact from drops up to 1.8 meters in height, meets IP54 level dust and water-splash protection and also operates in temperatures down to –20 C. It comes with Bluetooth® to allow a wireless connectivity with portable printers or computers. The DT-930 provides exceptional all-around efficiency and productivity for a variety of scanning-based vertical applications. The DT-930 complies with the European Union's RoHS directive.
Key Features of the DT-930
High-performance laser scanner with a resolution of 0.127mm and maximum scanning distance of 450mm
Easy to confirm successful scans with vibration, buzzer and big, 3-color LED
Excellent drop impact resistance (up to 1.8 meters), IP54 level dust and water-splash protection, and a broad operating temperature range of –20 C to 50 C.
2-way power supply, either AA-size alkaline batteries or rechargeable battery, for a long period of continuous operation (approx. 200 hours when powered by two AA-size alkaline batteries / approx. 50 hours when powered by rechargeable lithium-ion battery)
Large plastic backlit keys for dimly lit places such as warehouses
Bluetooth® Specification Ver.1.2 (for wireless communication with portable Bluetooth® printers)
Large memory capacity for the installation of application software or data backup (F-ROM 16MB)
Application software and optional cradles compatible with DT-900
Supplier

CASIO-Platz 1
22848 Norderstedt
Germany