Company News • 06.04.2016
Device Management presents barrier to IoT at scale
Industry survey highlights key to delivering ambitious growth expectations for connected devices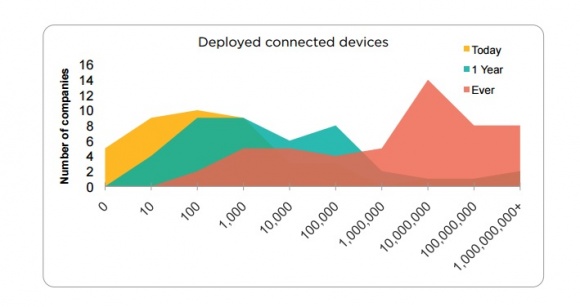 Source: DevicePilot
Management of thousands or millions of internet connected devices is posing a major obstacle to the success of the Internet of Things, claims IoT pioneer DevicePilot (previously 1248).
These concerns are reflected in a survey of 50 companies planning to deploy IoT applications at scale across different industry sectors including environmental and industrial monitoring, elderly care/wellness, smart homes and cities, energy management, refrigeration, retail and public services. The survey ranked 'risk to growth' as the most worrying consequence of failing to manage devices, followed by 'risk to revenue' and 'risk to brand'.
This may be one of the reasons why some of the ambitious predictions for IoT devices have not yet been borne out. While 12% of respondents had deployed a million or more devices in the field, 82% had deployed only 1,000 devices or less. However, respondents to the Device Management Survey expect these numbers to grow, with 70% of companies predicting an eventual market size of at least millions of devices and 20% predicting that they will reach the billions level.
"It is clear that most IoT companies are currently managing their connected products manually or by a mixture of manual and automatic processes," said Pilgrim Beart, CEO at DevicePilot. "But as projects move from pilot to deployment at scale, the time and operational cost of manually logging-in to each device to perform an upgrade or check if it is working becomes a major barrier. Automatic asset management, monitoring and lifetime support are essential for the long term success of the IoT."
Colin Chapman, CTO of smart commercial refrigeration specialists Elstat says, "It's important to maintain our leadership in the smart refrigeration market – simply put this means connectivity which gives us the opportunity to collect sales data and insights remotely. At scale, the management of those connected devices has to be automatic, in order to be cost effective."
DevicePilot, an ARM mbed Partner, unveiled its new as-a-Service solution for managing the growing IoT ecosystem at the end of last year at ARM TechCon. DevicePilot continuously monitors and manages connected devices and presents a simple dashboard showing how many have been deployed, where and by whom, how many are not working and why.
"Managing IoT devices is a complex hurdle within the IoT value chain," said Zach Shelby, vice president of marketing, IoT business, ARM. "The ARM mbed IoT Device Platform makes it easier for developers to build and deploy IoT devices at scale and coupling this with DevicePilot will help to alleviate this problem in IoT deployments."
"Connected devices are deployed into the physical world where lots of things can go wrong. For the IoT to work like the Web, it needs an open ecosystem of interoperating, off-the-shelf products and services," said Beart. "DevicePilot fills a major gap in the set of services required for successful IoT deployment."
For the full survey report, please visit www.devicepilot.com.