Report • 17.10.2013
Define the future of retail in Latin America
World Retail Congress in Sao Paulo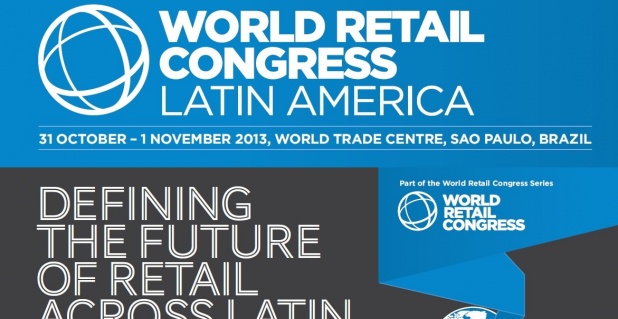 Latin America, in particular Brazil, is going through a period of financial stability, growth of middle classes and spending power. Many countries are under retailed and there are excellent retail opportunities, both for local and international players.
Building on the continuing success of the World Retail Congress Annual Meeting and its satellite event in Asia, there have been requests from the World Retail Congress community to focus on andaddress the challenges and interests high on the boardroom agenda of retailers operating in Central and South American markets.
Therefore, World Retail Congress Latin America will debut on the 31 October - 1 November 2013 in São Paulo. It is totally new and unique: a dedicated C-Level strategic retail conference specifically designed to address the Latin American market. This will offer businesses operating in this region or looking to expand into it the perfect meeting place.
The World Retail Congress Latin America has been developed in association with the industry's leading figureheads. Retailers, visionaries and suppliers from across the region have shared their experiences, knowledge and thoughts ensuring the Congress is timely, relevant and truly reflects the CEOs agenda.
Based on this industry insight, the industry driven agenda will focus on core markets, Argentina, Brazil, Chile, Peru, Colombia and Mexico. This will equip retailers with the information needed to keep up with the pace of change and seize the available opportunities.
Alongside this, the congress offers hours of dedicated networking where face-to-face meetings can be arranged and lasting business partnerships established with Latin America's retail elite.
The congresswill bring together a global audience of retail CEOs, Chairmen, Presidents and Managing Directors from all verticals of retail to hear from 60+ inspirational speakers including:
Jorge Herzog, Vice-Presidente de Operações, ViaVarejo
Jose Gomez, Senior Vice Presidente (Expansion Dept), Mango
Flavio Dias Fonseca da Silva, Vice-Presidente de E-commerce, Wal-Mart
Alex Cara, Head of Global Partnerships, Esprit
Alberto Moriana, Sales Vice President Latin America, Procter & Gamble
Tiffanie Papp, CMK Director- Latin America MDO, Procter & Gamble
Carlos Hernan Betancourt S, Director, Colombian Association of Shopping Centres (Acecolombia)
Simon Gaffey. International BD Manager, Karen Millen UK
Jim Walter, Country Director USA, Karen Millen USA
Carlos Carvalho, Director of Marketing & Operations,Luvebras
Norman Jaskolka, President, Aldo Group International
Francis McAuley, International Director, Debenhams
Laurent Maurice Cadillat, CEO, Libertad (Groupe Casino)
Alessandra Restaino, CEO, Le Postiche
André Alves, ecommerce Director, Saraiva
Flávio Dias, ecommerce Vice-president, Wal-Mart Brazil
MaiconMoraes, Commercial Director, Arezzo Group
ThibaudLecuyer, Co-Founder & Managing Director, Dafiti
Edson Kowabata, Strategy and Development Director, GrupoPão de Açúcar
Marcelo Salas Martínez, CEO, Café Martínez, Argentina
JiovaniniCiccone, CEO, Pernambucanas
Gordon Campbell, CEO, Spar International
This essential date in the retail calendar will give businesses the competitive advantage in this exciting and profitable region.
For more information please contact the World Retail Latin America team via eMail (info@worldretailcongress.com) or visit the website www.worldretailcongresslatam.com.
Source: i2i Events Limited