Report • 11.11.2015
A statement for sustainability
New IKEA building in Kaarst is environmentally friendly pilot project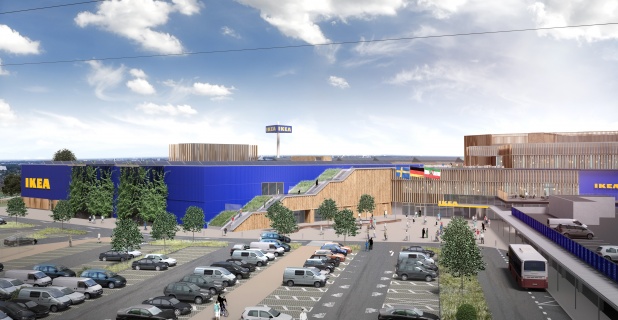 Furniture retailer IKEA launches a worldwide unique pilot project in Germany: Under the motto "More Sustainable Store" the new IKEA furniture store in Kaarst in North Rhine-Westphalia Kaarst will unite all aspects of the company's sustainability strategy.
During a press conference on November 10th, IKEA has presented the specific plans for the new location. Expansion Officer Johannes Ferber, Sustainability Manager Ulf Wenzig and store chief Detlef Boje explained the new environmental flagship house in detail. IKEA will invest a total of 100 million Euro at the new location - the start of construction is scheduled for early next year, the opening is planned for the summer of 2017.
Components can be "exported" to other houses
The new house should reflect the efforts of IKEA on sustainability - in all areas. The architectural concept as well as the technology used is set to eco-friendly models. In addition, the supply of the new location will be ensured by local and regional service providers and cooperation partners.
At the same time, the store serves as a testing ground. IKEA wants to Test the sustainable approaches here and transmit the individual elements which have proven to be effective to other new IKEA furniture stores. The new store concept is part of the company-wide sustainability strategy, with which the company has set itself the goal of becoming energy independent until 2020.
"We want to produce as much renewable energy as we consume in all furniture stores and buildings. We already supply our houses for more than 70 percent with renewable energy", says Sustainability Manager Ulf Wenzig. The" More Sustainable Store" aims to provide an inspiring shopping experience while at the same time "educating" the customers about how to lead a more sustainable.
Unique in the city
For the supply of stores IKEA focuses on an own cogeneration plant, a photovoltaic system and solarthermics to keep energy consumption as low as possible. In addition, rainwater is also collected and used as supply for the toilets. Just through the use of the cogeneration plant and the photovoltaic system alone CO2 saving of 700 tons per year should be possible.
"We are pleased that we can implement our new sustainability concept in Kaarst", says Expansion Officer Ferber. "For many years we have been working on the realization of a new building for our smallest furniture store in Germany and are proud to offer the city and our visitors something so unique with the 'More Sustainable Store'."
Author: Daniel Stöter, iXtenso.com