Report • 27.07.2016
The little something extra for shopping carts
The shopping cart of tomorrow is a flexible system
You are wrong if you think shopping carts are just a means to an end. For retailers, it is more than just a mere service; it is also a calling card and advertisement while it promotes sales and customer loyalty all in one. To customers, shopping carts have one main purpose: they are convenient. But that's also why numerous applications and service functions can be added to shopping carts. We took a closer look at the currently available options.
Small gadgets that make shopping easier
Small items generally fall through the cart's metal wire mesh. To prevent this from happening, many manufacturers offer small plastic or lattice trays that are attached to the cart. Containers to hold cut flowers or garment racks are very practical as well. Small dividers also protect sensitive items from the other products in the cart. That's why squashed flowers or wrinkled pants are a thing of the past.
Another important aspect for customers: stowing beverage crates and PET packaging. The latter often get caught on the edges of the cart's bottom portion to where the packaging gets torn. That's why shopping carts with fold-out trays come standard in the Netherlands. But since the holder is mounted very low inside the shopping cart and there is a risk of staff overlooking a crate, manufacturers like DCR Europe offer an electronic crate detection system. This device is installed in the shin-guard on the crate holder. Detection sensors at the checkout alert staff that the crate holder is in use.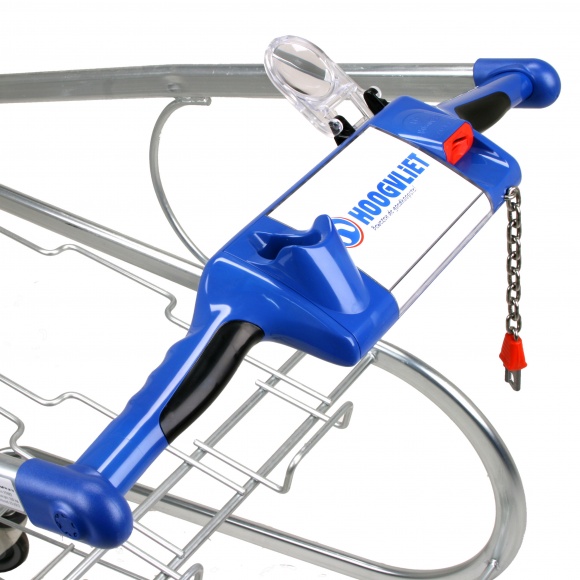 Source: DCR Europe
Handles – ergonomic and comfortable
The handles of today's shopping carts also need to be more versatile. Comfortable horn-like handles, for instance, are increasingly popular. The ergonomic design helps in transferring the steering thrust and force from pushing. Many of these comfortable handles also feature an antistatic device that comes standard and protects customers from annoying electric shock. Depending on needs, there are many additional options such as magnifiers, cup holders or grocery list holders available today. Hygiene also plays an essential role; after all, the shopping carts are handled by many customers throughout the day. Thanks to specific plastic components, there are now models available with antibacterial and antimicrobial properties to avoid the transfer of germs and bacteria.
Trend moves towards self-scanning solutions
Self-scanning solutions that are installed in the shopping cart are still not widely available in Germany. Ferry Verhoeven, Director of Logistics and Technology at DCR Europe draws comparisons: "Dutch customers use self-scanning systems far more than Germans do. The Dutch prefer a comfortable handle and an integrated scanner holder." That's why the company collaborates with the German manufacturer systec POS-Technology which offers the scanners with an integrated holder. The barcodes on the products can alternately be read with either the fixed-mount scanner or the removable handheld scanner. Payment is subsequently made electronically at the checkout. Long waiting times are therefore a thing of the past. "Each year, more and more retailers in the Netherlands take a chance and make the switch to self-scanning equipment, " adds Verhoeven.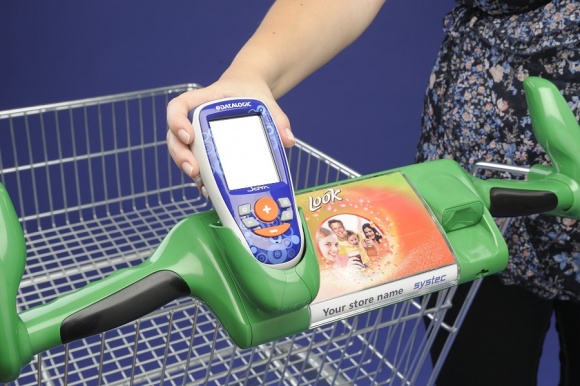 Source: systec POS-Technology
A docking station for smartphones- called liveTec mobile- is another advanced version made by the systec POS-Technology company. This holder system makes it possible to use your own cell phone at the store. The device is safely mounted on the cart during a shopping trip. This lets shoppers use applications such as self-scanning, mobile payment or simple mobile grocery shopping lists.
The customer can pick up the holder at a dedicated station in the store. The holder is compatible with virtually all currently available smartphones. The smartphone in the docking station is also protected against theft by a RFID token featured in the enhanced comfort version plus your smartphone battery is being charged while you shop. "As self-scanning solutions are becoming increasingly popular, apps that support the use of your own device are used more frequently. This gives supermarkets a valuable tool to communicate directly and individually with the customer by analyzing the customer's purchase history."
Shopping carts with digital signage
From the retailer's perspective, the advertising space on a cart is very attractive. Whether it's on the handle or at the front of the basket – advertising needs to be visible as much as possible. For now, it is still mostly installed in print format. But there are already efforts to equip carts with digital signage solutions. However, Verhoeven is skeptical about this trend. "Bigger advertising spaces ensure better communication with customers. Even though inventors continue to develop digital solutions for the handles, a product launch is usually difficult. One negative aspect is the managing of content and devices."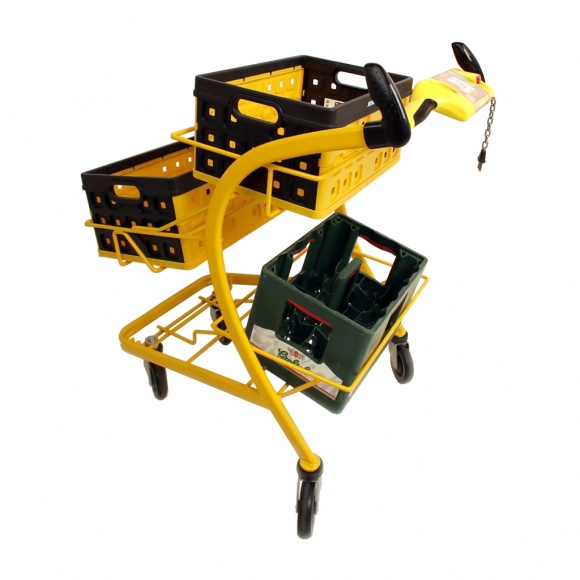 Source: DCR Europe
Collapsible shopping baskets versus wire baskets
Today's customers have less and less time to shop. That's why they need models and solutions that save time. Many consumers want to use their own collapsible shopping baskets or bags along with the self-scanning option. Verhoeven predicts that the shopping cart of tomorrow will no longer feature the wire basket we all know so well. Instead, models that allow customers to use their own collapsible shopping baskets will conquer the market. Combined with self-scanning solutions, this will not just shorten waiting times at the checkout since the baskets can be loaded directly into the trunk of a car. "Another benefit for retailers is reduced maintenance fees since there is no longer a basket on the shopping cart."
Despite the new available technologies, Verhoeven thinks there won't be any alternatives to the popular coin deposit systems in the near future. "As long as there are shopping carts stored in cart corrals outside a store, low-tech solutions based on coin lock systems will always be around." Even though electronic systems are already in use, their purpose is to locate stolen or lost shopping carts.
What applications and service functions for shopping carts will ultimately become accepted, remains to be seen. Despite all of the benefits, German customers are often stuck in their old habits and need to first be convinced about innovations – regardless of whether that's from the customer's or the retailer's point of view. The latter will subsequently need to decide whether an acquisition will actually pay off because it takes some investment after all.