Trends in cooling design • 25.10.2016
Refrigerated cabinets in retail: What the market has to offer
Sustainable, practical and elegant - refrigeration units do not have to be monstrous power eaters anymore.
They can be integrated into the store design and facilitate customers' selection of products with the help of a clear and easy-open construction. We present some of the cutting-edge models for you.
These days, retailers need to pay special attention to sustainability and energy efficiency when it comes to their refrigeration equipment. Requirements of coolants are constantly under review and are being regularly optimized. Yet this general rule also applies in this case: investing in modern equipment saves energy and money in the long run. After all, refrigeration units are often among the biggest energy users in food retailing; at least 40 to 60 percent of power consumption is attributed to these items.
As Professor Albert Göttle, President of the Bavarian State Ministry of the Environment (Bayerisches Landesamt für Umwelt), states in a retail guidebook, "Viewed over the estimated useful life of a system- usually about 15 years-, energy costs for cooling systems and refrigeration equipment are higher than investment costs. With careful planning before an impending investment, energy consumption, and corresponding energy costs can be significantly reduced. Especially in light of continuously rising energy costs, you should increasingly save energy not only for environmental but also financial reasons. Not only are you contributing to climate protection, but also increasing your profits".
This is why you should not only pay attention to modern design and space-savings as well as adequate size when you purchase a new refrigeration unit but you should especially consider the energy consumption. When it comes to handling refrigeration systems, retailers can also modify their own energy use by not overloading the refrigeration systems or by closing doors more quickly for example – and by using smarter closing systems for instance. Customers also like to be made aware of a more conscious way of handling by posting signs on the refrigeration units. At this point, sustainable actions are a great way to create a positive image.

The following overview of several current models that can be utilized in various locations at the POS clearly reveals the customization today's refrigeration devices can afford. Depending on the installation, there are several available models that fully utilize the space – whether it's on the sales floor, the checkout zone or at gas stations. These models emphasize an optimal product presentation with focused lighting or flexible inserts and racks.
Not only does the quality and color rendering of light sources become more attractive thanks to the use of modern, energy-saving LED lighting, but it also applies to energy consumption.
"SkyView"/"GranVista" by Epta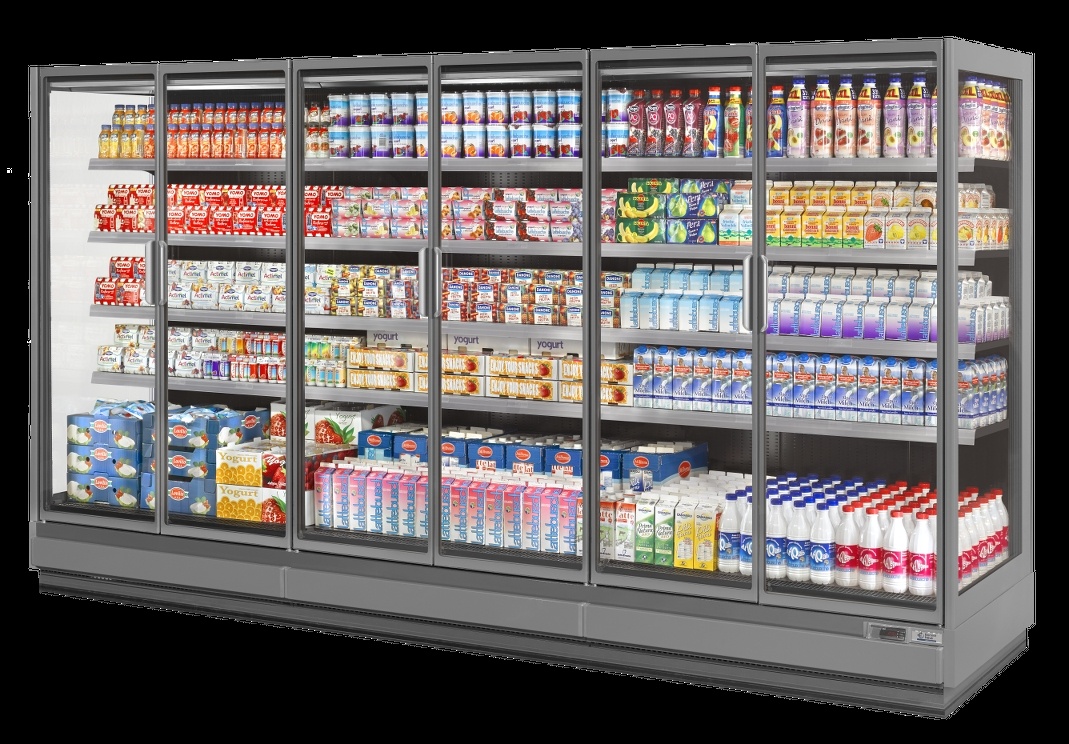 Source: Epta
Field of application:
This cabinet can be used for dairy products, meat and sausage products, fish, convenience products and beverages.
Special characteristics:
Full-glass insulated doors filled with protective gas to ensure the best insulating properties
no bracing and support elements, providing a clear view of products
It can also be connected to the decentralized EptaBlue Waterloop refrigerated unit. Glass doors featuring non-reflective coating and see-through door frames, optionally available.
Size and capacity:
height: 2070 mm/2270 mm
lengths: 1250 mm, 1875 mm, 2500 mm, 3750 mm
various depths
Energy performance:
Energy-efficient LED lighting
environmentally friendly refrigerant CO2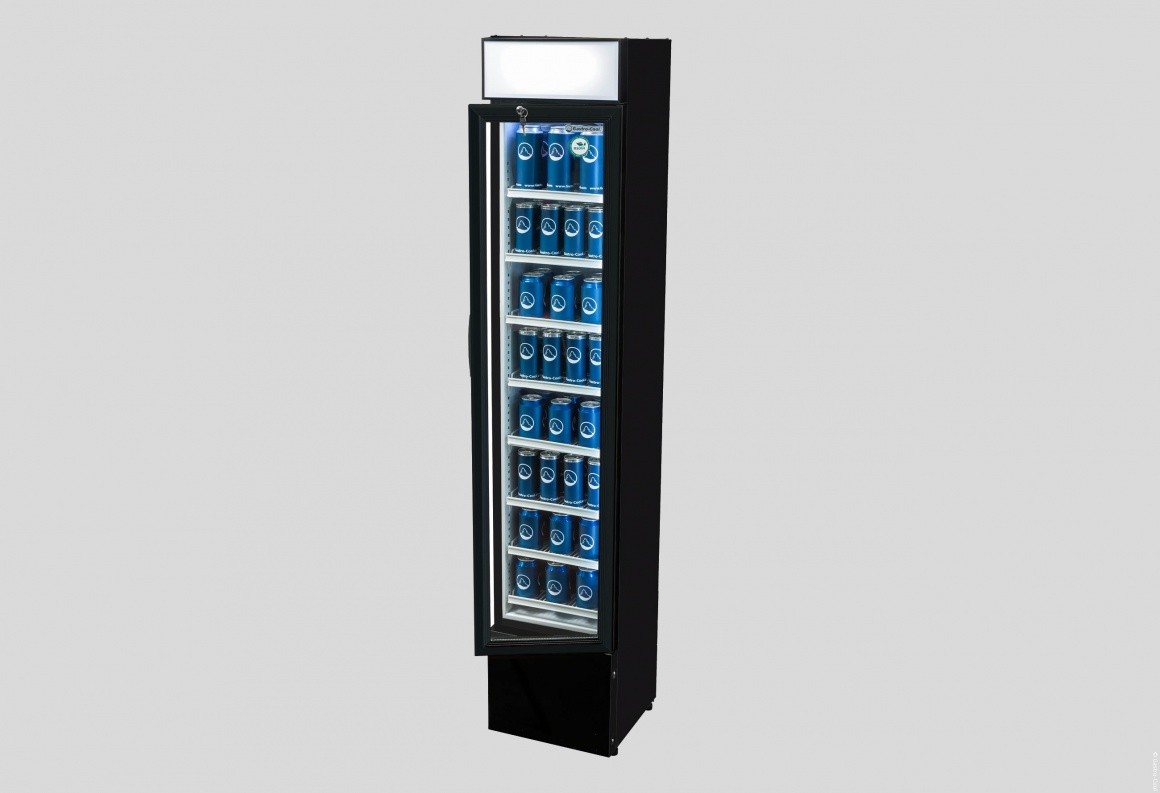 Source: Gastro-Cool
Field of application:
Gastro-Cool offers a 2-in-1 solution for the PoS, since the promotional display refrigerator combines cooling and product marketing in a single piece of equipment. The fridge, suitable for cans and for bottles, provides ample capacity (110 l gross) and is space-efficient at the same time because of its slender shape. The illuminated promotion display supports both your product marketing and sales.
Special characteristics:
Products exposed
Large volume
LED lighting inside
Branding
Available colours: black, white
Manual temperature control
8 height-adjustable wire shelves
Lock
Size and capacity:
Volume (netto): 105 l; (gross): 110 l
Capacity bottles: 75 0,33 l bottles/56 0,5 l bottles/27 0,7 l bottles
Capacity cans: 196 0,25 l cans/140 0,33 l cans/110 0,33 l slim cans/90 0,5 l cans
External dimensions HxWxD: 188 x 36 x 37 cm; Internal HxWxD: 132 x 28 x 28 cm
Weight (gross): 63 kg; (netto): 60 kg
Climate class: N; Energy consumption: 1,8 kWh/24h
Electrical connection: 220-240V/50Hz/120W
Certificates: CE, RoHS
Energy performance:
Coolant: R600a, HCFC- and CFC-free
Temperature range: from 2 to 10 degrees Celsius
Low energy consumption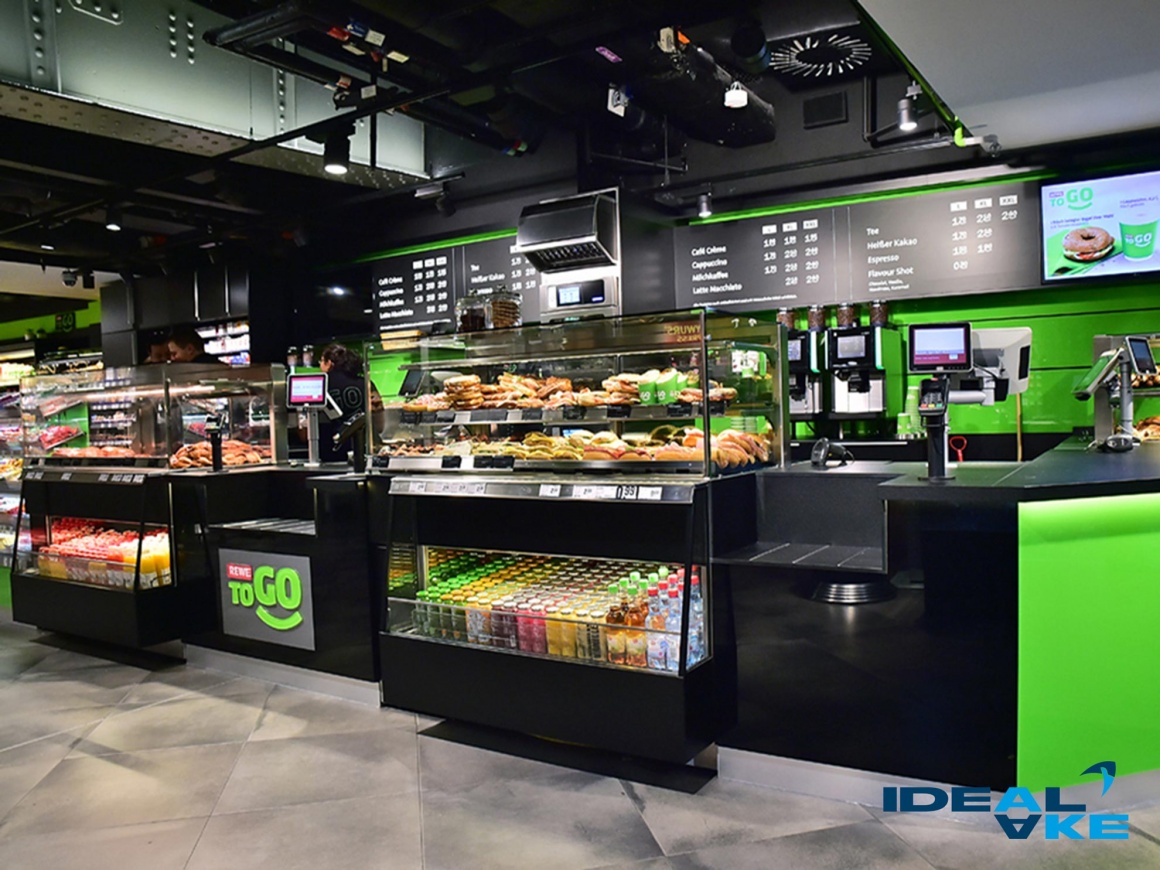 Source: AKE
Field of application:
This cabinet can be used in the cash desk area, the self-service and Grab'n'Go area, for example in the deli department and petrol station shops.
Special characteristics:
Maximum Space: hot food and cold drinks in the smallest space
Bottle Slider: lower presentation level with special bottle slider - automatically refilled front of the shelf after the removal of a bottle; Variable product dividers for the customization of the dimensions of the display area
Drawer on operator side for simple and straightforward assembly, rapid replenishment and a fast product change – immediate response to changing day time needs
Work surface made of s/s can be folded down
Quick Cleaning
Glass top of the combination display case even available as a hot version with heating climate for hot food; customized construction on request
powder coating in different RAL-colours possible
Size and capacity:
self-contained units (dim): 775/1175 x 865/1065 x 1330
remote refrigeration units: 775/955 x 865/1065 x 1330
Grab'n'Go unit: 80 pieces 0,5 l PET-Bottles
display surface of glass top: 0,65 m2
Energy performance:
approx. 900 watts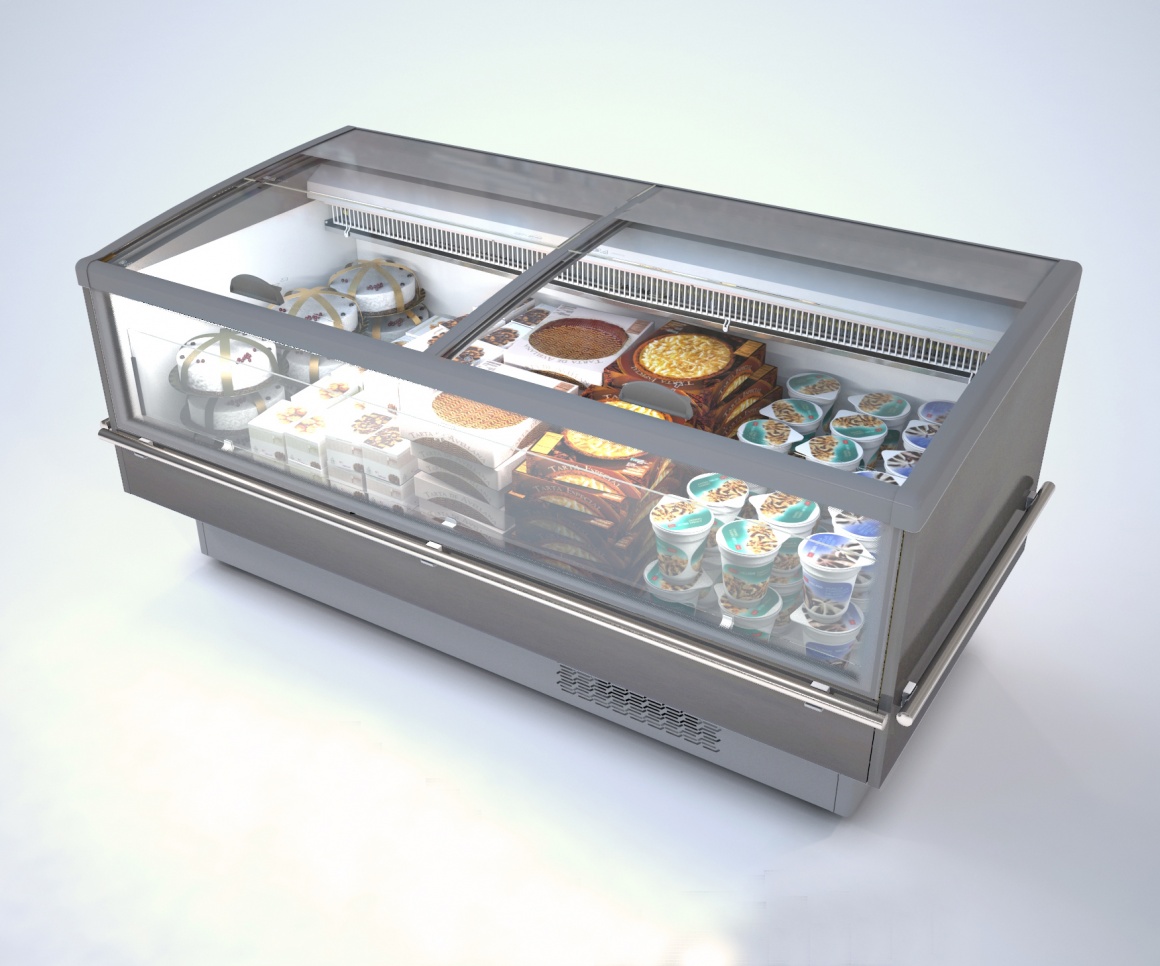 Source: Frost-Trol
Field of application:
Lomond is a frozen island with condensing unit and static refrigeration system, designed with large panoramic glasses which provide high visibility of each displayed product. This island is specially designed for the display and sale of ice-cream, but it could also be used for frozen food.
Special characteristics:
Among its more important technical characteristics, it should be noted the use of diverse components that enable the energy performance optimization of the cabinet as LED Integrated lighting and inverter compressors.
Size and capacity:
lengths 1060 and 2070mm
capacity is 0.31 and 0.66m3
Energy performance:
With excellent thermodynamic properties leading to high energy efficiency, R-290 has zero ozone depletion potential and a very low global warming potential, thus is not subject to quota or taxes in tax-countries, and complies with F-gas requirements for hermetically sealed equipment to help meet environmental targets to reduce greenhouse gas emissions.
In order to increase the energy saving, Lomond also uses push glass covers which, additionally, provide an ergonomic design and an upgraded comfort for the final client. This cabinet has been designed to work exclusively with propane (R290), which, thanks to its low environmental impact, allows us to continue progressing in our commitment to search the most appropriate sustainable refrigerants.