Design • 22.05.2017
Quinoa salad and fresh-baked bread from the gas station
Lekkerland tests a store concept that emphasizes freshness and an integrated design
Once upon a time, gas stations were just gas stations. A little later, they were the last resort to buy beer and cigarettes when all the other stores were closed. Nowadays, gas stations stand out with baked goods, fresh salads, and smoothies and give bakeries and supermarkets a run for their money.
Making gas stations more profitable by significantly improving the customer experience – that's the objective of a new concept tested by Lekkerland, which was presented in June 2016 at the UNITI Expo trade fair for the retail petroleum and car wash sector. At the end of the same year, two stores were launched in Bergedorf (Hamburg) and Aalen under the name "Frischwerk". More test stores are planned. iXtenso spoke with Frank Fleck, Director of Strategy and Business Development at Lekkerland about the development.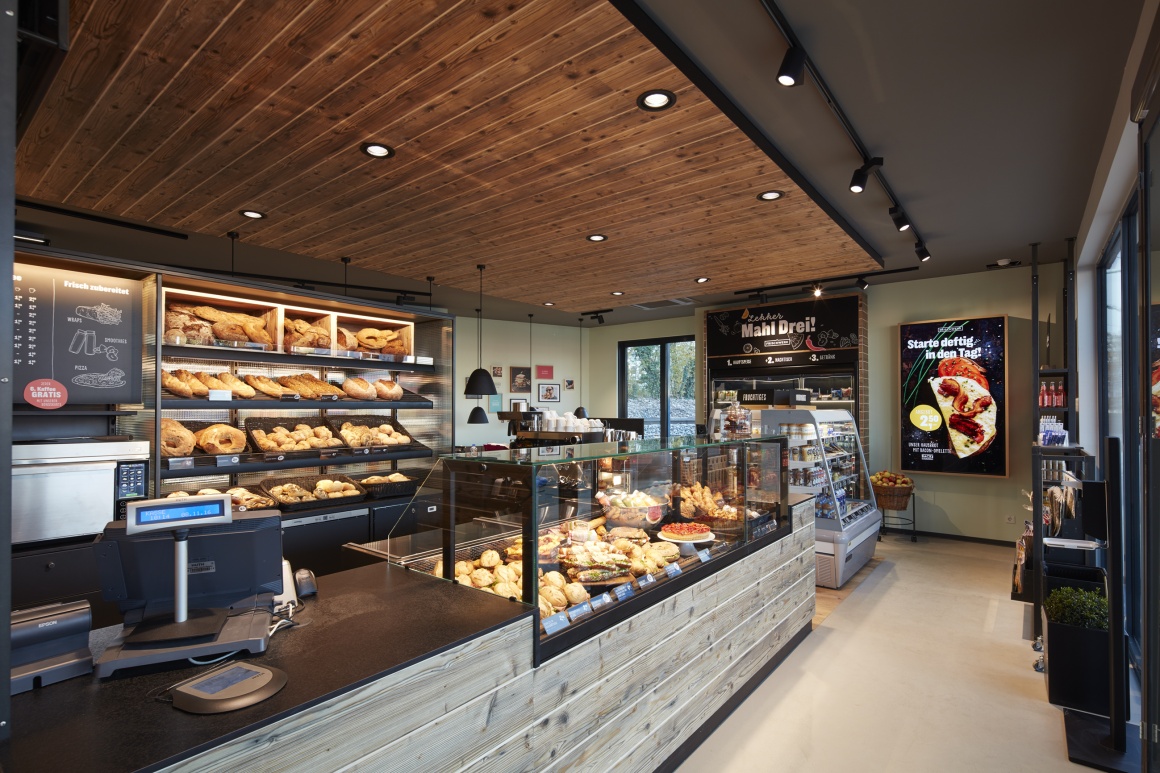 Source: Lekkerland
Mr. Fleck, while redesigning its gas and service station store concept, Lekkerland has conducted extensive consumer and trend research. What do customers really want?
Frank Fleck: Above all, customers want a modern gas and service station store that meets their needs and expectations. Initially, this refers to the overall appearance and the feeling consumers get when they shop at the gas station and it primarily consists of the store design and cleanliness but also the competence and friendliness of employees.
In addition, the demand for fresh and ready-to-eat products is increasing. That's also why gas and service stations should adapt their product line to the needs of their customers and offer a wide variety of food service items for example. This also includes packaged fresh products like fresh salads, wraps, sandwiches or desserts. Another trend that has been around in other countries for quite some time is the concept of "food for later". This refers to freshly prepared dishes, whose quality matches "home-cooked" meals and which customers only have to reheat at home or at the office.
What's more, services offered at gas station shops such as click & collect, lotteries and sweepstakes, mail and package services, cash machines or even dry cleaning services are also gaining in popularity. Nowadays, consumers are generally pressed for time and a gas station has one crucial advantage: it has long business hours, is often open 7 days a week, 24 hours a day, has sufficient parking and customers are able to quickly and easily do their shopping.
More than ever, today's gas station operators need to know their competition. At best, many tenants compare themselves to the gas station next door. However, that is no longer sufficient. The main competitors for the store are fast food places such as bakeries, quick-service restaurants, and even discounters that offer convenience foods.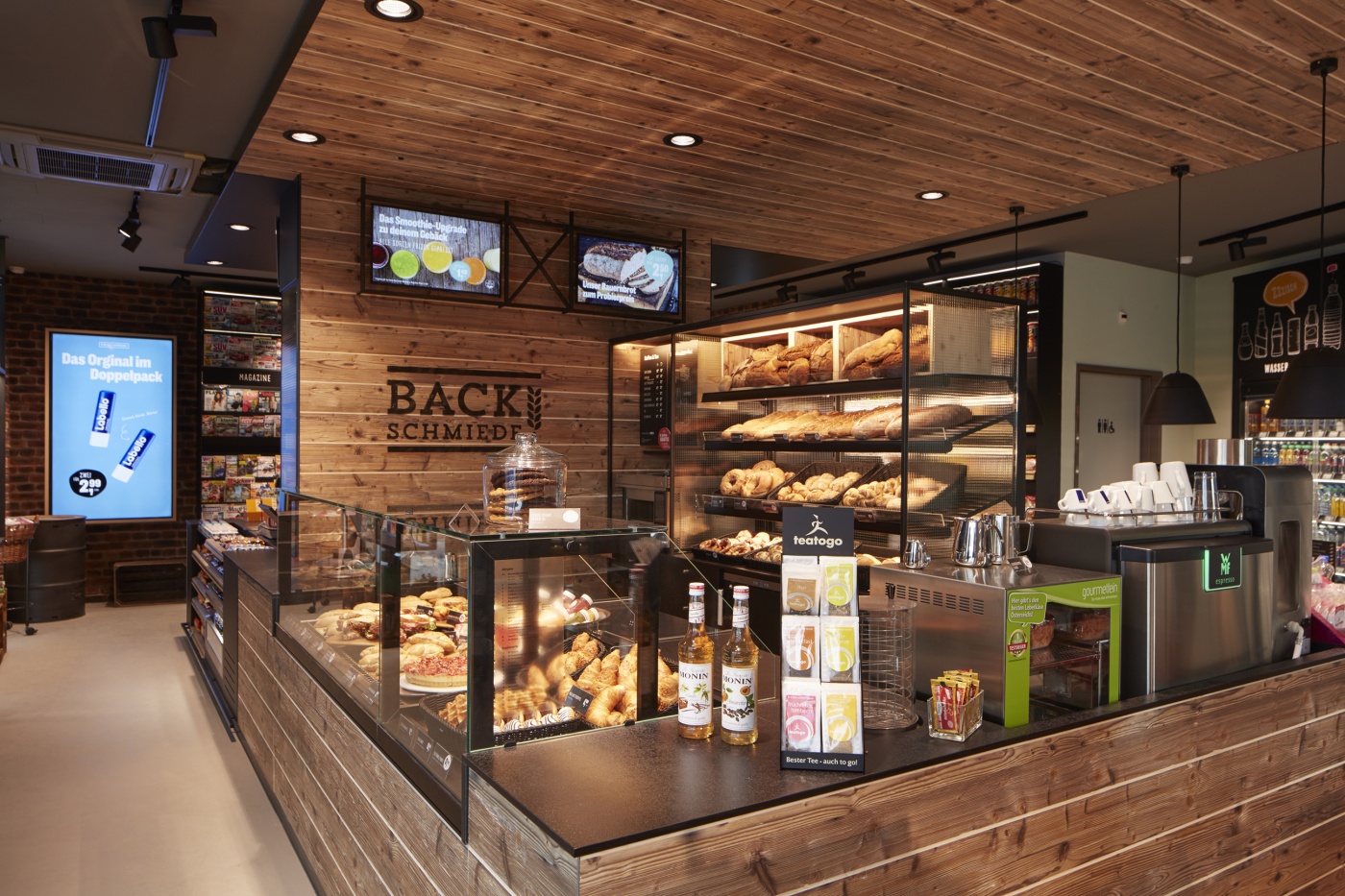 Source: Lekkerland
What are the essential characteristics of your new "Frischwerk" food service concept?
We opted to integrate a bakery that offers a full range of products consisting of bread, rolls, cakes and pastries and created the "Backschmiede" (English: Breadsmith) brand. Especially in Germany, bakeries are known for their quality products but at this point they are also seen as venues that offer an extended range of ready-to-eat snacks. In the run-up to the launch, we conducted a lot of research and talked to suppliers. As a result, we offer bread varieties that are able to match freshly baked bread from traditional bakeries in a blind taste test.
Our new line of fresh products also includes packaged items such as wraps, sandwiches or trendy salads made with quinoa and bulgur. These products are sold under our own "Go Fresh" store brand. It primarily caters to customers, who are in a hurry and want to take their snack home or to the office.
We also revamped the candy treat bag you used to be able to create yourself at a kiosk and now call it "Pick & Mix". Instead of bags, we provide cups to hold the candy and which fit into the respective car cup holders. Due to hygiene reasons, we are not able to offer bulk items and have opted for small individually wrapped brand products.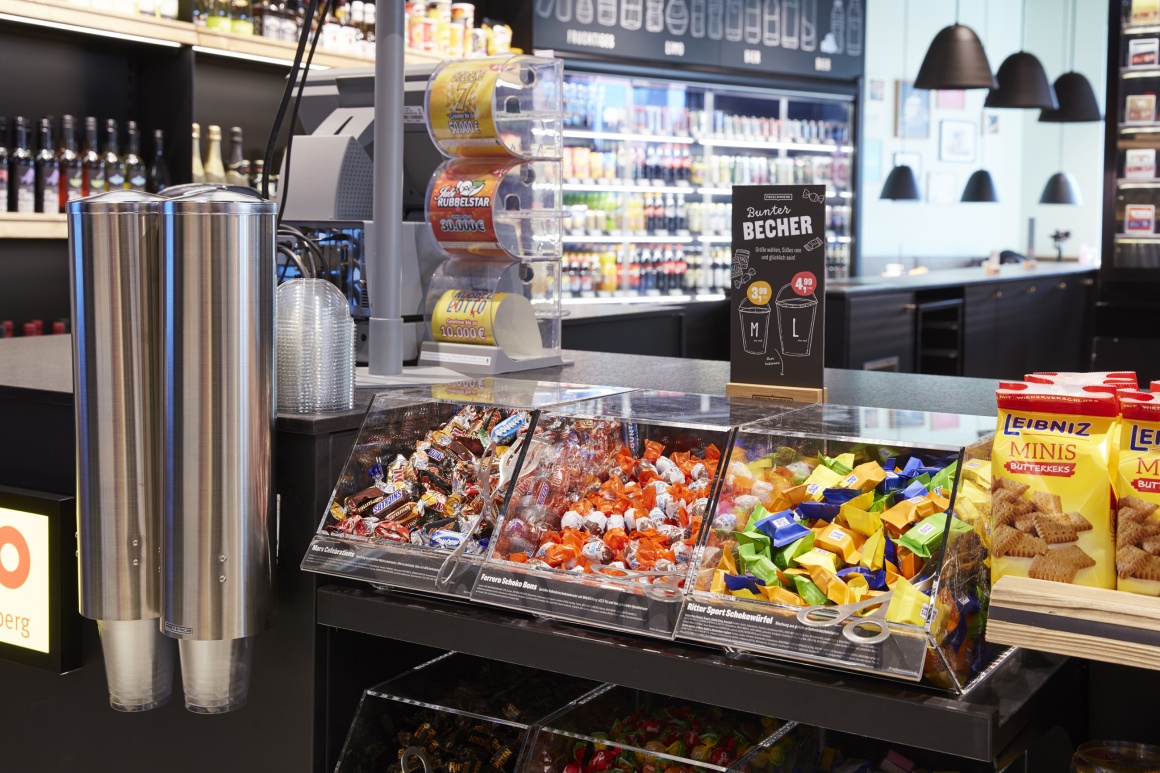 Source: Lekkerland
What other improvements were made to the traditional gas station business?
Within the scope of a new store design, we partnered with a design agency and studied food service and convenience store concepts across Europe, the U.S., and Australia. Based on this knowledge and our consumer surveys, we subsequently developed the design. We call it a cross between "farmhouse and industrial style" since wood and steel elements play a key role. The style blends in nicely with the setting of gas stations, since they are often associated with attributes such as "crafty and industrial".
The distinction between the classic tobacco and fuel section and the food service area is another basic concept we implemented in both stores. Each of these two areas has its own checkout. In addition, there are always two associates on site who are differentiated by their outfit and expertise and match the corresponding section. At this point, I would like to point out that especially female gas station patrons raised concerns over the responsibility of associates. That's why we established rules the staff must observe. The staff member of the gas station area is solely responsible for this particular area and must not attend to customers in the food service section. This is a quintessential requirement we discerned from our consumer surveys.
In the traditional gas station area, we adapted the product presentation, especially as it pertains to magazines, alcoholic beverages, and wine. Instead of leaving an empty space above the shelf, we now showcase wines all the way up to the ceiling, for example, thereby once again creating an entirely different ambiance.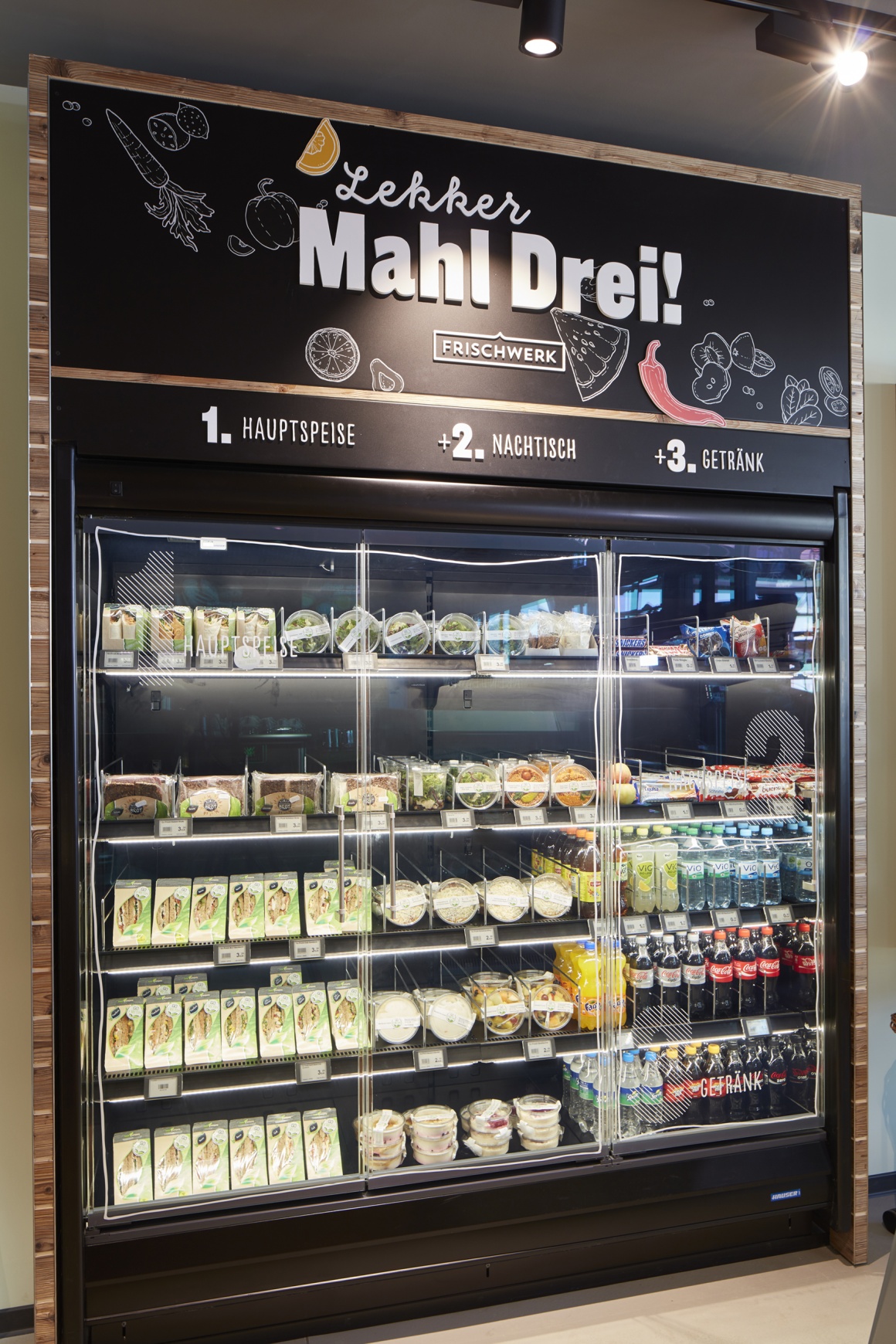 Source: Lekkerland
Gas stations are known for their infamously high prices, especially when it comes to food items. How do you ensure great product choices?
We discovered a solution that has actually already been standard for many years in British convenience stores of Tesco or Sainsbury's, for example – it's called the "meal deal". In our case, this option includes a main dish, a snack or dessert plus a beverage. The products are presented right next to each other. Given a choice between 10 to 20 items per category, there are many conceivable combinations, thus increasing the likelihood of pleasing the customer's palate. Customers create their own meal and pay a fixed price of 4.99 Euros. These types of concepts keep the absolute value for the tenant at a great level at a cost that's attractive from the consumer's perspective. Needless to say, this also means that the gross profit margin per item is significantly lower. However, the fact that customers purchase three products results in absolute gains for the tenants, which are higher than if the customer would not buy anything or purchased just one product.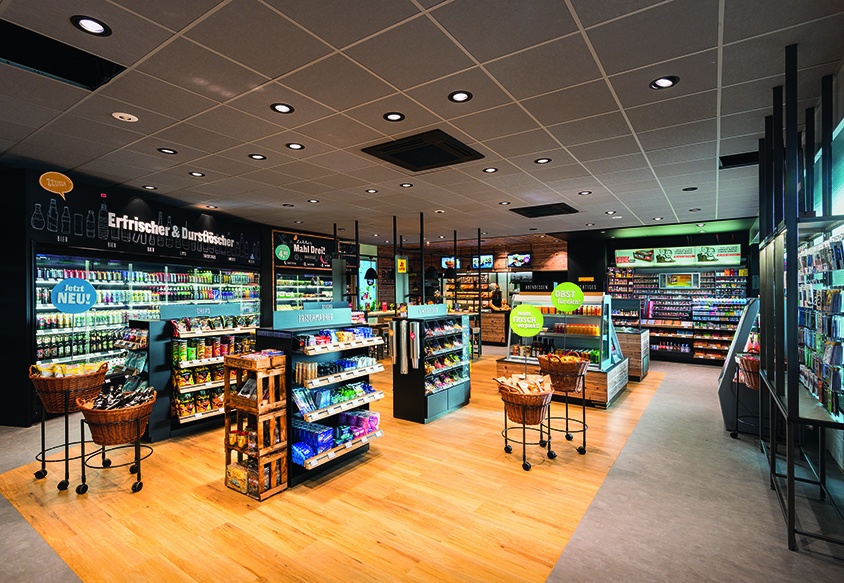 Source: Lekkerland
Is training required because hygiene requirements increase thanks to the expanded food service variety?
Yes, the requirements are definitely increasing, because the complexity also increases, especially when it comes to food service. That is why we developed our own basic training program and manuals. In addition, we offer on-site training with Lekkerland employees and assist the staff in its implementation.
Where do you currently see further optimization potential and what are your next steps?
When it comes to the "meal deal", we definitely still have a little ways to go. This type of offer still needs to become more attractive and understandable in Germany to be accepted by the end customer. That's why we have already made several adjustments to the product line and communication. Generally, the separated sections are very well received. We already see double-digit growth in the food service area.
By now, we were able to gain a lot of insights, which we will incorporate into our next test stores. The next step is to test this concept in smaller gas and service stations that are between 50 and 70 square meters in size. A dry cleaning service is also in the planning stages. By the end of 2017, we will definitely have gained a new and deeper level of understanding and will be able to determine what works and what doesn't.