Product • 20.11.2007
Optician / BNGraphics, BNConcept, BNInterior, BNArchitecture & BNPlanning
Profil Optik Brøbecher; unique shop in Aarhus in a nationwide chain of opticians in Denmark

A project which includes all five of Brugger & Nielsen's departments: Graphics, Concept, Interior, Architecture and Planning.

Development of interior concept for an optician's shop with an instore repair workshop located in the city of Aarhus, Denmark. The shop area has been increased with 74 m2. The shop sign and the total renovation of the facade was rewarded by the Commune of Aarhus in 2007.

The style is international with big areas of glass, unique graphics, white composite desks, massive counters of wood and luminous glass shelves.
Supplier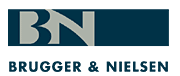 Store Kongensgade 36-38
1264 Copenhagen K.
Denmark