Opening • 23.10.2017
Eddie Bauer Outdoor Outfitter: First Shop-in-Shop in Cologne's Globetrotter Store
Interview with Bernd Niemeyer, Chief Marketing Officer for Eddie Bauer Germany
It is the first store of its kind in Germany: Eddie Bauer's shop-in-shop just opened inside the Globetrotter Store in Cologne. It features 70 square meters of sales area on the first floor. In this interview, Bernd Niemeyer revealed the backstory behind the brick-and-mortar presence of the company.
Mr. Niemeyer, why did Eddie Bauer decide to establish a brick-and-mortar presence?
Eddie Bauer has gone back to its company roots in outerwear. In Germany, fashion has become very urban over the years; here we were known as a pure American fashion sportswear brand. Meanwhile, back in the U.S., the company has returned to offering tents, backpacks and alpine apparel for the past ten years.
We now would also like to complete the global transformation within our company towards the outdoor segment in Germany and establish the performance products that are a part of our brand's core. Of course, you can accomplish this by adding the products to the catalog and on the website. However, we also predominantly want to boost the multichannel model and present the product in a brick-and-mortar setting. And that's the purpose of the shop-in-shop concept.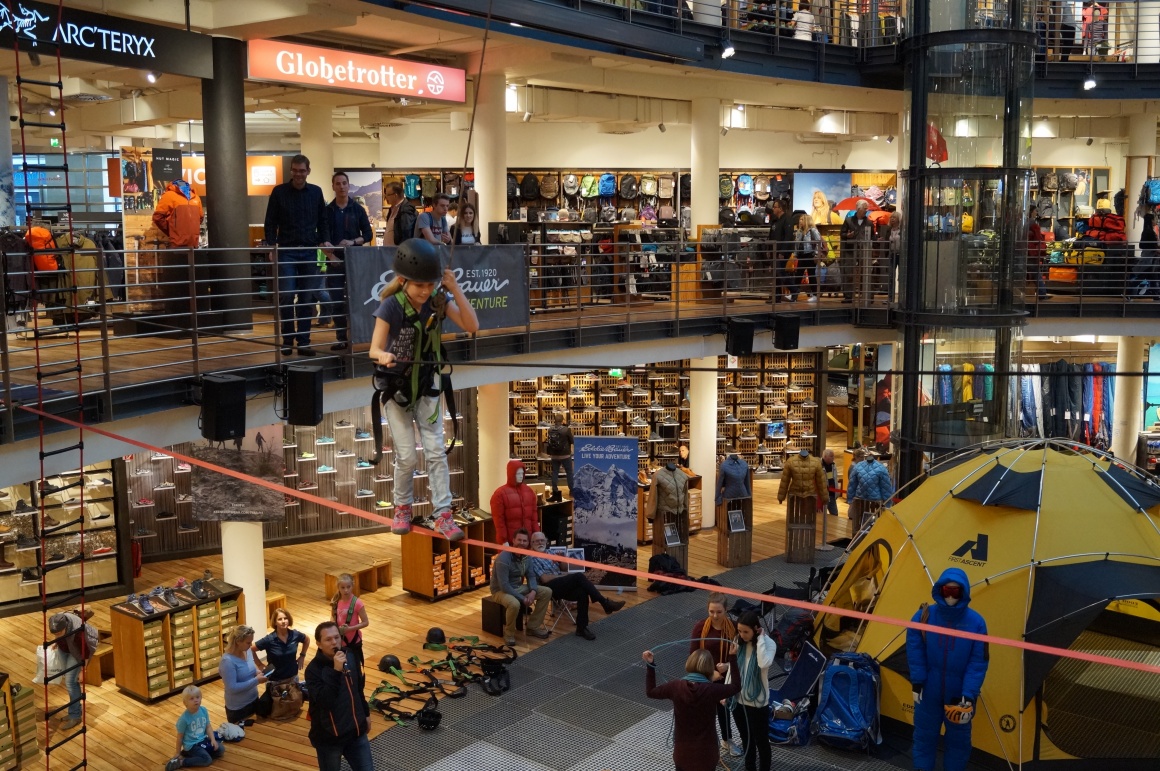 Source: Eddie Bauer
Historically, Eddie Bauer already had brick-and-mortar retail stores.
Yes, that's right. However, the stores of the 90s were very large and from today's perspective only suitable to promote economic growth to a limited extent. We gradually closed these stores but have continued to pursue a brick-and-mortar retail strategy.
Why don't you open up your own stores to showcase your brand instead of relying on a shop-in-shop concept?
It is quite difficult to find a suitable location and space of one hundred square meters for a reasonable lease deal, especially in Germany's major and important shopping streets. With Globetrotter – a leader in the outdoor segment in Germany – we have now found a partner that enables us to build brand awareness in our core market segment.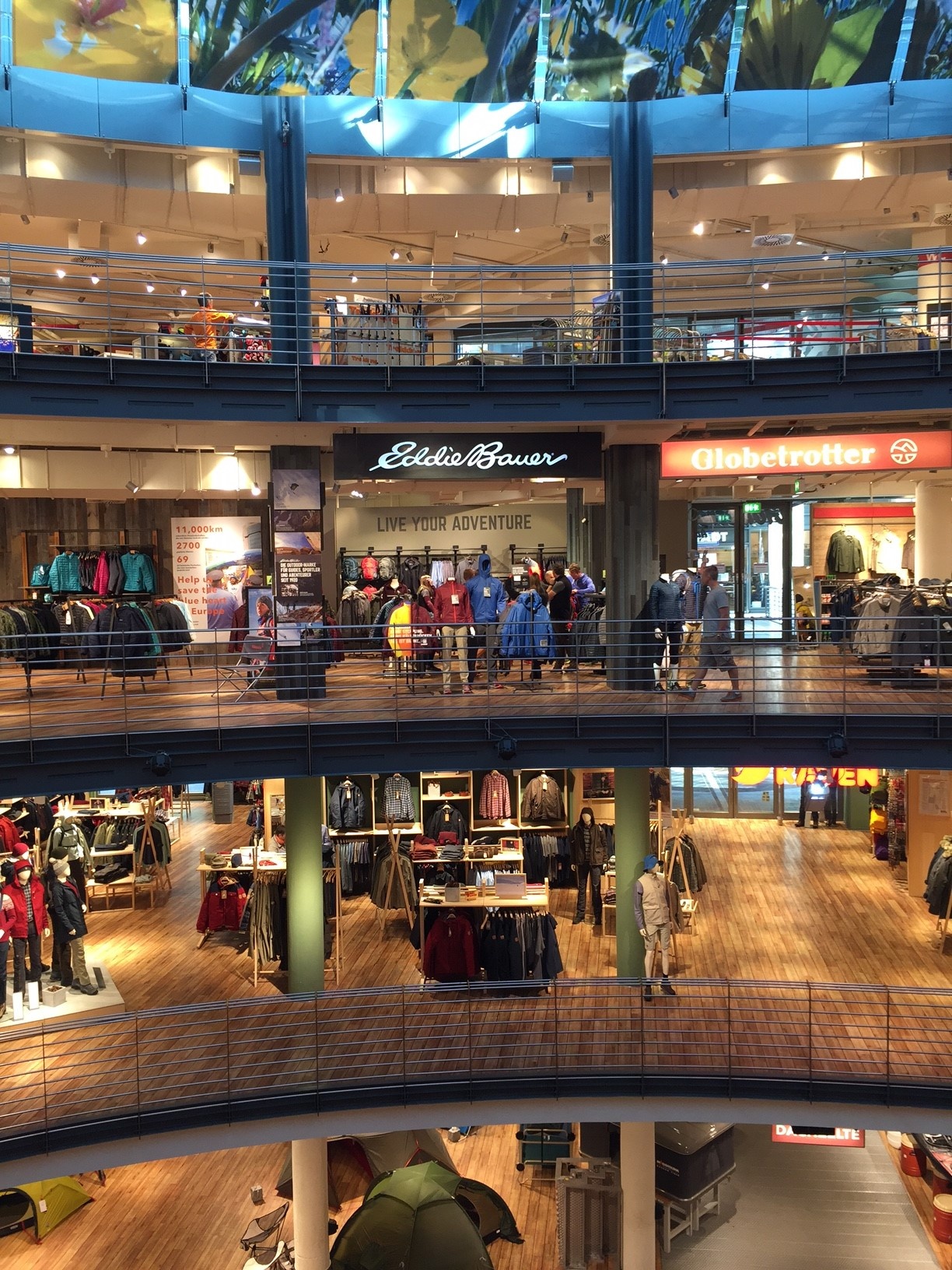 Source: Eddie Bauer
Could you briefly tell us about the planning and implementation of the shop?
Things happened very quickly. The talks with Globetrotter only began earlier this year and now the shop is already open. We first picked the right space and placement in the store and subsequently finalized the concept for the design.
What was important to you in terms of design?
Shop-in-shop formats thrive on customers experiencing different brand perceptions and a variety of presentations. This is why we echoed the look and feel of the newly opened U.S Eddie Bauer stores here in Germany. Concrete floors and ceilings, as well as black metal shelving units with stained reclaimed wood, play a major role in all this. The store is completed with a video screen that shows clips of our guides and athletes.
Who actually decides which products are highlighted at the shop-in-shop?
As partners, we work hand in hand to select the products. Globetrotter tells us what's relevant to customers and we contemplate the product innovations we are able to contribute.
If you had your own store, you wouldn't have products by other outdoor brands like Jack Wolfskin or The North Face right nearby. Doesn't a shop-in-shop concept tend to be detrimental in this scenario?
I don't think so. We are very confident in our products and are not afraid of the competition. The product we are currently launching is excellent. There are also frequently situations in brick-and-mortar retail where specific industry sectors come together – fashion brands or high-end designers or even outerwear brands. Birds of a feather flock together in this case, and that's intentional. After all, customers are also able to access all products online and make a direct comparison. That's why it stands to reason that they also want to be able to do this in a brick-and-mortar setting like Globetrotter. Customers can try on jackets from different brands and choose the ones they like best.
The "shop in the shop" is a tool for brand presentation that can also be implemented at short notice.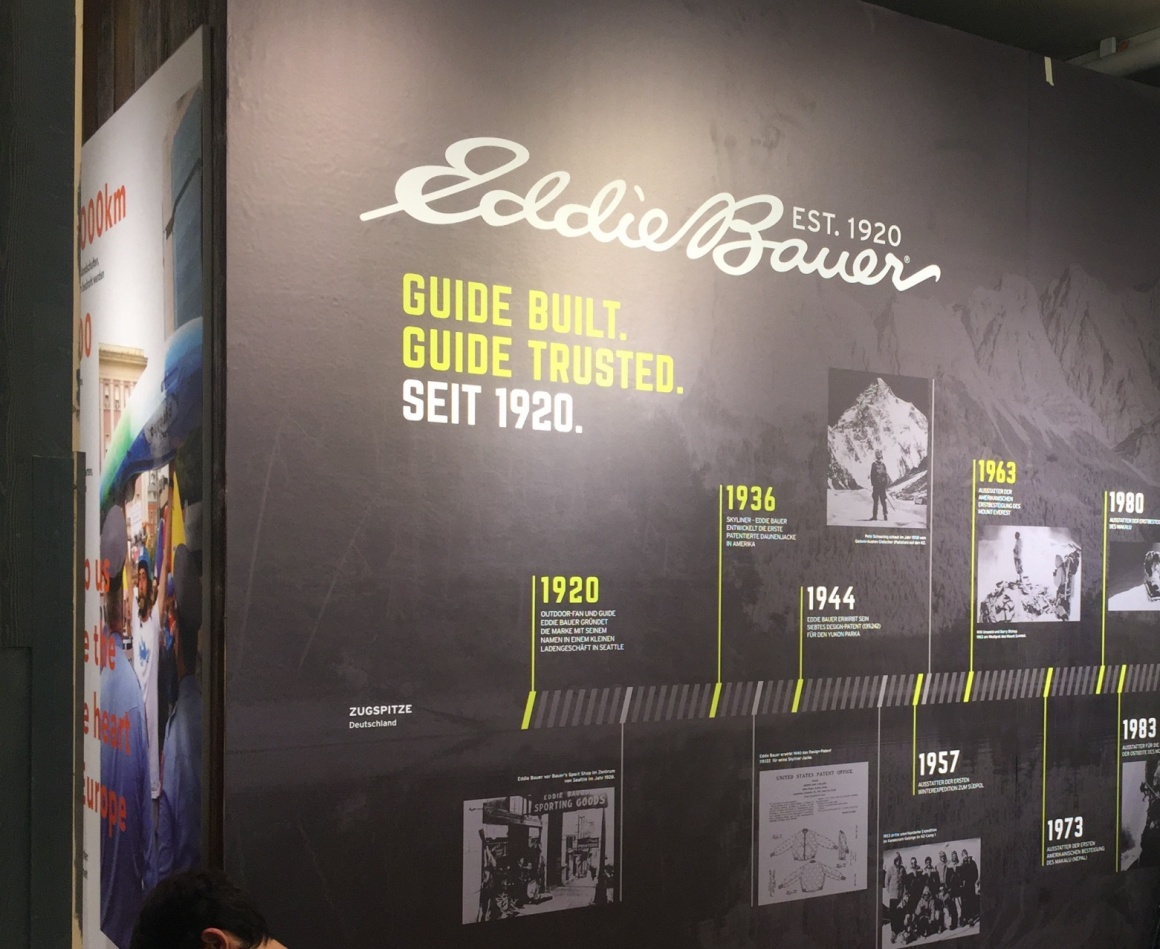 Source: Eddie Bauer
Shop-in-shop systems are not ideal for every type of customer. Too many individual venues can have a daunting effect because customers have to search for items in different spots. How does Globetrotter solve this issue?
From a brand perspective, the major advantage of a shop-in-shop model is the opportunity to reflect our entire portfolio in one setting – ranging from socks all the way to coats. Customers are able to get the overall picture of our brand. In addition, the products are also featured in the respective departments of the Globetrotter store where they are presented alongside other brands. This provides options for both types of customers – those who want to purchase a specific brand and those who don't have a preference.
What are your future plans in terms of your brick-and-mortar presence? Does the presence at Globetrotter serve as a kind of test?
Needless to say, you might call this a test. At the very least, it is simply the first attempt we are making. Having said that, this is by no means a pop-up store. The expenditure has been substantial and we went full throttle because this collaboration is geared towards a long-term commitment. We will monitor its development and jointly discuss the medium and long-term future. Meanwhile, we will first focus on our work with and on the sales floor to be successful in Cologne.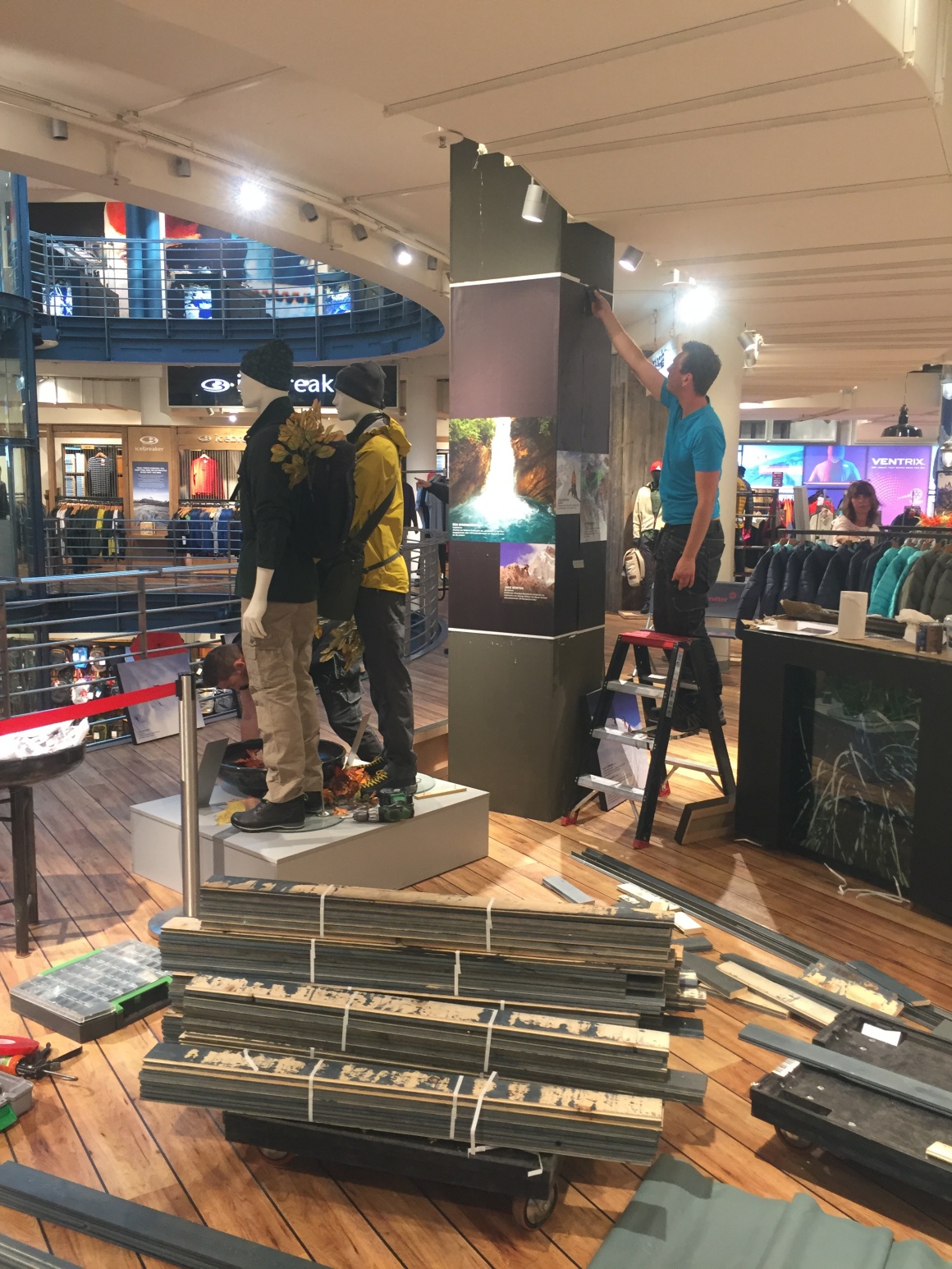 Source: Eddie Bauer