News • 04.09.2017
ASICS hits the ground running with its new global retail concept store
New Brussels store selected as a pilot for global retail roll-out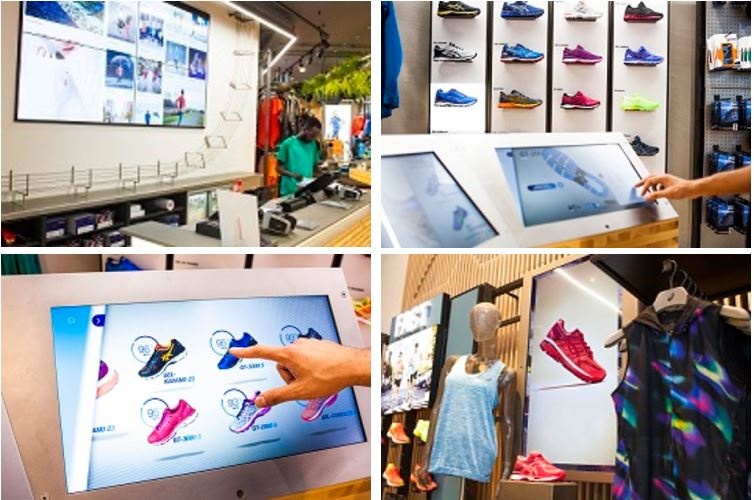 Source: Green Room
ASICS has chosen the new Brussels store to launch its first iteration of a new and exciting, global retail concept. Building on its already strong reputation amongst serious runners as go-to product, the brand has now focused its emphasis on providing the best possible customer in-store experience to match.
Leading the digital strategy of the overall customer journey, Green Room were tasked to work alongside the incumbent retail design agency to define, design and deliver the digital components of the experience.
A fundamental element of the strategy was the empowerment of customers. By enabling them to better understand their own running needs, the experience facilitated well-informed purchase decisions at the customer's own pace and on their own terms.
Complimenting the intuitive digital footwear selection process the in-store environment was further enhanced with content-rich digital displays, such as the Runkeeper wall- an opportunity to communicate the pulse of the brand. Featuring real-time social posts combined with striking data powered animation from the local Brussels running community, the wall was developed to draw customers deeper into the store, facilitating more dwell time and a point of connection with the store staff.
Paul Silcox, Creative Director, Green Room Amsterdam said: "Our challenge was to define the digital personality of the retail experience, a way of interacting that was tightly bound to the ASICS ethos and the personality of their community. The space works hard to enable and empower the customer, to put them at ease with their selection, but not to dictate to them. We are really pleased how it has come together."
The digital strategy template applied to the Brussels store serves as a template for continual roll-out of the global retail concept – an activation campaign conceived and created by Green Room.