Product • 03.06.2008
The professional 46-inch Full-HD Monitor from Sharp - PN-465E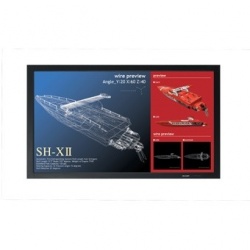 The PN-465E, measuring 46 inches (117 cm) is the smaller "brother" of the 65-inch (165 cm) PN-G655RE resp. PN-G655E and the 52-inch (132 cm) Full-HD monitors. Smaller just in case of measurement - because they posses numerous technical features and the possibility to create multi-screen walls. By using displays of up to 5x5 screens, the new professional Sharp monitor plays in the premier league. Sharp's new Full-HD display is designed for continuous operation 24 hours a day, 7 days a week, and is absolutely silent since it does not have a fan.

LCD technology has taken root in the market for professional monitors, and Sharp is expanding its line of continuously operating business applications with its Full-HD 46-inch PN-465E model. Design studios and control rooms are ideally equipped with this LC display or with its big brothers, PN-G655 screens or PN-525E. They all have in common the 16:9 format and the natural Full-HD resolution of 1920 x 1080 pixels, which provide brilliant images and a very good overview on static content, as with information displays at airports or train stations, without the images burning onto the screen. Pixel response times of only six milliseconds even give consideration to the rapid flow of images in flight simulators. Horizontal and vertical viewing angles of 176 degrees open a clear view from every perspective.

The integrated Advanced Super View Panel is designed for continuous operation 24 hours a day, 7 days a week. Should the back light burn out, it can be exchanged at any time.

The 46-inch monitor can display images in both, portrait and landscape mode, so that both tall and transverse images and graphics can be shown equally to advantage. Video walls in sizes of up to 5x5 screens – 2x2, 3x3 and 4x4 are also possible – may be joined together for use at information centres or as advertising displays, to create one full monitor measuring up to 230 inches (585 cm), without needing to control it through a split processor. This feature is already implemented into the units.

One other special feature of the PN-465E is the housing's interchangeable frame. This allows for the display housing to be adapted to special design preferences. With the PN-465E the user has, in addition, the possibility to read the documentation for the display's operational sequence at any time. The PN-465E does not have a fan and can be installed in any professional work environment without generating any disturbing fan noise. The monitor can be operated by remote control and through the serial RS-232C interface.

In addition to supporting the resolution standards for 1920 x 1080, the PN-465E also supports the resolution standards for VGA, SVGA, XGA, SXGA, WVGA (848 x 489, 852 x 480) and WXGA (1.280 x 768, 1.360 x 768). The various inlets and outlets make the monitor fully diverse.

The light intensity is of 450 candelas per square metre with a contrast ratio of 1200:1.
Supplier

Industriestraße 180
50999 Köln
Germany