Company News • 14.05.2010
Special focus on interactive and innovative museum exhibits
KIOSK EUROPE EXPO 2010 and DIGITAL SIGNAGE EXPO 2010
To reflect the fact that Essen and the surrounding Ruhr area is European Capital of Culture 2010, KIOSK EUROPE EXPO 2010 and DIGITAL SIGNAGE EXPO 2010 will feature a dedicated area with real-life, interactive and innovative museum exhibits.

As well as providing visitors with the unique opportunity to find out more about self-service and digital signage solutions, KIOSK EUROPE EXPO 2010 and DIGITAL SIGNAGE EXPO 2010, held at Hall 1, Messe Essen, from the 15th to the 17th June 2010, will this year showcase actual deployments and installations of interactive technologies for museums across Europe.

In the modern world, it is becoming increasingly clear that to engage, inform and entertain their visitors, museums and other such cultural points of interest must offer interactive exhibits which visitors can touch and explore for themselves. The familiar sight "Do not touch the exhibits" is now being replaced with more visitor friendly signs inviting visitors to engage actively and physically with exhibits. Young users, in particular, are better engaged by more interactive exhibits. Museum curators and IT managers will be able to see for themselves how touch technologies, 3D kiosks, projectors and more can transform museum exhibits into compelling and immersive experiences.

At the Interactive Museum, exhibits will range from 3D digital kiosks showing the work of the Estonian sculptor Amandus Adamson, wayfinding interactive museum kiosks and interactive holographic works of art to digital gesture-based book readers, all demonstrating that for the modern museum, interactivity is a must-have. Here is a selection of the interactive exhibits visitors can experience:

Michael Bleyenberg is an artist who works with "Light Architecture". He will show at the Interactive Museum his Eyescape X, a hologram embedded within two glass panels. As viewers moves towards the hologram, the light, colour and shapes of the hologram alters fluidly to create an ephemeral and protean work of art.

The Amandus Adamson museum in Estonia, which had limited space for exhibiting all the artworks of the sculptor well-known sculptor Amandus Adamson, has used innovative 3D kiosks to enable his entire work to be presented to visitors.

The Bayerische Staatsbibliothek in Munich, Germany, commissioned a digital book reader to enable visitors to negotiate their vast collection of books and manuscripts more easily and in greater detail.
The Rauch Möbelwerke deploys interactive kiosks to engage their visitors and convey the company's history, as well as explore the different furniture styles over the century in an informative and intuitive manner.

Find out more about the other exhibits at the Interactive Museum here.

Find out more about all the others events and activities taking place in Essen this year at http://www.kioskeurope.com/ke-expo/essen-cultural-capital.

Sponsors of the two trade shows include Provisio, Star Micronics, Bell Microproducts and Impuls TV. The list of high-profile exhibitors includes Samsung, Optoma, Epson, Hyundai and LG.
The events will be held on 15, 16, 17 June 2010 in Messe Essen, Essen, Germany, and entrance is free for pre-registered visitors. To pre-register please visit www.kioskeurope-expo.com or www.digitalsignageexpo.eu.
Supplier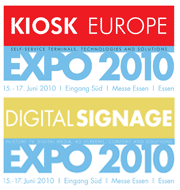 The Quorum
CB5 8RE Barnwell Road, Cambridge
UK