Company News • 20.06.2022
SALTO receives a Silver rating in the EcoVadis evaluation ranking
Innovation as a response to social and environmental challenges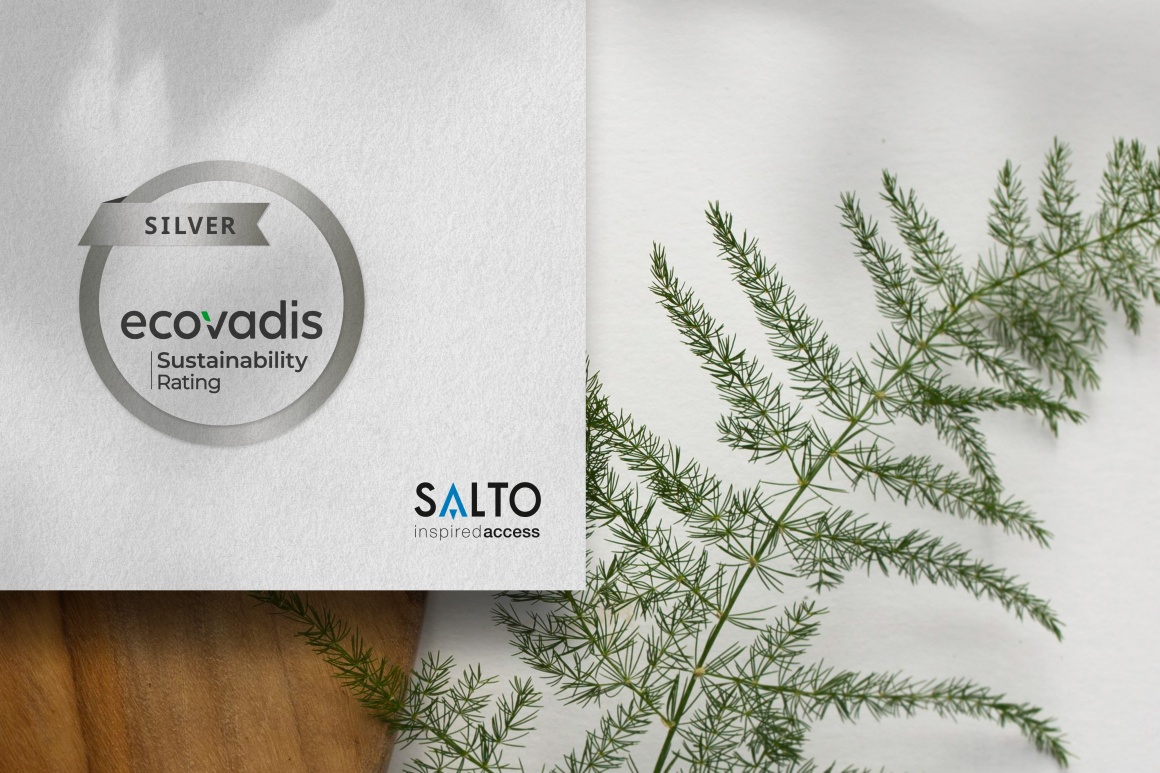 Source: SALTO / EcoVadis
EcoVadis has ranked SALTO Systems in the top 25% of companies with the best performance in terms of sustainability policies. The recognition gives SALTO a SILVER classification in the EcoVadis global evaluation program.
The award is the fourth consecutive year SALTO has achieved a Silver Sustainability Rating, ranking it in the top 25% of all companies assessed. This follows SALTO's commitment in becoming 100% carbon neutral for its factory headquarters and global office networks, which is a major step in making keyless smart access technology sustainable. SALTO has focused on achieving carbon neutrality through ambitious reduction in becoming carbon neutral and numerous initiatives that promote diversity, employee wellbeing, and social initiatives across all locations of the group.
EcoVadis is a global provider of business sustainability ratings, measuring environmental, social, and governance (ESG) evaluation performance against four themes: Environment, Labour & Human Rights, Ethics, and Sustainable Procurement.
"This recognition is the result of the work and progress SALTO has made in recent years, in our commitment to environmental, social, and corporate governance contributing to the application of circular economy principles into our sustainability strategy," said Ricardo Garcia, Quality and Environment Director, SALTO Systems. "The main goal is to grow and improve and to reach the highest rating in the EcoVadis ranking that contributes to the achievement of specific United Nations Sustainable Development Goals through SALTO's responsible corporate policies."
What is EcoVadis?
EcoVadis provides buyer companies with evaluation data on the sustainability measures of more than 85,000 companies from 200 industries in 160 countries via a global cloud-based platform. Many global companies refer to these ratings when selecting a supplier.
What methodology does EcoVadis use for its ratings?
EcoVadis assessments are based on international standards including the United Nations Global Compact, conventions of the International Labour Organisation (ILO), the standards of the Global Reporting Initiative (GRI), and the ISO 26000 (social responsibility) standard.
At SALTO Systems, we work to become more sustainable
After completing the EcoVadis assessment, SALTO has achieved an overall score of 63/100. That places SALTO above 75% of all companies rated by the organisation. Guided by social responsibility and governed by ethical and legal requirements, at SALTO, we are conscious that we are just one part of a much broader framework. This is why SALTO has established sustainability guidelines and principles for our projects and operations that reinforce our commitment to the value that life matters most.
"SALTO BUs, all SALTO group departments and employees support this position through social, environmental, and economic responsibility – particularly with regard to global sustainability and the environment we operate within. This responsibility goes beyond corporate goals, and we are firmly committed to consistently engaging in a range of activities that reflect our commitment to the application of circular economy principles," said Garcia.
More information about SALTO can be found here.
More information about EcoVadis can be found here.
Supplier
Schwelmer Str. 245
42389 Wuppertal
Germany