Company News • 11.03.2013
Increase footfall with innovative digital printing solutions from OKI
Drive sales and increase footfall with latest print technology.
OKI a global business-to-business brand dedicated to creating professional printed communications products, applications and services, will be exhibiting at the Retail Business Technology Expo 2013 at stand 740 on the 12th and 13th March at Earls Court, London.
OKI media application manager, Dave Willcox will be available to discuss how retailers can use innovative print solutions to help drive sales, increase footfall and work more efficiently.

OKI will be showing the C831, which is the ideal A3/A4 colour printer for retailers looking for fast, high quality, high volume, print on demand capabilities, in-house. OKI will also present the C711WT, a revolution in digital A4 colour printing. OKI's breakthrough printer innovation, the C711WT removes the last barrier to creativity and design – how to print in any colour you desire, including white simply and cost effectively.
Currently printing in white is not only expensive; it is also a laborious task using manual printing techniques. With OKI's ground breaking digital technology, you can now print in-house using white toner alongside high definition colour on a wide range of media, including coloured media, clear film and transfer media in sizes up to A4 and weights up to 250gsm.
How much do you currently spend on point of sale materials, flyers, price cards? How about advertising, stationery, purchase orders, banners, labels, discount vouchers? Every penny spent on these items comes straight off the bottom line.
Imagine what you could save if you could produce all of these materials in-house, in colour, in minutes and how creative you could be. OKI will be on hand at the event to show you exactly how this can be achieved and innovative ways to make your point of sale displays stand out from the crowd.
Supplier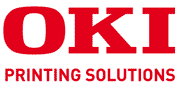 Hansaallee 187
40549 Düsseldorf
Germany