Report • 26.06.2020
In-store farming: growing parsley inside the supermarket
Purchasing locally grown products
One aspect of globalization means that it's possible for consumers to buy products from anywhere on Earth. That's also why a head of lettuce may have traveled more miles from the place it was grown to the supermarket than some salad lovers fly to get to their summer vacation destination. Not only is this not a sustainable concept from an environmental perspective – it is also no longer what many consumers want. There are some solutions aimed at reducing food miles and it all starts at the local scale.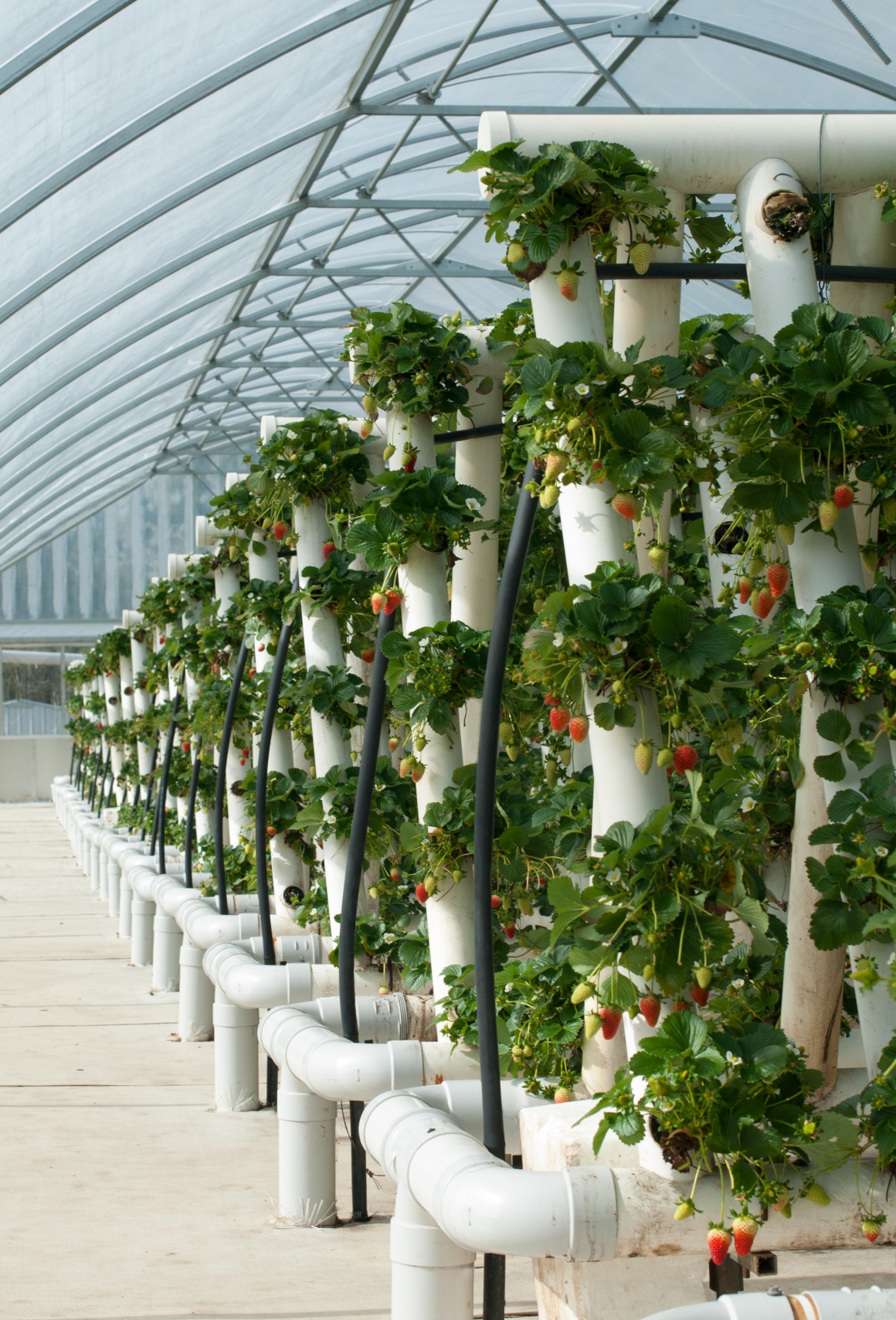 Source: PantherMedia/Phillip Minnis
Where does my food come from and how is it made?
Maybe it all started with 'urban gardening': city dwellers have been dreaming of country living and its luscious benefits – gardens, vegetable patches, and garden-fresh produce – while living in big cities surrounded by asphalt and concrete. Many have come up with smart ways to grow food on the side of the road, in backyards and on rooftops. On the one hand, consumers are now more aware about buying local, and are increasingly conscious of issues like food quality, sustainability, and environmental impact. More and more customers wonder how their food is made and how far it travels from farm to table. On the other hand, food security and meeting the increasing food demand of the growing global population and urban areas with healthy, nutritious foods has become a challenge. Given these circumstances, new concepts that involve cities to achieve food self-sufficiency are gradually becoming a necessity versus a future vision.
Aiming high: vertical farming
Necessity gives rise to invention as new concepts are sprouting in agriculture. What do you do if you have to maximize crop output in a limited space to meet increasing demand? That's right, you start growing food vertically versus horizontally. 'Vertical farming' makes it possible to grow crops in vertically stacked 'layers' in a smaller space.
Enter hydroponics: this method grows plants without soil by using mineral nutrient solutions in a water solvent. LED technology delivers efficient lighting. The plants have everything they need to thrive.
Another benefit of 'indoor farming'? It allows growers to control key elements such as temperature, light, and humidity. The reduced consumption of raw materials and reduction in chemical pesticides are likewise positive side effects.
Several companies are now combining these two systems and make their home in some urban areas: They grow crops in farming warehouses or containers in the heart of the city and supply supermarkets, grocery stores and restaurants with their bounties. As they embrace relationship marketing, some retailers take things a step further and produce fresh foods on-site (or have a service grow it on their behalf inside the store).
"The longer it takes for food to get from the farm to the consumer, the more food waste that occurs." (Jennifer Kaplan, Culinary Institute of America, Kalifornien)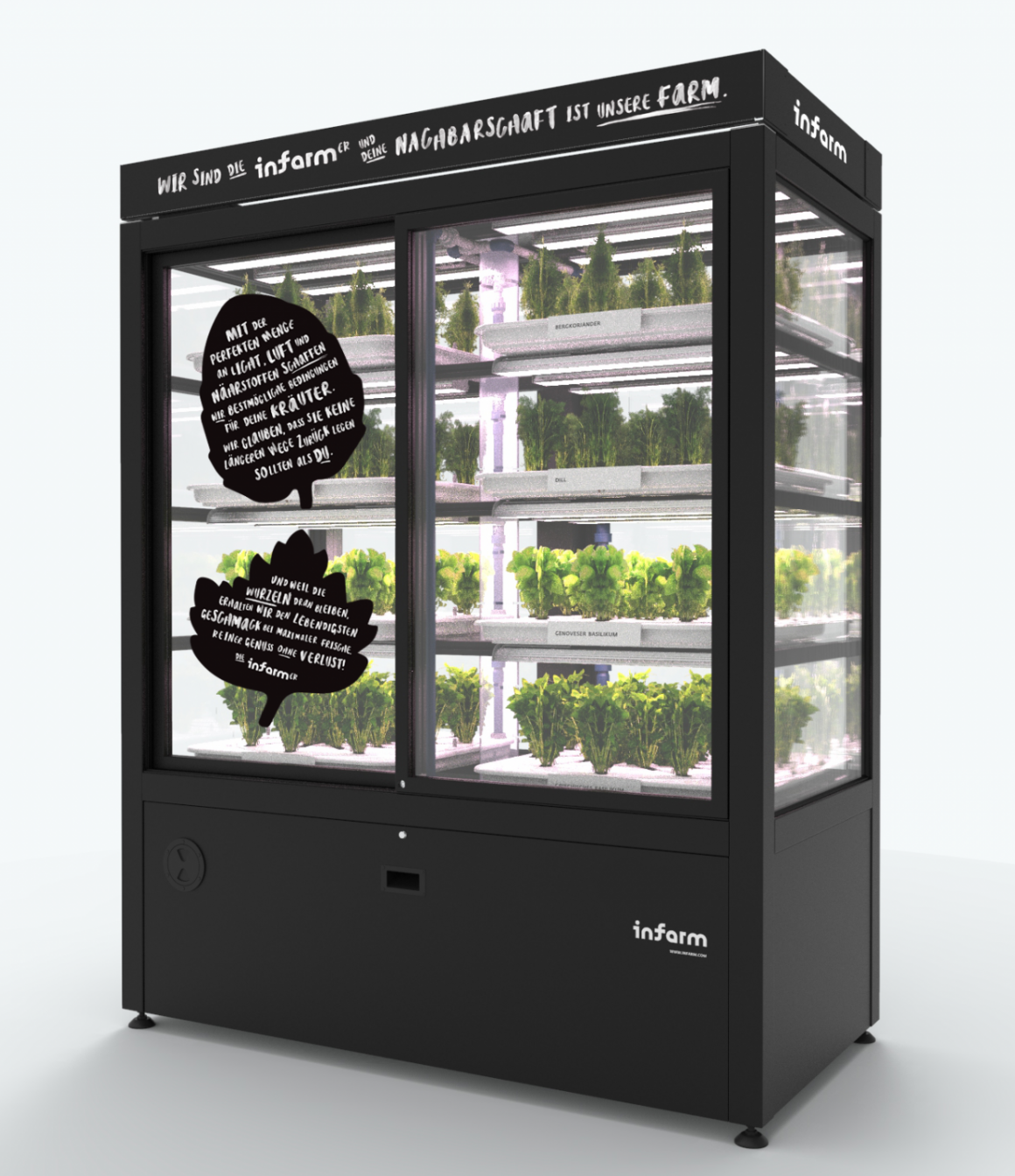 Source: Infarm
Grocery stores become farmers
Companies like Infarm bring vertical farming straight to stores. The Berlin-based startup rents out its modular vertical farming systems, i.e. miniature indoor greenhouses, to retailers. They can grow herbs, cabbage and lettuce right at the point of sale using the vertical micro-farms and then sell the fresh-grown just-harvested produce to customers. Osnat Michaeli, Co-Founder and Chief Brand Officer at Infarm calls this concept "farming-as-a-service".
Infarm's modular systems are controlled through a cloud-based farming platform that reads and analyzes the values inside the modules. Sensors assess factors such as moisture levels, carbon dioxide concentration and lighting levels. Infarm associates remotely control and monitor the crops and optimize the plants' growth. On-site Infarm associates also harvest and replant the crops on location on behalf of the supermarkets. "In terms of space, one Infarm unit needs less than 2 square meters of ground. Thus Infarm's technology is specifically designed to work anywhere in any available space", explains Michaeli.
It comes as no surprise that customers appreciate the transparency in the production process as they can see with their own eyes how their food is made. This builds trust with consumers and is precisely why retailers use the technology.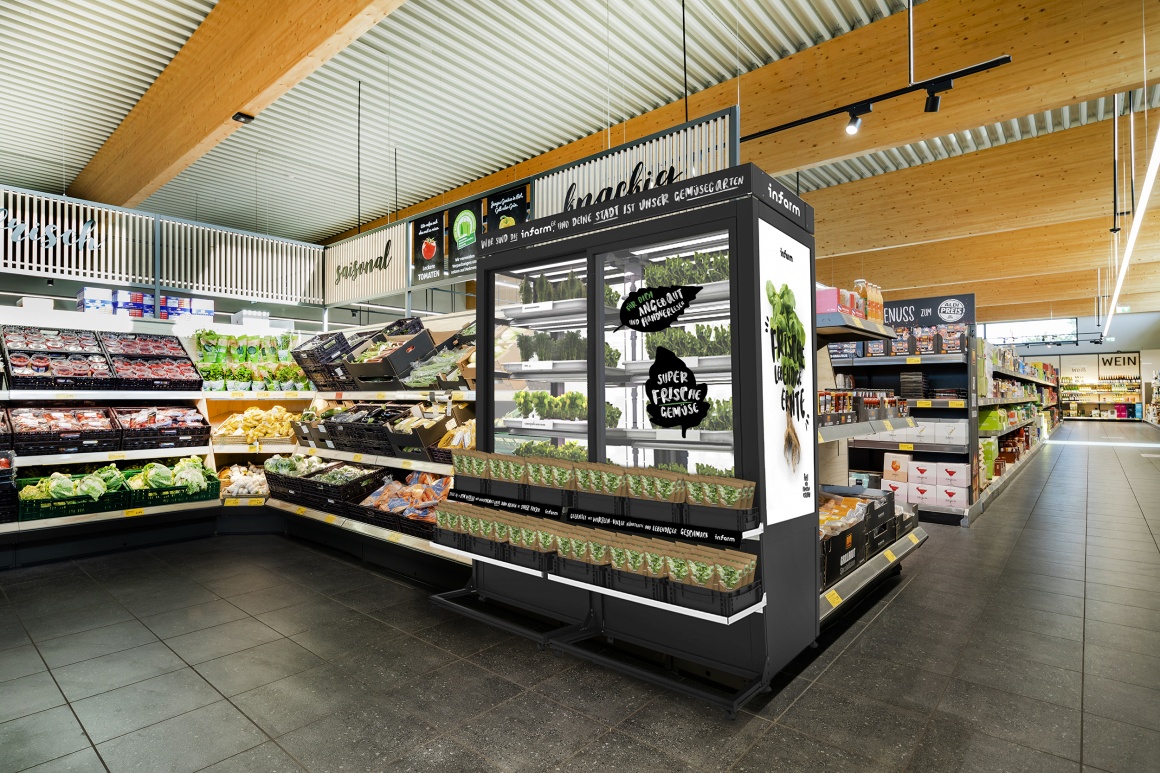 Source: Unternehmensgruppe ALDI SÜD
Among other German retailers, ALDI Süd has also decided to add this solution to its portfolio. By the end of 2020, twelve of its stores will feature Infarm farming platforms. The system is also gaining traction in other countries. In London, Marks & Spencer already uses Infarm's smart modular farms in several of its stores. The M&S Food Clapham Junction store is the first location that rolled out the farm units. Store manager Joe Erskine sums up, "Our farming unit has been a real talking point since we re-opened in September and is helping change the perception of M&S Food in the local area. The farm brings a feeling of real freshness to our product offer and customers have been keen to discuss its sustainability benefits too." Director of food technology at M&S Food, Paul Willgoss, explains the reasons in an interview with the European Supermarket Magazine: "We operate as part of a complex global food supply chain and want to understand the emerging technologies that could help provide more sustainable solutions."
In the U.S., Altius Farms is a Denver-based greenhouse farm, which uses hydroponics and vertical growing systems to grow produce and works closely with local grocery stores and restaurateurs. The company delivers fresh produce to its partners and teams up with them for joint marketing campaigns such as in-store tastings to boost sales. "Small-format grocers are wonderful to work with and are really our partners in this," says Sally Herbert, Altius Farms co-founder and CEO. "Whenever we do a Saturday demo at grocery, we see an uptick in sales."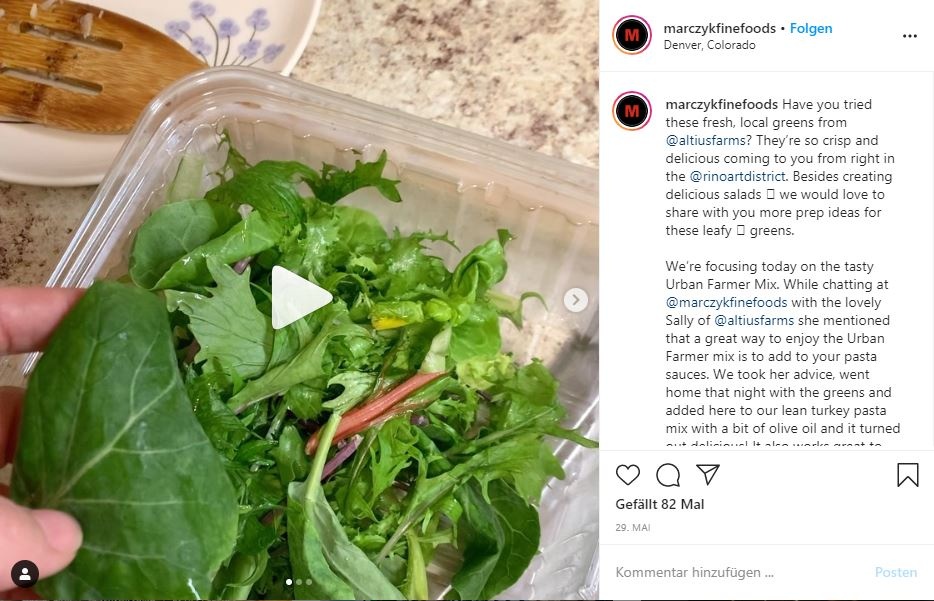 Source: Screenshot of the instagram channel of Marczyk Fine Foods
"It brings the product to the customer in a more personal way." (Sally Herbert, Altius Farms)
Social media is also a great tool to market this type of project. Partners of Altius Farms use this platform to share recipes and prep ideas for featured products.