Company News • 31.10.2023
REMIRA case report: greater transparency and more efficient processes
DURAL enhances inventory management worldwide with LOGOMATE
Optimised warehouse stocks, improved product availability and a significant reduction in time-consuming tasks for employees have all been achieved thanks to the introduction of the LOGOMATE inventory management software at DURAL. After successfully implementing the program at all its international locations, DURAL is now able to ensure centralised, transparent coordination of all orders at its company headquarters in the German Westerwald region.
Supplier

Phoenixplatz 2
44263 Dortmund
Germany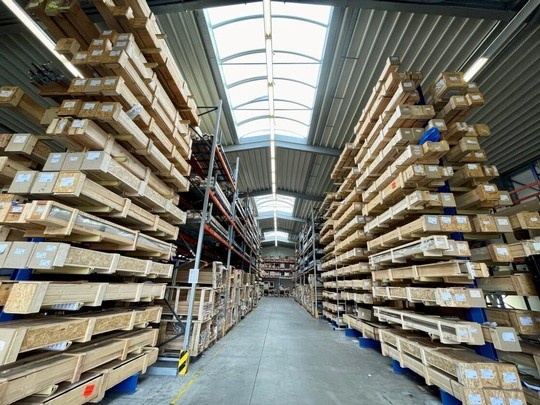 Source: DURAL
DURAL is a specialist in profiles and technical products for tile installation. Founded in the Westerwald in 1981, today it has a presence on five continents with six branches in different countries, serving customers in more than 70 countries worldwide. The extensive range comprises more than 5,000 sales items which need to be dispatched quickly and reliably to meet customers' requirements all across the world.
ERP program lacking in effective demand and order planning
The task of dispatching more than 10,000 stock-keeping units (SKUs) to six locations on a regular basis posed great challenges for DURAL. The conventional ERP system used for demand and order planning proved to be inadequate, as Eike Seulen, Head of Purchasing and Product Management at Dural, explains: "Purchasing and Sales Department employees frequently became involved in warehouse management." Despite allocating significant numbers of staff, it was difficult to maintain the appropriate quantity of products in stock, which could result in shortages or overcapacity. Scheduling had to be carried out locally at each site, which had an adverse effect on efficiency and transparency. "We wanted a program that would relieve our employees of time-consuming tasks, manage our warehouse inventories more efficiently and improve our delivery capacity. We have found such a solution in LOGOMATE," affirms Seulen.
Another thing DURAL wished to do was integrate all international locations into the system and provide centralised access to data. The REMIRA inventory management software was able to provide these features as well. The Dortmund-based software supplier specialises in supply chain and omnichannel commerce for retail, logistics and industrial enterprises. Implementation started at DURAL's headquarters in Ruppach-Goldhausen in the western German state of Rhineland-Palatinate two and a half years ago.
Improved product availability with reduced inventories
LOGOMATE assists DURAL with purchase and manufacture planning using AI-based analyses, forecasts and order recommendations. It not only schedules its own products but also places orders with a large number of suppliers. After LOGOMATE was successfully introduced at the company's headquarters in the Westerwald, the international branches were gradually integrated step by step, starting in France, followed by the US, Spain and finally the UK. These interconnections were implemented smoothly without a hitch.
All inventory management is now handled in Germany with no extra staff required at the international locations. Purchasing has also been centralised, simplifying orders and demand and inventory planning. This reduces labour input and staff requirements in warehouse planning by about 50%.
LOGOMATE has eased daily scheduling at DURAL considerably and taken the pressure off employees in demand planning and internal product distribution. Check lists are now produced in the company's headquarters on a weekly basis and then provided to the international subsidiaries. The lists contain clear recommendations on what needs to be ordered, which items are overstocked and where there is a risk of items being out of stock. Inventory control has improved as a result. Warehouse stocks are now transparent at all locations and can be consulted at any time.
Overall, introducing LOGOMATE at DURAL has led to improved delivery capacities, warehouse optimisation and a reduced workload for employees. Staff can now turn all their attention to activities which offer added value. Being able to manage stocks centrally and access AI-based analyses and forecasts has strengthened competitiveness and enabled the company to fulfil ever-changing requirements from global clients. "Our expectations of the software have been met completely. Working with REMIRA was also very pleasant and support was exemplary," reports Seulen. "We now have an improved product availability with reduced inventories. We haven't experienced any delivery problems, not even with tumultuous raw material supply in 2021 and 2022. What's more, work processes have noticeably improved for all parties involved. Employees are now free to do what they actually need to do."