Report • 28.02.2022
The iXtenso editorial team was hungry ...
... and tested the Gorillas and Flink delivery services
Food delivery services in city centers are picking up speed. Drivers with oversized backpacks on their backs are increasingly common, sometimes even late at night. Popular services promise to deliver the groceries ordered via app to your doorstep within ten minutes. Can this really work? To unravel the mystery, I ordered my groceries from the two providers Flink and Gorillas - on a Friday evening at just before eight.
Who can shop at the services anyway?
For established supermarket goers, shopping at Gorillas and Flink will be unfamiliar. The whole thing only works via app. First, a user account has to be created. The address is used to check whether you are in the delivery area. However, in many cities this is quite limited. I was just lucky enough to find myself on the edge of the delivery radius of both services, despite my fairly central location in Bonn's Südstadt district (southern part of town).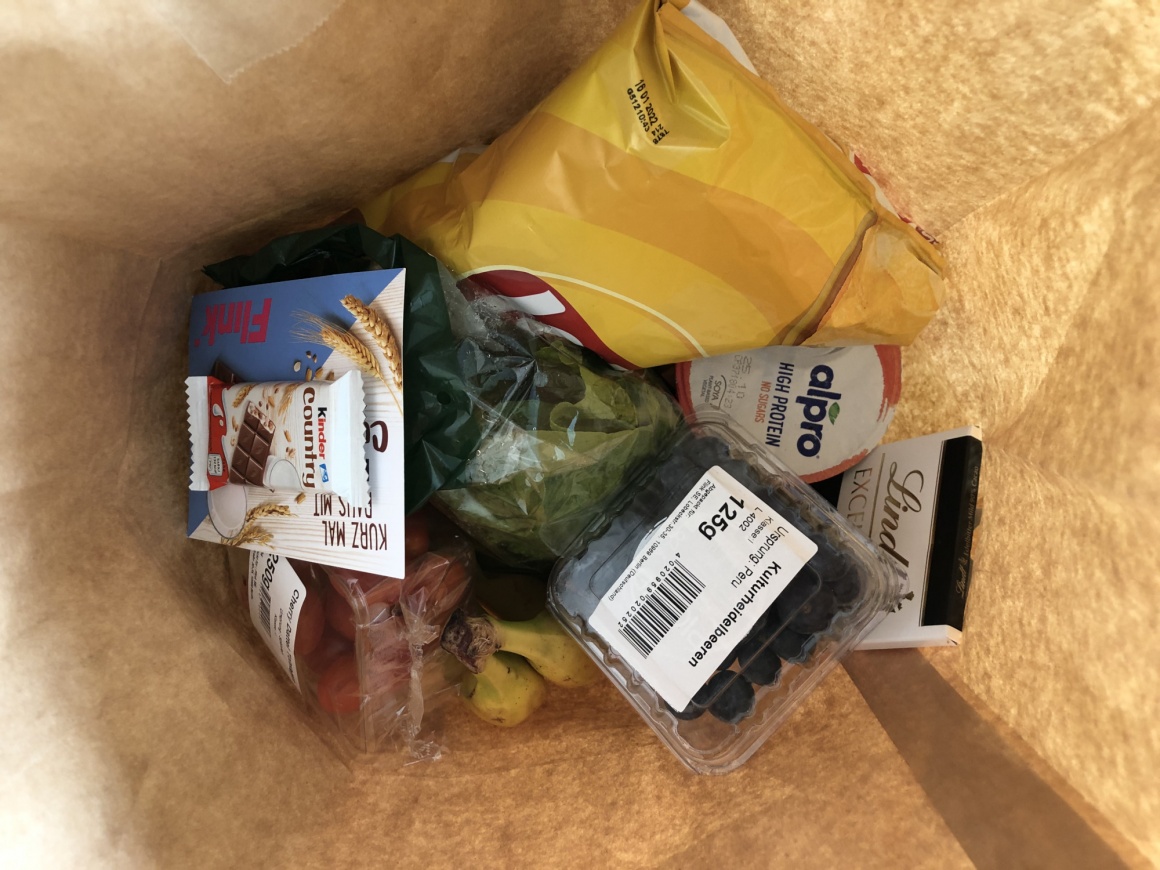 Source: iXtenso/Wendorf
Store design
In both stores, the current delivery time is displayed directly on the home page. Good for scheduling. In addition, a list of favorite foods can be created. However, I don't know if anyone uses this. After all, there's no shelf in the supermarket for foods you want to buy next time.
In my experience, searching for individual products via the search bar is very tedious. For example, my search for "banana" on Flink only turned up a commercial banana in the 11th hit, and on Gorillas only in the 21st hit, behind various baby jars, yogurts and banana-flavored juices. I wonder if they are so popular? For me – as a non-baby at least – rather uninteresting.
The selection of products across different categories made my search much easier. In the "Breakfast" category, I was able to locate baked goods, mueslis and spreads at Gorillas with just a few clicks. In the "Veggie & Vegan" category, I found everything related to oat milk, plant-based meat and yogurt alternatives at Flink.
Variety of offerings
Flink offers a wide range of products in both stores, from well-known labels to products from REWE's own brands – after all, the delivery service is part of the large food group. Gorillas is currently cooperating with the local Voigt bakery and pastry shops, so fresh rolls are still available late in the evening. In addition to food, the two suppliers also sell pet food and household and drugstore products. However, these were of secondary importance for my test.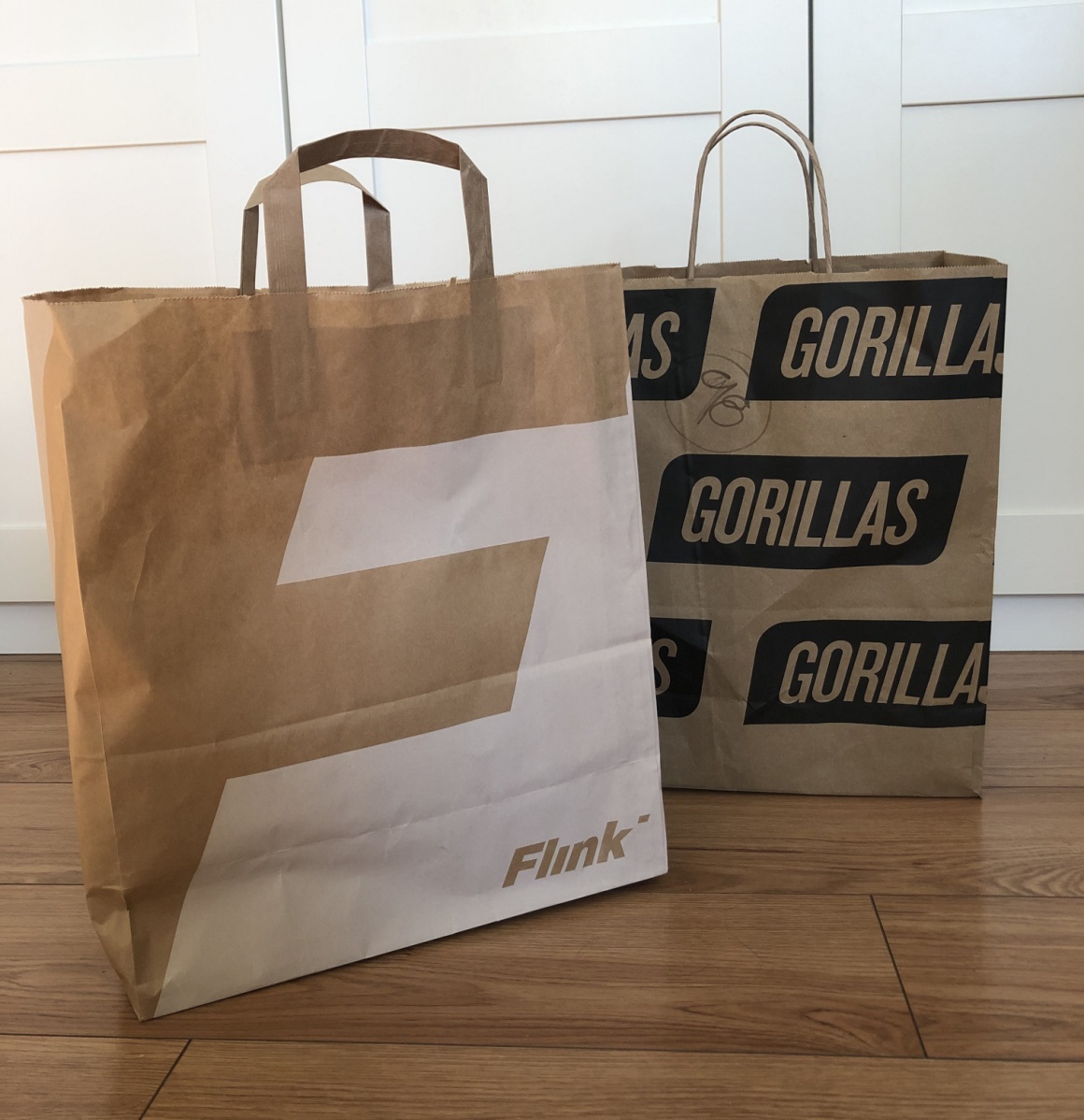 Source: iXtenso/Wendorf
Price
The prices are in the usual supermarket range. For my selected items, the products at Gorillas were on average a few cents more expensive. However, this could also be related to the fact that at both there is partly only the organic version of an item, and partly only the conventional. This naturally affects the price. For example, a single organic banana costs 39 cents at Gorillas, while the non-organic banana costs 29 cents at Flink.
Payment
The checkout at Flink runs via PayPal or credit card. At Gorillas, payment can also be made with Klarna. The delivery costs are 1.80 euros in each case.
The payment at Flink? No problem. After a few clicks, the money was booked and the driver went on his way. Payment at Gorillas was all the more nerve-wracking. First the page took forever to load, then suddenly an error message appeared - the payment process could not be completed. The reason? I have no idea. My shopping cart was full, my stomach empty. It was as if I had realized at the supermarket checkout that I had forgotten my wallet at home. In this case, though, it seemed more like the cash register was broken.
So my first test run at Gorillas failed. A week later, however, I gave the service another chance. And bingo, this time the purchase went through.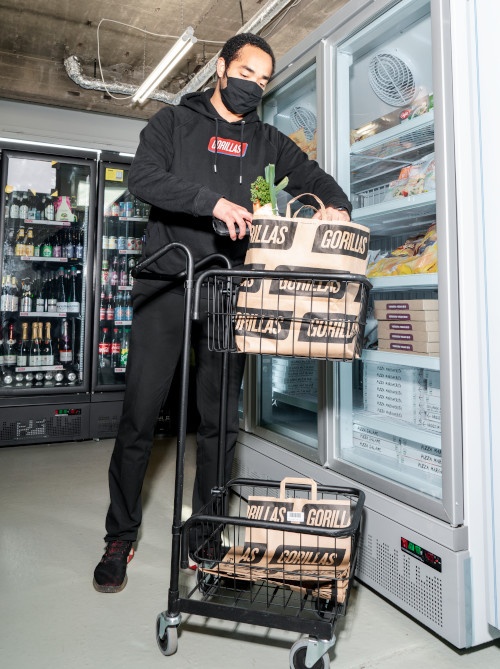 Source: Gorillas
Service
Both delivery people were very friendly and brought my bags up to the second floor. I was already able to give them a virtual tip in advance during checkout.
Transport
The orders each came in standard paper bags without any further protective packaging. Bananas, potato chips and crispbread were partly at the bottom of the bag, but were not damaged in either case. So they passed the endurance test. Even my ice cream ordered from Gorillas survived the trip without separate packaging and did not thaw.
Delivery time
Let's get to the big secret: Did the order really arrive within ten minutes?
Unfortunately, I have to disappoint you: No. But almost! It took 16 minutes at Gorillas, but the competitor was a bit faster and delivered the order within 11 minutes!
Can you complain about that?
In both cases, the driver's location could be tracked in real time via app. Exciting, but also kind of creepy. Another mini-fail at Gorillas: The announced time of delivery was not updated. So even at 7:56 p.m., it still said my order would be there at 7:53. According to the map, however, the driver was still several hundred meters away from my house. A bit confusing, but bearable.
Conclusion
Overall, my orders were well worth the experience. Even though the delivery wasn't there within ten minutes in each case, it was amazing how quickly the groceries actually showed up on my doorstep. This is certainly a good solution for stressful days in the future. I would tend to come back to the provider Flink. However, I can't imagine doing my shopping this way in the long term. I like going to the supermarket too much for that, browsing through the individual departments and falling for one or the other marketing trick. Ultimately, as in many other areas, a hybrid solution seems to be the happy medium.