News • 23.12.2021
Coco, the remotely-piloted delivery service
New model Coco 1 expands delivery radius and volumes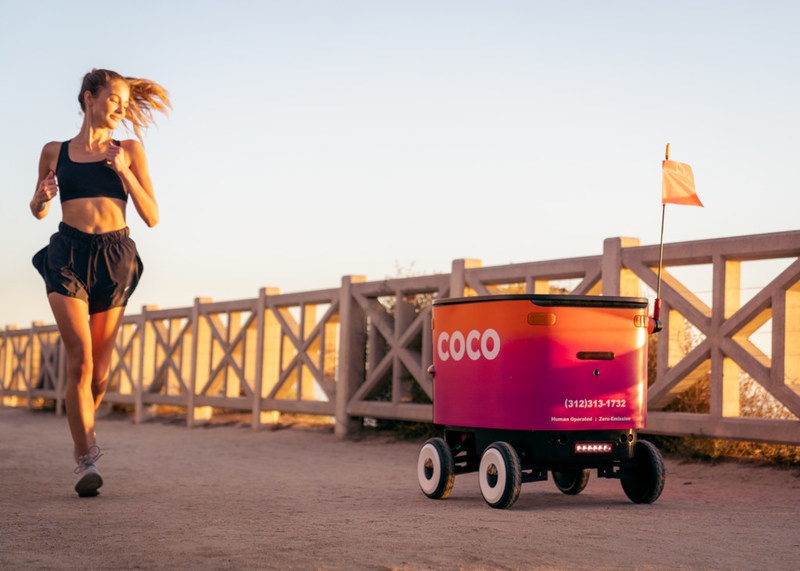 Source: Coco
Coco, the robot based delivery service, announced the official launch of COCO 1, a larger, more advanced version of its signature pink bot.
The Coco 1 is a first of its kind delivery robot designed and manufactured in partnership with the micro mobility hardware manufacturer, Segway. Coco is currently deploying 1,000s of Coco 1 robots to serve local merchants in multiple cities, over the next few months. With its increased carrying capacity, the Coco 1 will deliver larger orders for a wider range of merchants, further eliminating the need for car-based delivery.
Compared to the current model, the COCO 1 offers a number of added features including a more efficient drivetrain and a larger battery capacity that allows for an increased delivery radius of up to three miles, nearly double the radius of the original model. In addition, the COCO 1 features multiple cameras and sensors to assist remote pilots in safely navigating around traffic and obstructions and to efficiently plan delivery routes.
"Amidst the ongoing labor shortage and growing demand for delivery robots, we believe that Coco is embarking on an exciting journey in a blue-ocean market," says Tony Ho, Vice President of Global Business Development at Segway.
The launch of COCO 1 also enables Coco to branch into the grocery space. The COCO 1 can hold up to four full grocery bags and can travel further distances for drop offs, making it the perfect vessel for metropolitan grocery delivery. COCO 1 will make its debut with LA-based health foods grocery store, Erewhon Market and will be stationed at all locations across LA. This launch will further support Coco's expansion outside of the Los Angeles area, making grocery shopping more convenient and accessible in any major city.
"With COCO 1 we applied merchant feedback to increase carrying capacity, allowing for larger food, grocery, and pizza deliveries, while also improving vehicle efficiency to decrease delivery times," says Zach Rash, Co-founder and CEO of Coco.