Company News • 15.03.2017
Philips Lighting installs first supermarket with indoor positioning in Germany
Edeka Paschmann supermarket in Düsseldorf first to pioneer Philips' indoor positioning in Germany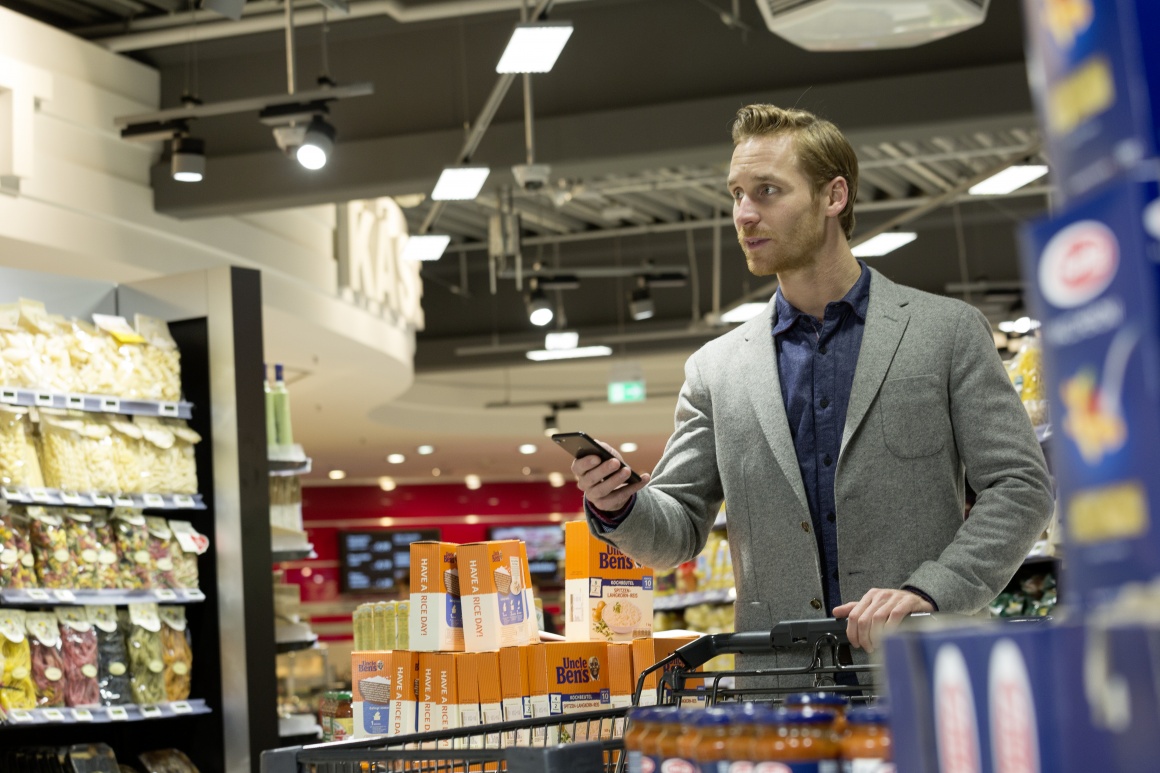 Source: Philips Lighting
Philips Lighting announced that the Edeka Paschmann supermarket in Düsseldorf is the first in Germany to benefit from Philips' indoor positioning system. In collaboration with its Location Lab partner Favendo, Philips Lighting delivered a new app for smartphones that gives shoppers access to location-based services, such as finding items at the Edeka Paschmann's 2,400 square meters shop area, with an accuracy of 30 centimeter. Edeka Paschmann is also the first retailer to benefit from the newly introduced downlights and spotlights that are compatible with Philips' indoor positioning system.
"Philips' indoor positioning system delivers real value and easy navigation for both the customer and the retailer," says Falk W. Paschmann, Managing Director at Edeka. "We are convinced that this system is future-proof, especially for larger stores and not only targeted for the younger clientele. Customers without smartphones will also benefit from the service, as our staff can use the app to search for goods faster and more reliably. Restocking the shelves is also much simpler with this navigation system."
Introducing new advancements in indoor positioning system
At EuroShop 2017, Europe's leading retail fair in Düsseldorf, Philips Lighting showcased the latest advancements of its indoor positioning system. By adding Bluetooth low energy (BLE) as well as smartphone sensor-based positioning to its Visible Lighting Communication (VLC) technology, Philips Lighting offers a comprehensive, hybrid indoor positioning system. Retailers are able to provide their customers with a seamless experience from one system offering hyper-accurate location services as well as in-pocket notifications without the need to install separate technologies. In addition, Philips Lighting Bluetooth low energy (BLE) beacons are easy to integrate as they come with multiple powering options ranging from full integration into the luminaires to track-mounted beacons.
Philips Lighting also announced its new adaptable LED trunking system Maxos fusion to work with indoor positioning and expanded its range of indoor positioning ready luminaires to downlights and spotlights1. With these additions, a wider variety of venues such as shopping malls, fashion stores, hospitals and offices will benefit from Philips' scalable, single and multi-purpose indoor positioning system.
Philips' location analytics dashboard is another new addition that provides improved possibilities for venue owners to analyze data generated by Philips' indoor positioning system. Retailers that have access to the dashboard, showing the busiest areas in stores and the routes customers take to find products, are empowered to make better decisions on operations, marketing and store layouts.
"Since the last EuroShop, our indoor positioning system has significantly evolved and we are leading the industry with our extended indoor positioning-ready luminaire portfolio and the addition of location analytics," says Gerben van der Lugt, Indoor Location Services Leader at Philips Lighting. "We also continue to fulfill the growing needs of the market by harnessing the innovation power of industry leaders and startups, bringing them together in our recently announced Location Lab partner program."