News • 16.04.2021
Lighting installation in Sydney's new commercial tower 1 Denison
Custom lighting design for BarLume, a café restaurant in the lobby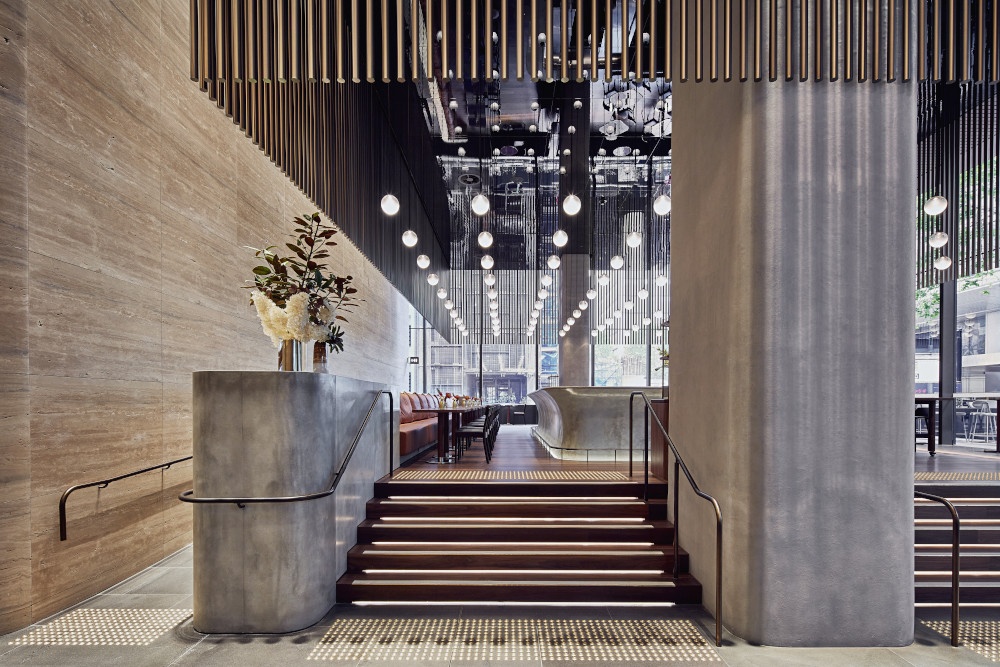 Source: BarLume at 1 Denison, Sydney
ADesignStudio created a striking lighting installation for BarLume, a café restaurant in the ground-floor lobby of Sydney's prestigious new commercial tower 1 Denison. The installation is a rhythmic array of 90 handblown frosted glass spheres that drop three meters from the black-mirrored ceiling, providing a soft atmospheric glow to the café restaurant below.
ADesignStudio collaborated with architecture firm Bates Smart and international lighting design consultancy Electrolight to produce the custom lighting. Bates Smart and Electrolight had a clear visual brief for the light fitting. "They wanted a 3-meter drop pendant with a faded, frosted glass diffuser. The lights also had to be DALI Dimmable and with a lensed LED to assist with the glare," says Alex Fitzpatrick, founder and designer at ADesignStudio. Because the installation consists of 90 light fittings, the final design had to consider the installation, maintenance, and LED access over the lifetime of the fitting.
Alex is fascinated by the technical qualities of a lighting fixture and the ambient effects of the diffused light. "I try to capture light within a material without the light source being visible," he explains. For BarLume, in collaboration with BatesSmart and Electrolight, Alex designed a handblown glass sphere with a frosted fade and a lens system that conceals the LED from view. Sandblasting the glass achieved the frosted fade around three-quarters of the sphere, with the effect creating a sense of freely suspended light.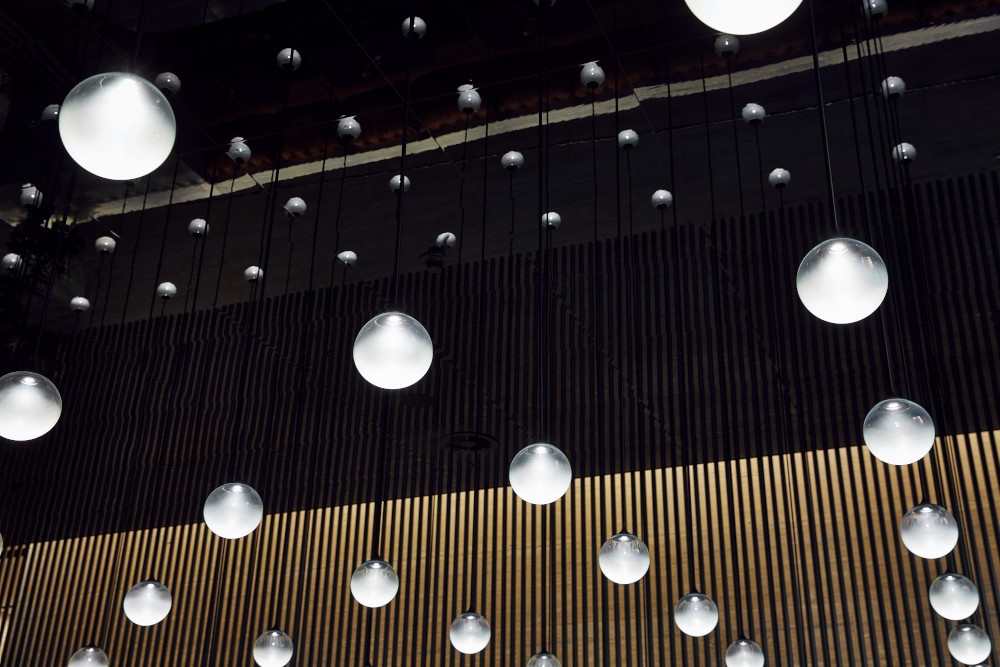 Source: BarLume at 1 Denison, Sydney
Each sphere is on a 3-meter-long solid drop, rather than a cable, with a special mounting system that allows the glass to simply screw off and be replaced or to maintain the fitting. "As the fittings are quite simple to look at, we also wanted them to feel simple and be user-friendly for everyone who came into contact with them," Alex says.
With 90 glass spheres suspended in a grid arrangement, the installation shines in the double-height lobby. The depth and reflection of the black-mirrored ceiling accentuate the repetition and rhythm of the array and magnifies the 3-meter drop (perfectly coordinated with the surrounding screen). The number and layout of the fittings also allow BarLume staff to position tables where needed as they receive equal illumination.
ADesignStudio designed the lights to installed in three stages to assist the building schedule. The fittings had to be installed before the mirrored ceiling and drop through pre-drilled 20-millimeter holes, so the first stage was a mounting plate and rod that would drop just below the mirrored ceiling. This enabled the lights to be installed and wired beforehand. The second stage was fixing the rods and LED with a simple mechanical fastening. Finally, when the building was near complete, the glass spheres were installed with a pre-assembled fixing ring, and a bag around each sphere shielded it from dust and debris.