Company News • 12.01.2011
Honeywell delivers industry-leading Scanning Performance with Voyager 1200G
Next Generation Linear Scanner Showcases Honeywell Leadership, Innovation in Data Collection Market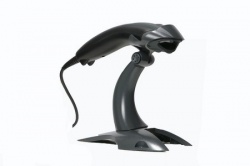 Munich – Honeywell (NYSE: HON) announced the introduction of the Voyager® 1200g linear scanner, a device designed to deliver superior scanning performance and unmatched readability on poor quality or damaged bar codes. An evolution of the world's best-selling single-line scanner, the Voyager 1200g shortens read time, improves productivity and minimizes human error associated with manual data entry. With the Voyager 1200g, retailers are able to improve throughput, leading to a more efficient retail environment with shorter wait times, and ultimately increased customer and employee satisfaction.
 "There are billions of bar codes scanned every day, each of which contains different characteristics that may make readability difficult. At Honeywell, we've found this to be a real pain point for our end users," said Taylor Smith, director of product management—scanning, Honeywell Scanning & Mobility. "The Voyager 1200g excels at reading any type of linear bar code, damaged or otherwise, and is a testament to Honeywell's leadership within the scanning industry and our continued drive to produce innovative offerings for our customers."
The Voyager 1200g was designed specifically with retailers and small and medium businesses (SMBs) in mind, as it provides an unmatched level of reliability, resulting in little to no downtime and a decrease in service costs. In addition, the Voyager 1200g simplifies installation by providing automatic configuration of the device based on detection of the type of interface cable, as well as the presence or absence of a stand. This unique capability, along with tool-free stand assembly, combines to deliver a superior out-of-box experience for Voyager 1200g users.

Finally, the Voyager 1200g pairs the quality of an industry-leading product with an attractive price point, which is especially important for SMBs.
"In today's fast-paced and high-tech world, having to manually enter SKUs at the point-of-sale is deemed unacceptable by both retailers and their customers," said Eric Knaapen, Sales & Marketing Director, PC-PoS Europe. "The Voyager 1200g exceeds our expectations in a device that can read virtually any bar code, despite how damaged it might be. This device sets a new standard for the AIDC industry and we're excited about its introduction to the market.
The Voyager 1200g has the ability to read standard 1D and GS1 DataBar™ symbologies, and functions as either a hands-free presentation or a traditional hand-held scanner.
Honeywell's Voyager 1200g will be on display at Wincor World 2011 Trade Fair & Forum from January 25-27, 2011 in Paderborn, Germany and at EuroShop Global Trade Fair (Hall 6, Stand 6134) from February 26-March 02 in Düsseldorf, Germany.


 
Supplier

Nijverheidsweg 9-13
5627 BT Eindhoven
Netherlands