Product • 25.06.2007
GL4e series versatile printer - RFID-ready
SATO launches a versatile printer, RFID-ready, a best choice in a demanding industrial environment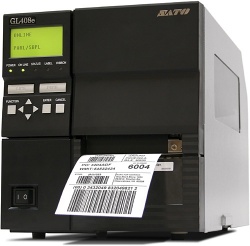 The new GL4e series is SATO's most significant release of printing technology to date. Versatility and value are the cornerstones of the new GL4e series.
SATO, a global leader in barcode printing, labelling, and EPC/RFID solutions, today unveiled the new GL4e series for medium-duty industrial applications. As an RFID-ready printer, it is field-upgradeable offering flexibility and scalability to meet end users' RFID printing requirements anytime.
Only the GL4e series offers a field-upgradeable UHF RFID option; an industry-leading printer management utility SATOnet CONNECT™; standard tri-port communication protocols of RS232C serial, IEEE1284 high-speed parallel and USB 2.0 plus LAN and 802.11g Wireless LAN as options; an "automatic detection system" to conveniently switch between 203 dpi (GL408e) and 305 dpi (GL412e) print resolution; and much more.
The SATOnet CONNECT™ printer management utility tool option provides the end user real-time visibility and control over their company system of printers, which translates to improved productivity and cost savings.
"The GL4e development had the end user in mind. It is the alliance of our technology leadership and our commitment to a customer-centric approach to product development, which meant continuously working to understand the needs of our business partners and end users," said Mr.Toshihiro Waki, managing director of SATO International. He further commented, "We are bringing to market a product that meets the customers' price-performance expectations, fully confident that it will be their preferred choice."
UHF RFID-ready printer, field-upgradeable
The GL4e series is the first RFID printer in its class to provide the most extensive support to encoding Class 1 Gen 2 tags. It makes use of the very latest in near-field antenna technology to encode precisely to the position on the label that guarantees optimum read performance. The GL4e RFID-ready series allows users to economically print barcode labels now and seamlessly incorporate RFID encoding capabilities as their future needs change. Furthermore, it can meet UHF frequency standards worldwide for global implementation.
SATOnet CONNECT™
The GL4e series can function as a stand-alone printer, but with the Java-based SATOnet CONNECT™ software option, end users can now remotely control and monitor all printers on the network, even worldwide. With this tool, it is now possible to manage mission-critical applications in real-time.
GL4e boasts a maximum label OD of 265mm
This extended label capacity means fewer stoppages for label changes, resulting in increased production line uptime. Comparing this 265mm OD to the industry standard 200mm OD shows a maximum capacity of labels increased by almost 2.
Supplier

Frankfurter Straße 95
65479 Raunheim
Germany