News • 15.12.2017
Carrefour signs the 2018 French Business Climate Pledge
Investing in low CO2-emitting technologies and reducing energy consumption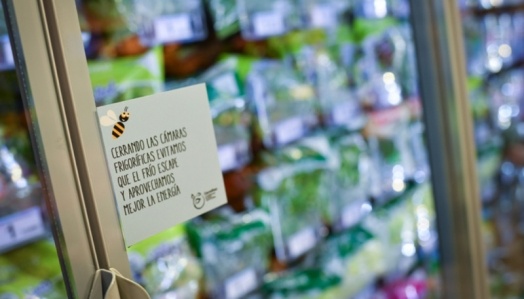 Source: Carrefour
Carrefour's commitments:
Reduce the CO2 emissions generated by its stores throughout the world by 40 percent between now and 2025 (compared with 2010 levels), and by -70 percebt by 2050. It is taking action at two levels: the primary direct sources of CO2 emissions (energy consumption and use of refrigerants), and indirect sources – the carbon footprints of the goods that it sells and their transportation in particular.
Invest in low CO2-emitting technologies by introducing an internal price for CO2 in investment projects.
Reduce energy consumption by 30 percent by 2025: Carrefour's Anti-waste plan involves installing closed refrigeration units, using LED lighting systems, managing intelligent meters in stores and sharing examples of best practice. A new "energy independent store" project being introduced in France will feature the most effective technologies and innovations.
Develop renewable energy production initiatives that involve photovoltaic panels at our stores and our logistics hubs.
Reduce CO2 emissions generated by coolant production by 40 percent by 2025: Since 2015, Carrefour has invested €150 million: Phasing out of hydrofluorocarbons, introducing new facilities that have been in testing since 2009 that involve natural fluids (CO2), generating "clean" cold. A major commitment made within the collective framework of the Consumer Goods Forum (400 companies, 70 countries). Thanks to these initiatives, Carrefour has reduced its CO2 emissions by 45.3 percent since 2010.
Reduce CO2 emissions generated by transport operations by 30 percent by 2025: This has involved reducing distances, phasing out empty return journeys and filling lorries more efficiently. Alternatives to diesel are being developed: 6 hybrid vehicles are currently being tested and a fleet of 200 vehicles running on biomethane will be rolled out between now and 2017. Tackling waste also means tackling pollution: no more fine particles, 90 percent lower CO2 emissions.
Include suppliers in tackling climate change: 70 percent of the CO2 emissions associated with a given product are generated upstream by the farming sector. Carrefour has therefore pledged within the framework of the Consumer Goods Forum – an authority that represents the consumer sector – that it is going to stop deforestation before 2020, phase out HFCs and halve the amount of food waste generated between now and 2025.
Carrefour is also involving its suppliers in agro-ecology through its "Carrefour Quality Lines" (nearly 20,000 producers throughout the world) and is taking action to reduce food waste. Its various initiatives include putting products with short shelf lives on special offer, introducing longer expiry dates, giving donations to charities (more than 142 million meals were donated in 2016), providing customers with information, making changes to the way in which fruit and vegetables are packed and testing new types of packaging.