News • 09.02.2017
World's first 3D printed store created for Louis Vuitton
Dual print head capability accelerates production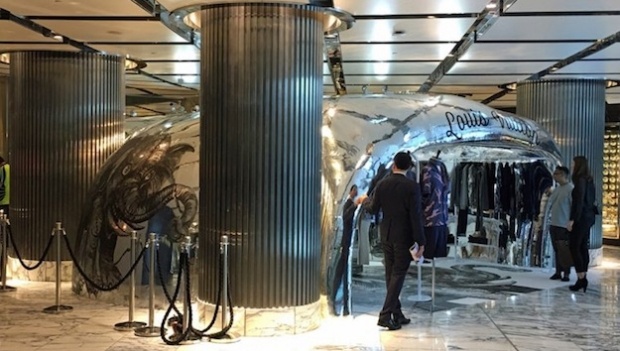 Source: Massivit 3D
Massivit 3D Printing Technologies has announced that its customer, OMUS, a specialist 3D print provider in Australia, has constructed what is believed to be the world's first 3D printed pop-up retail store on behalf of luxury fashion brand, Louis Vuitton.
The eye-catching 9m-wide, 10m-long and 2.7m-high (29.5ft x 32.8ft x 8.85ft) structure was created using OMUS' recently-installed Massivit 1800 3D Printer in just 18 days and is currently capturing the gaze of shoppers at Sydney's Westfield shopping centre.
According to Robert Grosso, co-owner of Melbourne-based, OMUS, working with Louis Vuitton's design agency, Gold Coast Displays, the company was tasked to produce a statement megastructure that would serve as an attention-grabbing platform for the premiere of the brand's latest menswear collection. Just three weeks remained from the point at which OMUS received the confirmation to go-ahead until the date of the pop-up store's grand opening. received the confirmation to go-ahead until the date of the pop-up store's grand opening.
"Having received the design brief, we essentially needed to produce a visually-stunning, structurally-sound outlet that could endure sustained use in a busy public environment – and in record time," he explains. "Given the complexity of the design and the short turnaround time, 3D printing was really the only viable production method available to us."
Dual print head capability accelerates production
To assist with the magnitude of the print job, OMUS enlisted the help of another Massivit 3D customer, Sydney-based Composite Images. Utilising the Massivit 1800's unrivalled print speed of up to 35 cm / 14'' per hour, two printers were deployed around the clock, each using dual print heads to produce two hollow panels simultaneously. A total of 30 panels were 3D printed and would serve as the walls of the pop-up outlet.
Once created, OMUS placed solid support 'ribs' in each panel to ensure the weight of the huge 243m3 (797ft3) structure could be tolerated. The entire display was then finished in chrome mirror self-adhesive vinyl, adorned with distinctive Louis Vuitton-designed animal prints matching the theme of the menswear collection on display.
"Louis Vuitton, and its design agency, were delighted with the finished result; it surpassed their expectations in terms of its striking visual appeal and realised their original vision to radiate the opulence of the company's safari-inspired men's line," says Grosso. "Their staff are also happy to explain to visitors how 3D printing was pivotal to the project and how it encapsulates Louis Vuitton's innovation and fresh-thinking attitude."
Enhancing competitiveness with designs that wow
As an early adopter of Massivit 3D's technology, OMUS has established itself as a pioneer of large format 3D printing within the retail, staging, events and architectural design arenas. According to Grosso, one of the main factors in integrating 3D printing into the company's business model was to enhance its competitive edge and differentiate its proposition from other sign and display suppliers. "Our customers are always seeking ways to push the boundaries and create applications with wow factor," Grosso explains. "Our Massivit 1800 3D Printer is fundamental to achieving this. From a business perspective, the very nature of building from the ground-up with little support material, enables us to replicate our customer's complex designs without the need for costly manufacturing tools, which presents a win-win scenario."