Company News • 11.01.2017
Umdasch Shopfitting opens "Le Chocolat"
Boutique in Dubai City Walk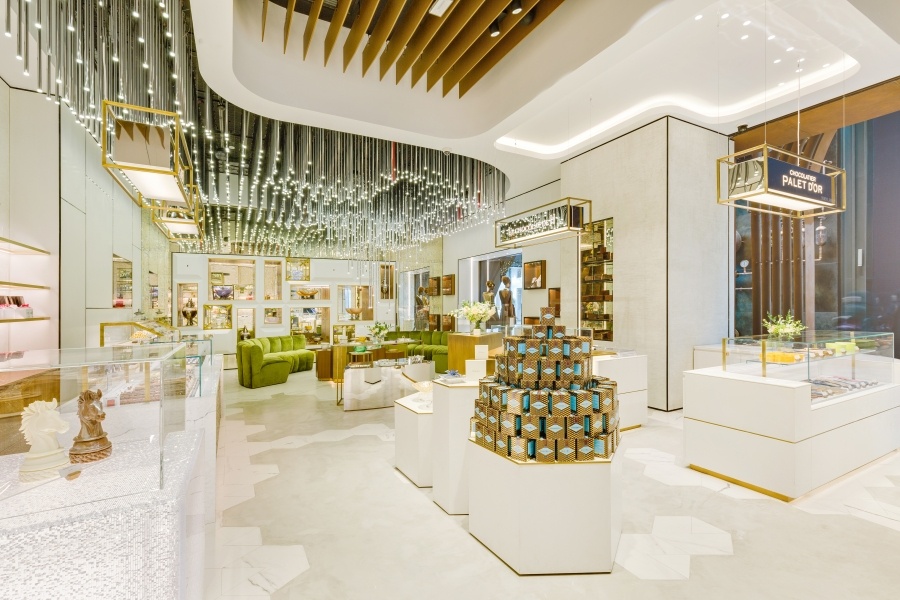 Source: Umdasch Shopfitting
The hearts of shoppers with a sweet tooth will beat faster here, since the boutique and the adjoining café-restaurant offer over 700 kinds of premium chocolates.
Umdasch Shopfitting was responsible for both the shopfitting and the ceiling construction. The result is a paradise for chocolate-lovers: the exclusive confectionery is presented in a white interior. Gold-bronze elements in the furnishings underline the high quality of the products and the shopfitting. The delicious sweets can be tasted in a seating area with green velvet sofas. The ceiling is particularly eye-catching: the white ceiling construction is interrupted by gold ribs and silver lighting elements. Surrounded by the visual experiences, aromas and fabric textures "Le Chocolat" forms an oasis of comfort for visitors.
An unusual store for unusual chocolate
Not only the shopfitting suggests that "Le Chocolat" is not simply a normal shop selling chocolate. Customers can taste and purchase different sorts of chocolate,, and can even create their own personalised chocolate. In the café-restaurant they can enjoy over 700 different sorts of chocolate in different forms from Japan, Belgium, Switzerland, France, the United States etc. The absolute highlight: is sculptures made of chocolate. When entering the shop, customers will encounter high heels or a haute-couture dress made of chocolate. The exclusive nature of the boutique is continued in the visual Merchandising. "Le Chocolat" is a unique store which scores with its high-end shopping and an unusual concept.
"The tight timetable and the challenging final stages demanded the top performance of our team. After the completion of the project, Umdasch Middle East is clearly proud of another premium store. It is a real must-see for every chocolate lover," commented Patrick Fallmann – General Manager Premium & Travel Retail of Umdasch Shopfitting Middle East.