Report • 07.09.2015
Shop design works different in China
Understanding the target groups in different countries
The Chinese retail market is developing rapidly right now and may even become one of the most important retail markets there are. This is a valid reason to get to know this retail culture better. Shop designers and retailers should make sure to understand the wishes of the respective target group.
Especially in the area of shop design, there is a lot of movement in China. This became also clear at C-star, the new satellite show of EuroShop in Düsseldorf, which was held for the first time this year in Shanghai. International retail designers showed their concepts which are set to fulfill the Chinese customer's requirements for experience, sophisticated design and new shop technology.
Chinese retailers: Strong expansion, little time
Architect Peter Ippolito has already participated in many shopfitting projects in China. During his work – which also brought him to countries like Russia and Switzerland – the managing partner of Ippolito Fleitz Group (IFGroup) has come to know the different approaches in the respective cultures when it comes to shop design.

He describes his experience like this: "Chinese retailers in particular have a fundamentally different approach when it comes to planning a shop than European retailers. Projects are carried out much faster here, because the companies are under a lot of pressure to further expand their store network."
A medium-sized retailer in Germany has about ten stores, whereas in China, a retailer with 100 to 300 stores can be classified as medium-sized. "The dimensions and time frames are very different. Creative ideas are implemented much faster than in other countries. This is especially challenging for us as designers but this challenge of course also allows us to creatively 'rave out'.

However, there is normally little to no time for trial periods like they are customary in Germany", describes Ippolito. It can happen that there is as little time as two months between the signing of the service contract and the actual opening of the respective store.

This experiences are shared by the logistics company Lehnkering Logistics. As an expert for logistics for shop fitting, CEO Michael Sterk is well acquainted with the challenges for supplying shop furniture in the world's fourth largest country: "When doing business in China it is vital to inspect the products with regard to quality and quantity before sending them to the actual store. Transporting a table for three thousand kilometers through China is much too expensive to then realize that you have the wrong product." This is why Lehnkering checks every delivery in Shanghai to save costs and time.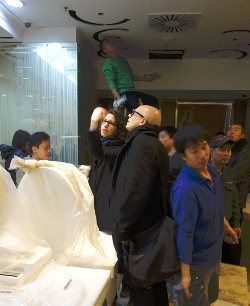 Source: IFGroup
Different significance of jewelry and light
The temporal component is one of the characteristics of the Chinese market. The other one is the culture itself. Customers have completely different shopping and viewing habits which have to be taken into account. A project of IFGroup for a Chinese jeweler makes this obvious.

To develop the shop concept, IFGroup first analyzed the target group and their views on jewelry as a product. Peter Ippolito sums up: "On the one hand, the Chinese only buy jewelry at special occasions. On the other hand, it is considered an investment - this is why for them weight is more important than looks. In our latitudes, jewelry is in contrast considered a daily accessory."

When examining the target group, the architects paid special attention to the cultural peculiarities: The model customer which should be reached was the typical "25-year old Chinese female of today". "This customer carries a great responsibility towards her parents. Because of China's one-child policy, her parents have given up on many things and invested heavily in her education. The stress, the city, the smog and the pressure at work mean that she often feels the need to repay herself", the designer explains. He continues: "Typically enough the most successful product of the last years was a face mask."

This background knowledge resulted in the first ideas for the design and the arrangement of the shop furniture. A short-term test setup helped them find out for example where the counter has to be placed to emphasize the jewelry's worth and the aspect that the customers visit the store only occasionally. Role plays with the sales staff helped them identify the needs of the customers.

The general trend in China towards very childlike and romantic style elements, which for example resemble Paris, was also taken into account when creating the shop design. The shop's look is characterized by paper cuttings and silhouettes which are seasonally adaptable and help create the romantic atmosphere. They are summarized under the title "Enchanting Forest". "Light is especially important", states Ippolito, "because in Europe we tend to use warmer light whereas in China, customers favor a cold light which distinguishes their beauty ideal of pale, noble skin."
Experiments between dream and reality
Peter Ippolito admits frankly and with a slight smile: "Some of our first tries with new shops in China end painful for us. Even projects which apparently are much too expensive and will be unconvertible for a roll-out for a whole range of shops are built nonetheless." This is often due to the design ideas of the business owners. "They travel a lot and see shops everywhere in the world. And this design is what they want for their own shops too. There is often a great divergence between desire and reality, especially when we take into account the time frame and the budget for the project."

The challenge for the designers mostly consists in them having to work very fast and precise. "Confidence-building is very important in China – even more important than the process itself", the designer believes, "mostly because they are afraid of losing money."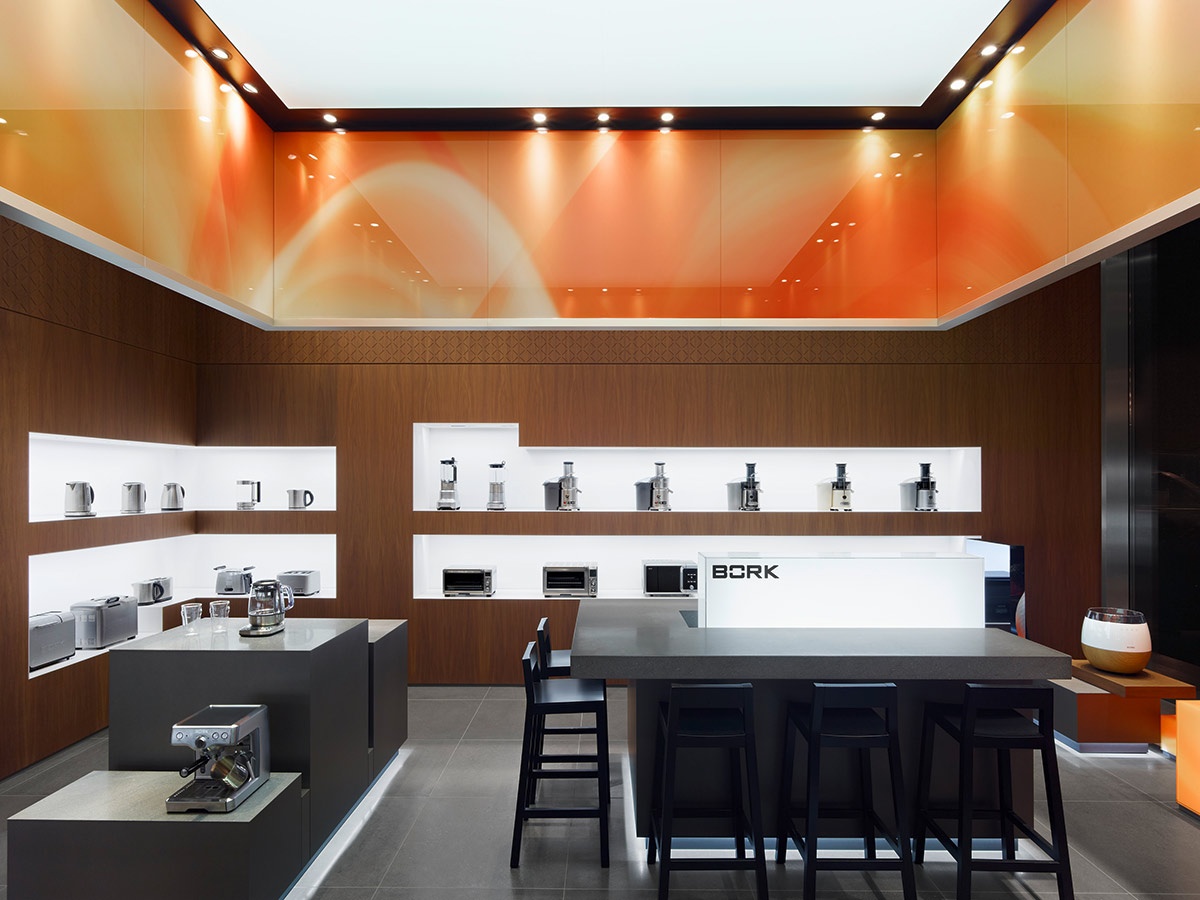 Source: IFGroup
Excursion to Russia
The Chinese market is characterized by rapid expansion with a great number of shops being opened in very short time. In Russia on the other hand, a project my very well be put on hold for three years – just like that. "But the Russians tend to put an extreme amount of money into a single shop. Even household appliances get their own flagship store here", the widely travelled architect explains. "The luxury brand Bork from an electrical appliances manufacturer for example ordered us to present their kitchen appliances like 'little stars'. They were put on display in specially designed cubic indentations in the walls, individually lit from above and from the sides." Materials used in the shop include wood and natural stone. Additionally, the design is connected with different experiences like cooking events and opportunities to try out the appliances.

Ippolito emphasizes: "A shop like this would not work in Germany, because there is no direct target group. But with its growing middle class and an upper class which is becoming less eccentrically, Russia has the required target group to make it work. Many Russians are just now discovering the trend to furnish their kitchen and to cook their own meals. This is why they are willing to pay hundreds of Euros for kitchen appliances like that. This concept is especially effective with men." The store is very successful.

But whether you look at China, Russia of Germany: A retailer has to understand his target group in every one of these countries. He also has to take into account the cultural circumstances and habits to be able to present his products and offer services accordingly. It is no use trying to bring European customs and practices to Asia – it simply would not work out.