Product • 24.05.2008
Open Front Coolers - Merchandising at the POS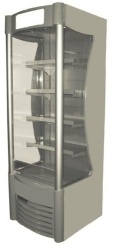 The concept. The key to increased sales at a glance
Open Front
The open front increases the rate of impulse purchase.

High impact lighting
Ensures the products inside are clearly seen.

Automatic Defrost
There is no daily maintenance.

Air Curtain
The unique forced air technology chills products to perfection and has the benefit of low energy consumption.

Shelf strip holder (optional)

Forced-air cooling

CFC-free

Plug-in refrigeration

Energy saving controller
for series OP MP, OP LP, OP XLP

Rollerbase
for series OP S, OP MP, OP LP, OP XLP

easy movement for cleaning purpose
prolonged maintainance intervals


Mirrored-glass - optional
This option creates a visually attractive display that enhances products and develops a point of interest.
Supplier

Werksgasse 57
8786 Rottenmann
Austria