Images • 18.02.2020
Not just stow it, present it, please!
Shelves and their possibilities at EuroShop 2020
Shelves are no longer just shelves. Form, colour and also function can vary. At EuroShop 2020, we will see what is possible with merchandise compartments today and that the good old shelf is not obsolete despite digitization!
Elegance and sophistication with the wall systems by Basic Shopsystem B.S. GmbH
Many goods with small volumes present - goods that are fine, discreet and fragile, such as jewellery, glasses or perfumes. The wall systems from Basic Shopsystem B.S. GmbH are characterised by a barely visible carrier connection and underline the lightness and elegance of such products. Basic Shopsystem B.S. GmbH has also created a strong solution for heavy products such as books and office supplies. The different mounting options of the shelves underline the variety of wall systems that the exhibitor of EuroShop 2020 has to offer.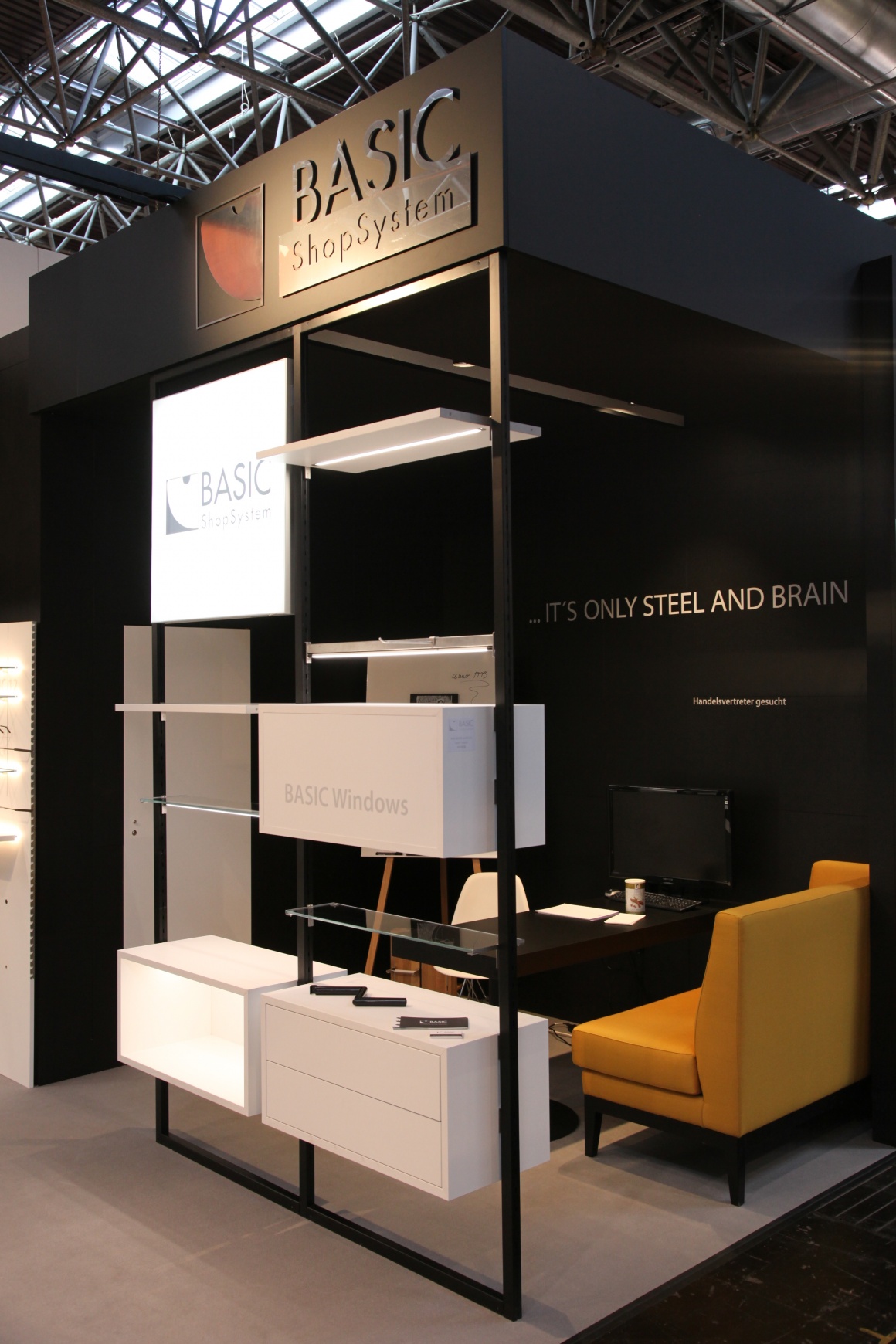 Source: beta-web/Klein
New perspectives for products: Tobacco and advertising displays by ADV GmbH
You want to present your products in an individual way? ADV GmbH offers an overhead tobacco display, a shelf for tobacco products, which is placed above the cash register and can also be filled with advertising. Or should it be an advertising display after all? It can be designed individually, any additional functions such as light, screens, audio or motion sensors can be integrated. Thus, according to the created 3D model, together with ADV GmbH, a shelf is created that does justice to your target group, your brand message and your POS.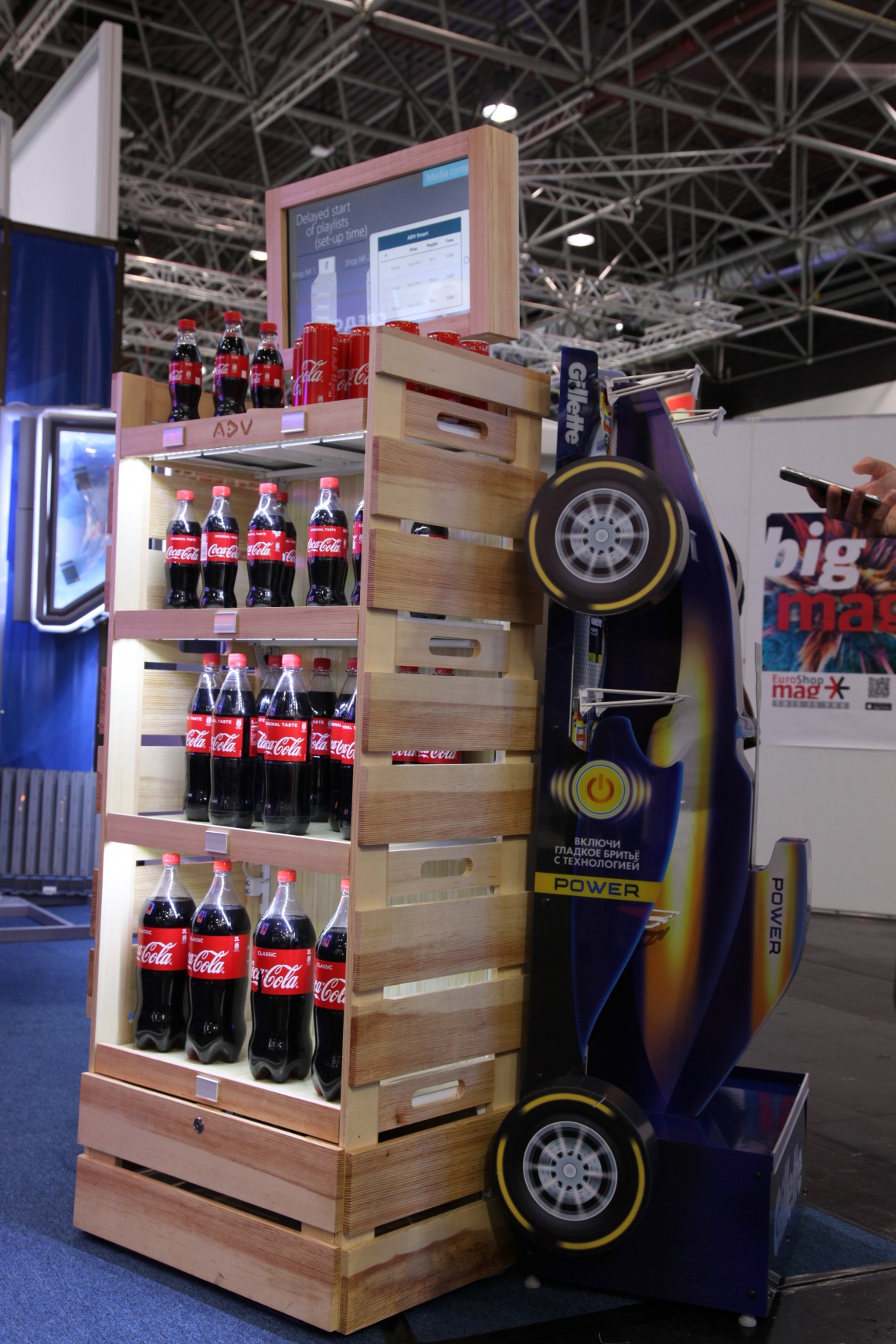 Source: beta-web/Klein
Price tag with effect: electronic shelf labels by Delfi Technologies A/S
You want to give your store a modern touch? How about digital price tags? They consume very little energy, only when the display needs to change the graphics. This means they can run on a battery for several years. Colourful, black and white, small or large - thanks to electrophoretic display technology (EPD), the electronic labels can show information about the product and country of manufacture on their display. Whether in the refrigerator or a warm corner - the digital price tags are stable at temperatures from -25°C to +30°C.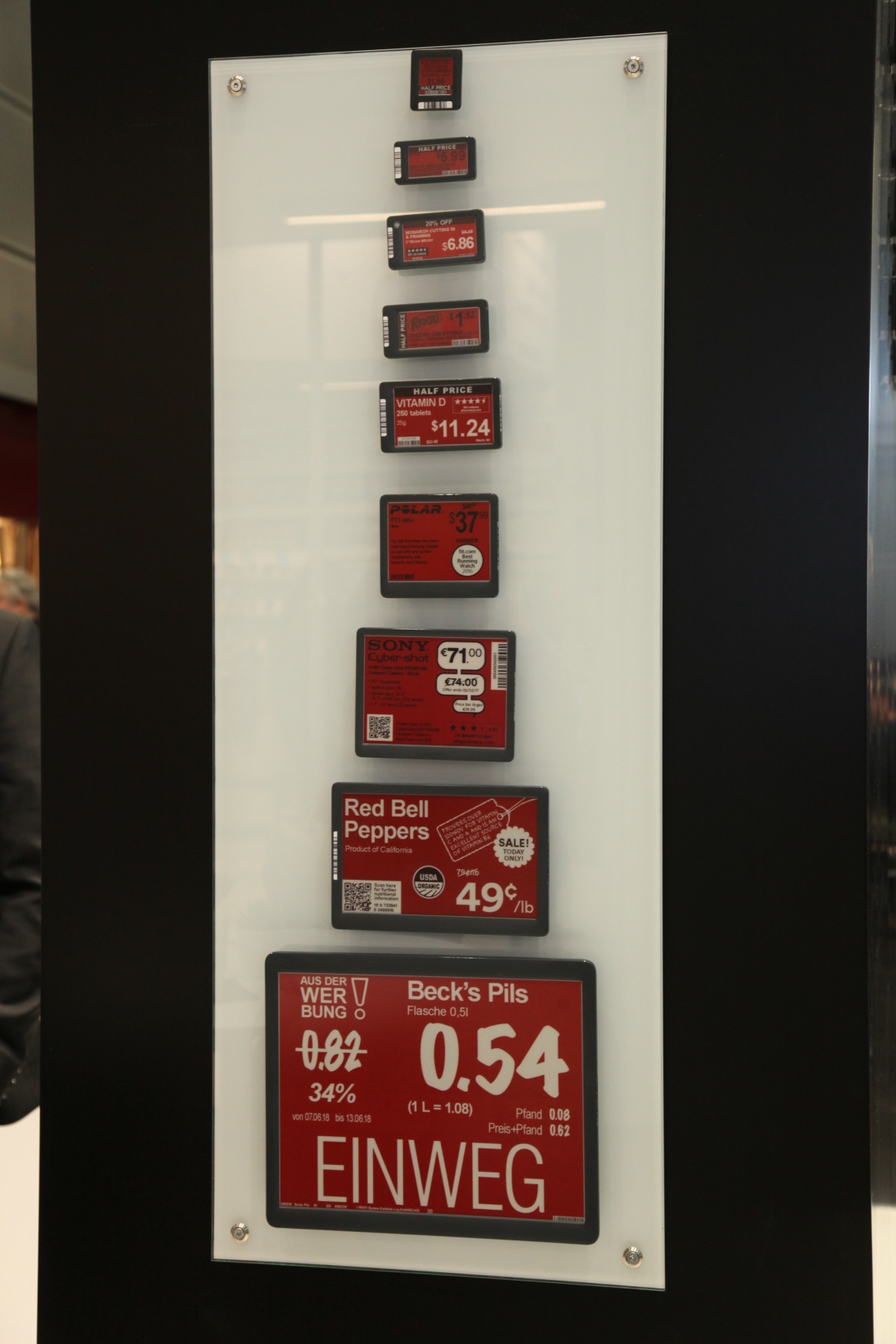 Source: beta-web/Klein
Trend setting: Shelves by HARRES Metall-design GmbH
It is not only wall shelves that are decisive for the interior design of a store. The floor can also be used to present products in the best possible way. Rounded wire shelves, which create a relaxed atmosphere, can highlight products from the range. The basic shelves from HARRES Metall-design GmbH also offer a choice of four axial dimensions and six standard depths. Made of steel, wood or glass, they can be assembled individually. If you want to encourage customers to buy with Store Design, the shelves of the top furnishing brand HARRES Metall-design GmbH made in Germany are a good choice!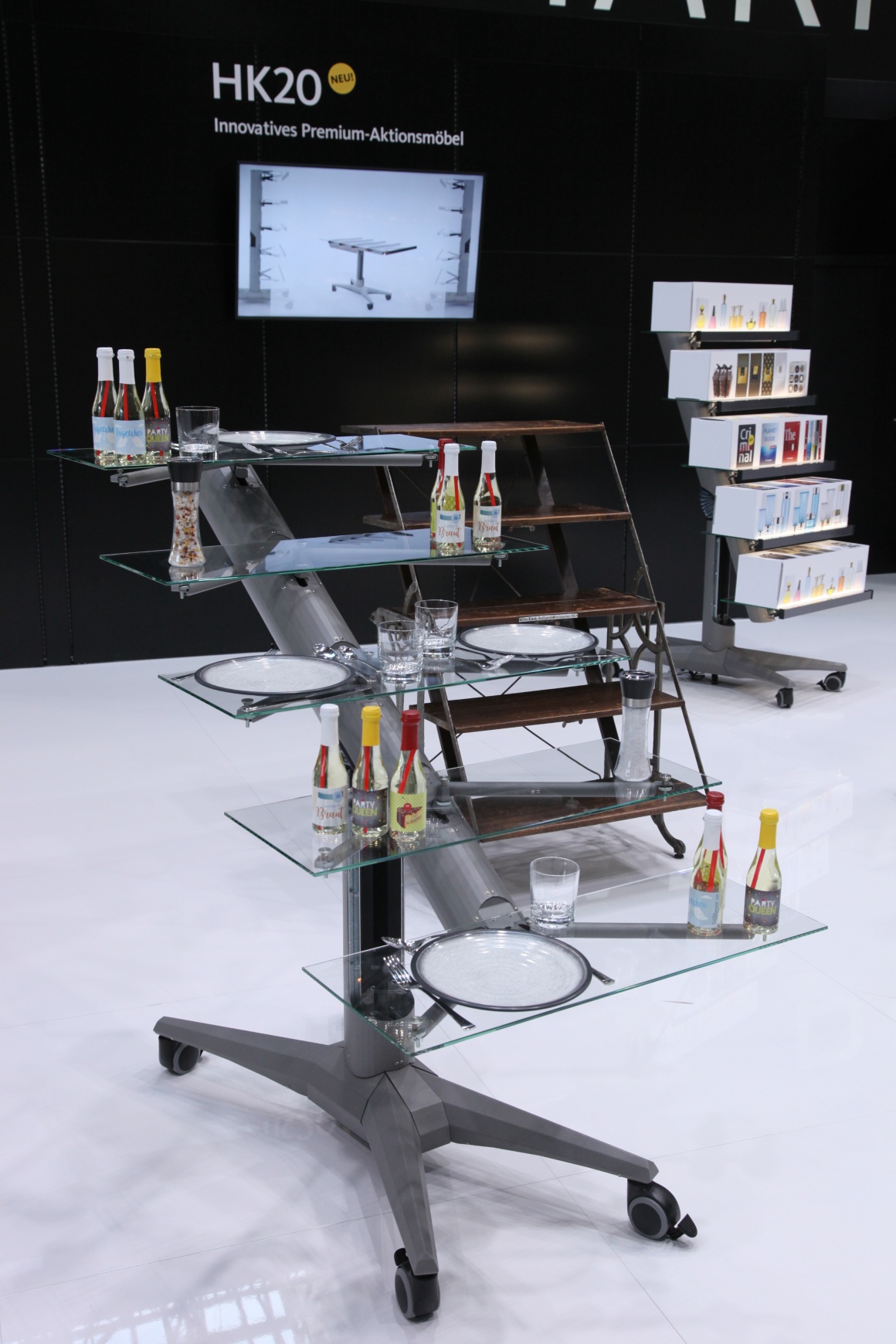 Source: beta-web/Klein
Flexible, aesthetic, unique - magnetic & wireless shelves by MagnWall GmbH
Moving shelves flexibly, without any screws - not only in the shoe shop such shelves can make sales processes much faster and easier. The magnetic and wireless versions are operated via an electrical surface. Adapted to the conditions of the store, they are part of an easy and pleasant shopping experience.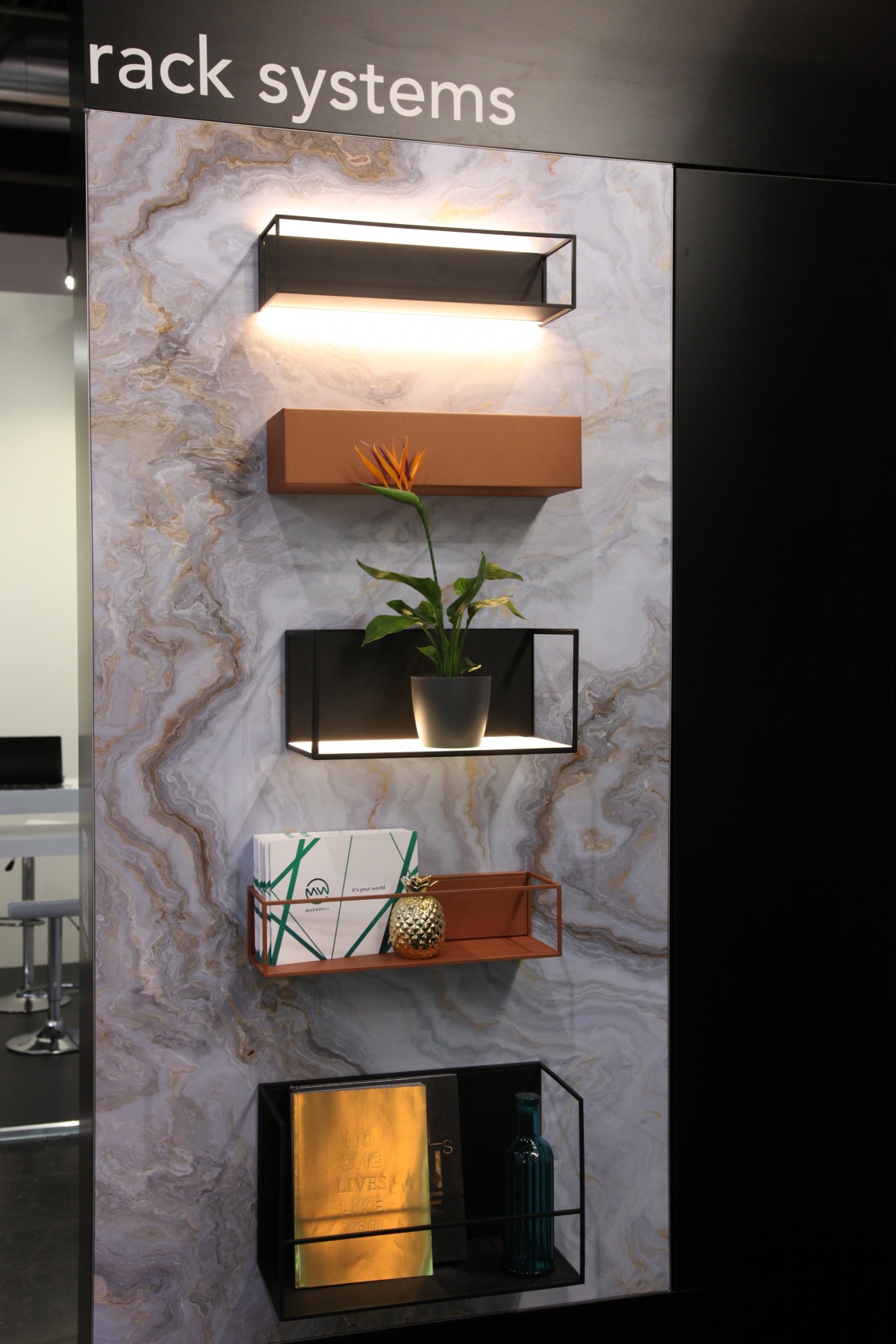 Source: beta-web/Klein
Virtual shopping experience: Infinity Shopping Shelf by Online Software AG
Innovative shopping anytime, anywhere - the Infinity Shopping Shelf from Online Software AG enables customers to immerse themselves in a new shopping world. Products are presented virtually on a screen. Customers can decide for themselves whether they want to call up further information on the product with a single click. Customer ratings, payment functions and coupon printing are also possible. Infinity Shopping Shelf not only increases interaction with the customer, but also offers a limitless sales area.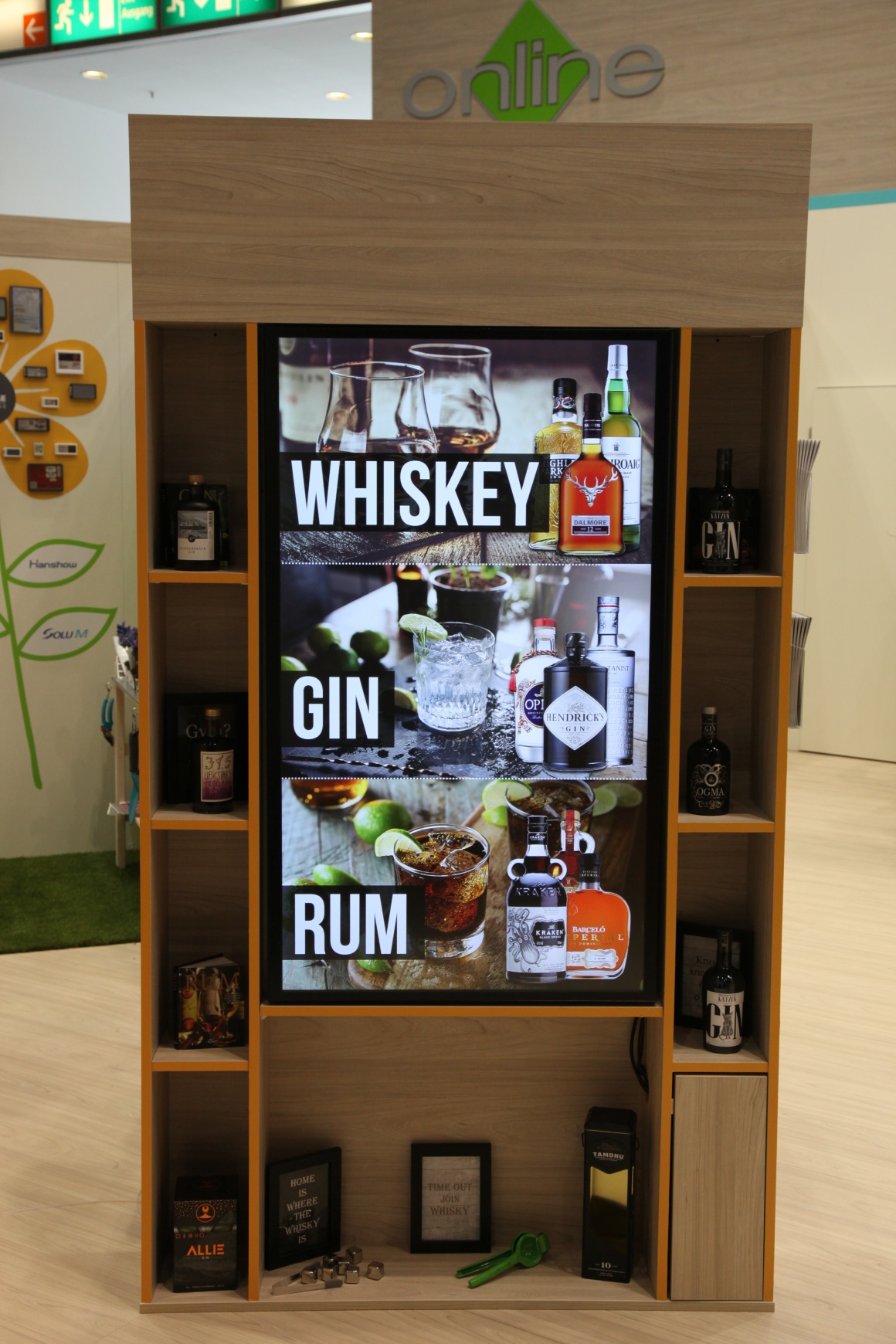 Source: beta-web/Klein
Enjoy intelligent and warm: SCARLET warming shelf by Fogal Refrigeration srl
On the way - during a shopping tour or on a stressful, long day doing the to-do's - at some point hunger comes. A food-to-go market is just right then. Mostly only cold dishes are on offer. Thanks to the SCARLET warming shelf by Fogal Refrigeration srl, based on quartz halogen lamps, it is now possible to buy and enjoy hot food such as croissants, soups or pizzas. SCARLET has a luminous top that can be written on, is available in different sizes and can be moved around the room on castors.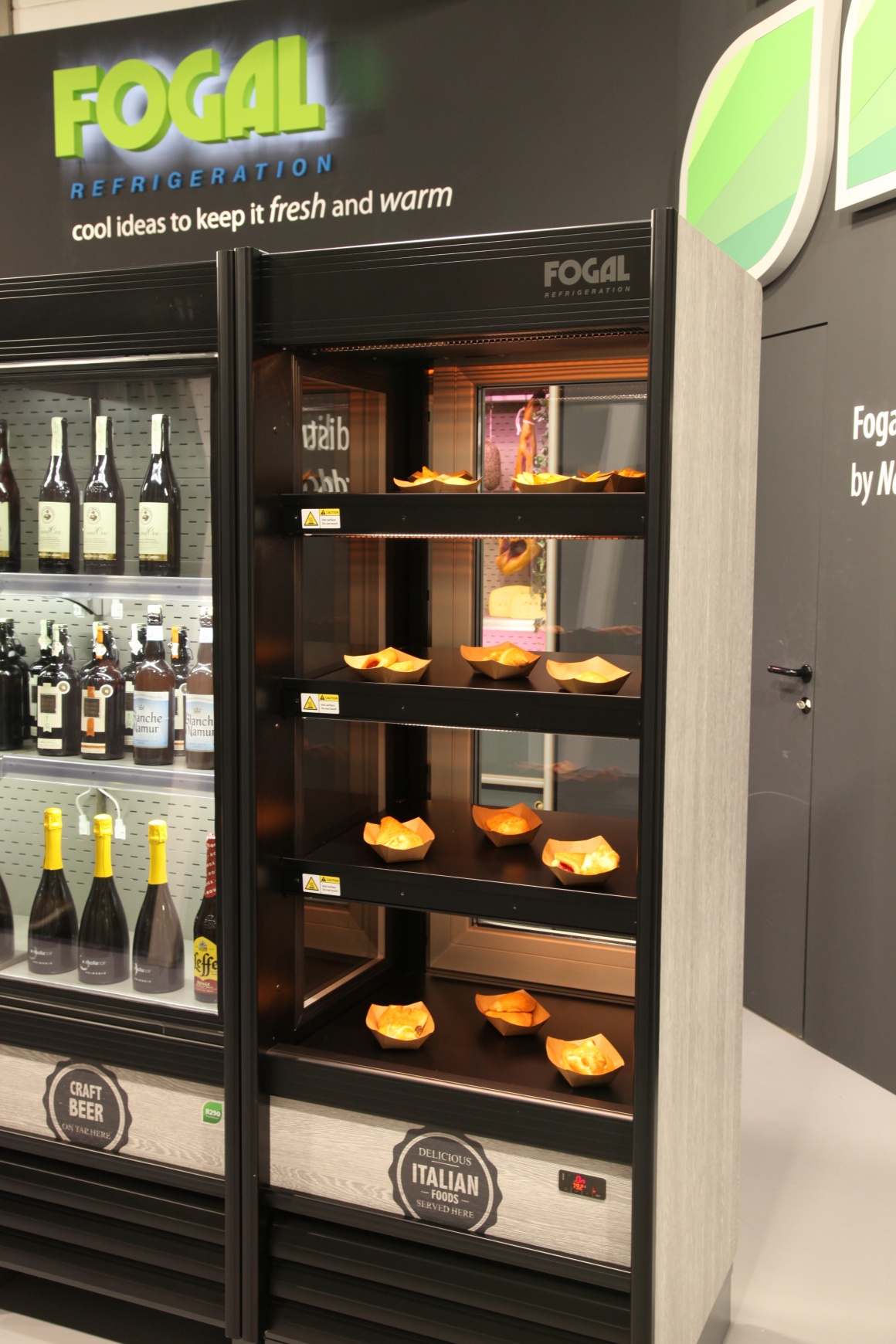 Source: beta-web/Klein
Right on target on the way: biometric recognition systems for targeted marketing by Shuttle Computer Handels GmbH
Ultra-flat, digital and divisible into segments - the biometric recognition system for targeted marketing from Shuttle Computer Handels GmbH is of interest to every retailer who wants to improve their shelf advertising. All advertising content that the digital signage display is to present can be transmitted via WLAN, MicroSD card or Ethernet. Thanks to a camera it is possible to adjust all advertising messages to gender and age - for targeted marketing and a successful store!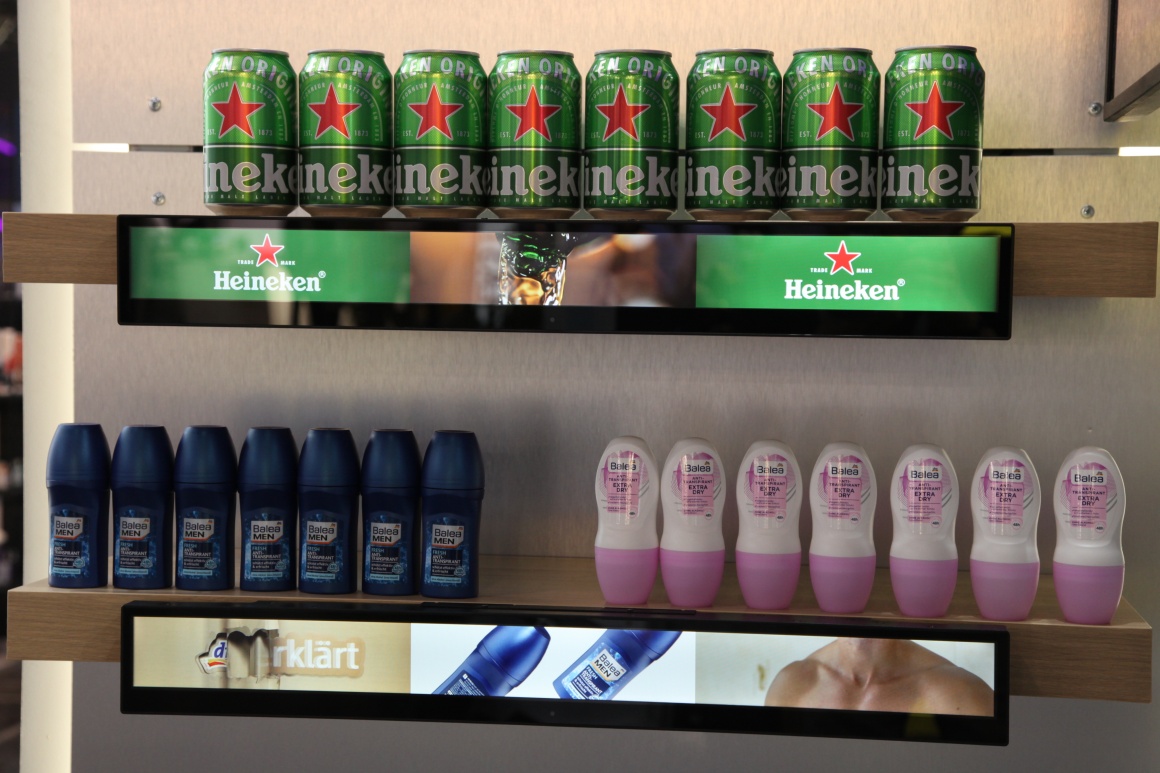 Source: beta-web/Klein