News • 10.11.2017
Joe Browns debuts its first physical location at British Land's Meadowhall
Store improves brand awareness, customer service and trust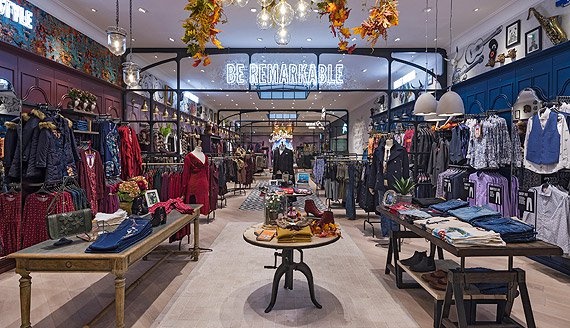 Source: British Land
Joe Browns has opened its first ever store at British Land's Meadowhall, one of the UK's premier shopping destinations.
The 4,000 sq ft store, located on Meadowhall's High Street, immerses customers in Joe Browns' colourful world and brings to life the bold online persona of the brand and its mantra: 'Be Remarkable'. The eclectic space in the store was designed by creative agency Dalziel and Pow and is full of interesting visual pieces and inspiring content such as hand painted illustrative statements.
Commenting on the launch of the debut store, Richard Crowther, Asset Manager for British Land, said: "The opening is an exciting step for Joe Browns, and as its very first physical location, is a testament to Meadowhall's appeal as a leading UK retail and leisure destination. Our True Value of Stores research shows that stores improve brand awareness, customer service and trust and that physical also contributes to online sales that do not directly touch the store."
Simon Brown, Managing Director and Founder of Joe Browns added: "I'm absolutely delighted with the store, I think we've achieved what we set out to do, which was to create an impressive three dimensional version of our catalogue. It crystallises our brand in a physical space perfectly."
Joe Browns' Meadowhall opening coincides with the conclusion of the centre's £60m refurbishment, which will be completed before Christmas. 73 brands including All Saints, Hollister, House of Fraser and Hugo Boss have invested £38 million in redesigning and refitting their stores to reflect the centre's new contemporary feel. Further upgrades are currently underway. 30 new brands have signed at Meadowhall over the last 18 months, with Flannels, Tag Heuer, Nespresso, Neal's Yard and Godiva all adding to the centre's premium offer. In September, Meadowhall also secured a resolution to grant planning consent for a £300 million Leisure Hall extension.