Company News • 25.07.2018
Innovative method offers new potentials for specialized craftsmen and dealers
DryTile revolutionizes the laying of ceramic floor tiles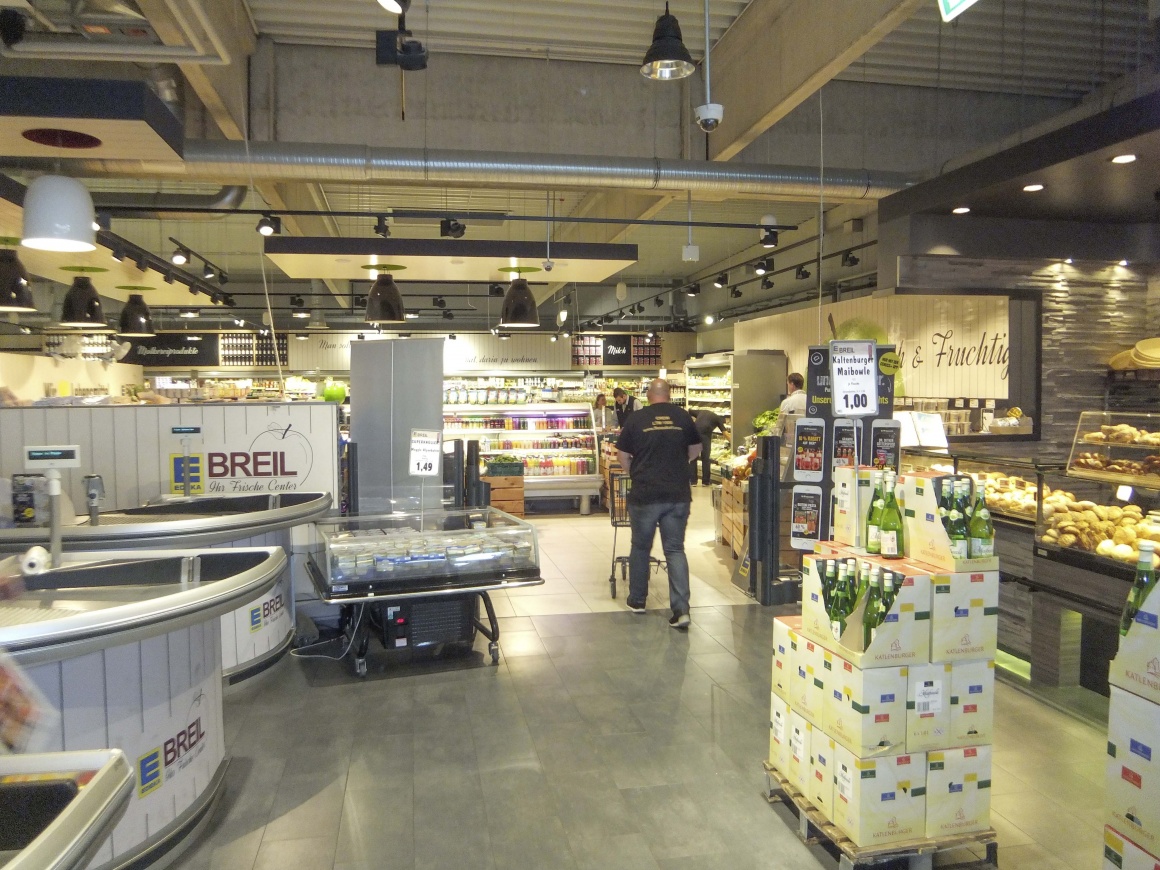 Source: Agrob Buchtal GmbH
Time is a very valuable resource - also and especially in the building industry. That is why one has been thinking about the possibility of combining the excellent properties of ceramic tiles with other advantages such as time saving or simple removal again and again. An innovation of this type is DryTile of AGROB BUCHTAL: as the name already implies, the laying is carried out "dry" without tile adhesive. The system permits an up to 8 times faster laying (basic information: see box on the last page). DryTile is not intended to replace the conventional laying, but to complement it and to open up new areas of application in which ceramic tiles not necessarily have been an option for the decision-makers until now. This offers new potentials for open-minded specialized craftsmen and dealers.
Interesting solution for special cases
The system is predestined for those cases in which rapid completion is essential and where - as e.g. in the retail trade - the loss of earnings has to be avoided. However, DryTile also is an ideal solution for other areas which are modernized or reused for a different purpose in relatively short cycles, must have an appropriate slip resistance or withstand loads. Typical examples are shopping centres or store construction, car dealerships, food and non-food trade, catering establishments, the hotel sector, administrative and office buildings, storage areas, corridors and many others more.
Practical example Edeka-Breil, Germany: freshness as basis of success
A current project at which the advantages of this innovation clearly become apparent has been realized recently at Meckenheim/Germany (near Bonn). There, Ralf and Petra Breil, a married couple, are manging the "Edeka-Frische-Markt" (food product market) of the same name since 2013. Consistent with the well-known slogan of the Edeka-Group "We love food", great importance is attached to absolute freshness and an attractive ambience - aspects which are relevant especially in the section for fruit and vegetables.
These high standards are also reflected in the fact that this is the first section through which the customers are walking after entering the market. However, the proprietors were not really happy with the previous floor covering there, which had to be selected quite hectically because of the first opening at that time. The look was light, it's true, but due to the chosen format, it conveyed a rather fragmented and disturbing impression. According to a statement of the proprietor couple, another negative aspect was that the cleaning was relatively time-consuming and it was difficult to keep the floor proper. Thus, one was looking for a suitable alternative which, however, should not disturb daily business or even cause a temporary closing - a difficult undertaking which could be realized with DryTile literally overnight.
New floor without loss of earnings
On a Saturday in the 2nd quarter of 2018, the fruit and vegetable section was cleared out immediately after closing time as of 9.00 p.m. with own personnel, i.e. the products, shelves and mobile cooling devices were removed. At 9.30 p.m., the high qualified company Diekmann-Klein from Springe/Germany commissioned to carry out the laying arrived at Meckenheim and started their professional work at 10.00 p.m. with DryTile tiles of Agrob Buchtal in the representative format of 60x60 cm in an elegant cream-beige (project-specific special production) and with slip resistance R10.
Only a few hours later, at about 7.00 a.m. on the following Sunday, laying and pointing of the approximately 120 square metres large surface inclusive of border cuts and other adaptations were finished. Then, according to the specifications ("can be walked on after approximately 12 hours"), everything was placed in again on Sunday as of about 7.00 p.m., and another 12 hours later ("absolutely load-bearing after 24 hours") on Monday at 7.00 a.m., the market was opened again - without loss of earnings and as usual, except for the effect that the regular customers could hardly believe their eyes in view of the suddenly new floor covering, which visually enhances this important "visiting card" of the market.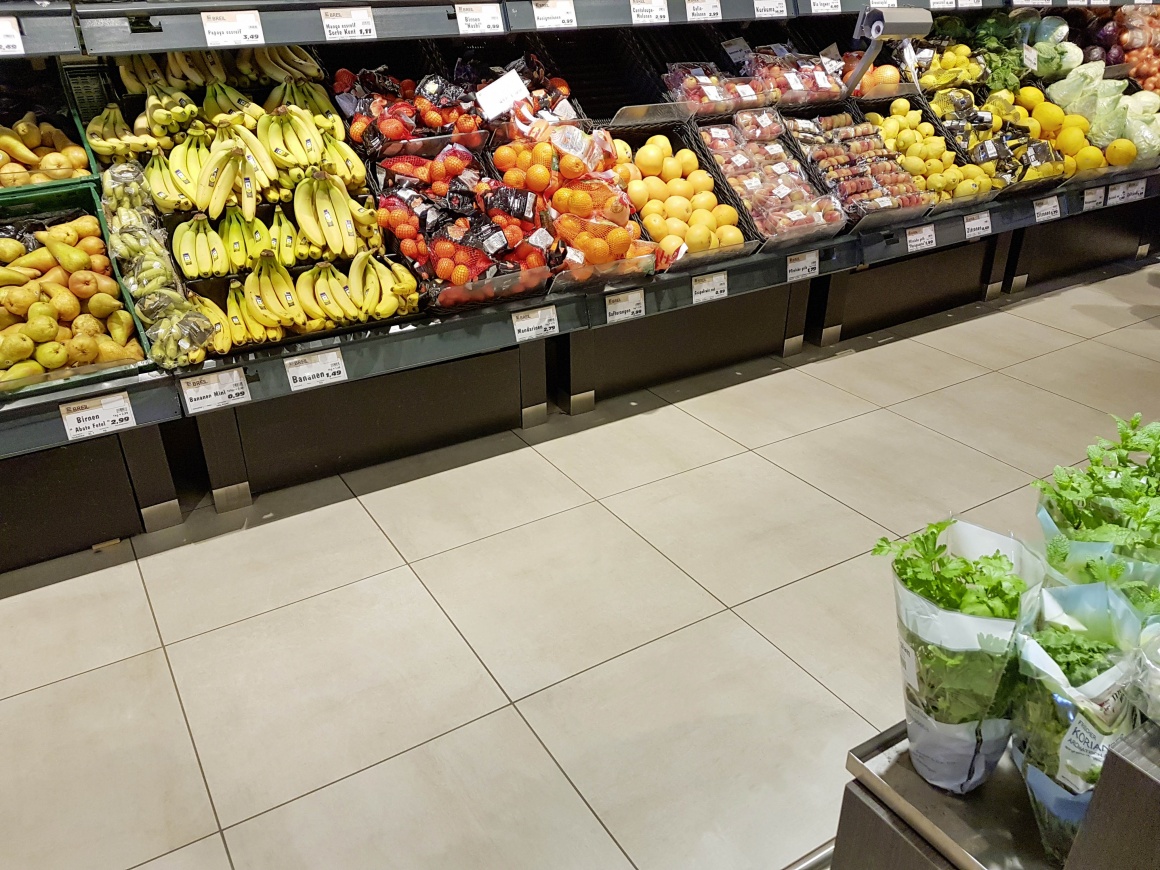 Source: Agrob Buchtal Gmbh
Great care also with regard to details
In the fruit and vegetable section, rolling loads are regularly moved by means of pallet lifting trucks in order to ensure a fresh and extensive range of products around the clock. That is why tiles with "extra thickness" of 15 mm were used. Together with the 2.5 mm thin cork layer durably sintered on back, the result is an overall thickness or total height of 17.5 mm. As the surface flatness of the original floor covering was within the required narrow tolerances, the DryTile tiles could be directly laid on it.
For the bridging of the difference in height of 17.5 mm towards the adjoining dark covering of the market, one chose a method which is as simple as it is ingenious: on the two access sides, a strip of 60 cm was chiselled out for the conventional thin-bed laying of a row of tiles in the same look as DryTile (but without cork layer on back) for providing a slight slope. This small inclined plane is almost imperceptible both visually and when walking or driving on it. On the one hand, a risk of stumbling for the customers or the jolting of shopping trolleys is avoided in this way; on the other hand, the DryTile floor area is safely and neatly bordered.
Impressive result
The result is convincing both the customers and the proprietors, as Petra Breil confirms: "We lost one night of sleeping, it's true, but the whole thing definitely was worth it. We would do the same again without hesitation, because the result has even exceeded our high expectations" - a conclusion which needs no further comment.