News • 21.04.2022
Imaginaire – Everything's possible in this colorful paradise of games
Store design by Perron in Saint-Bruno-de-Montarville, Canada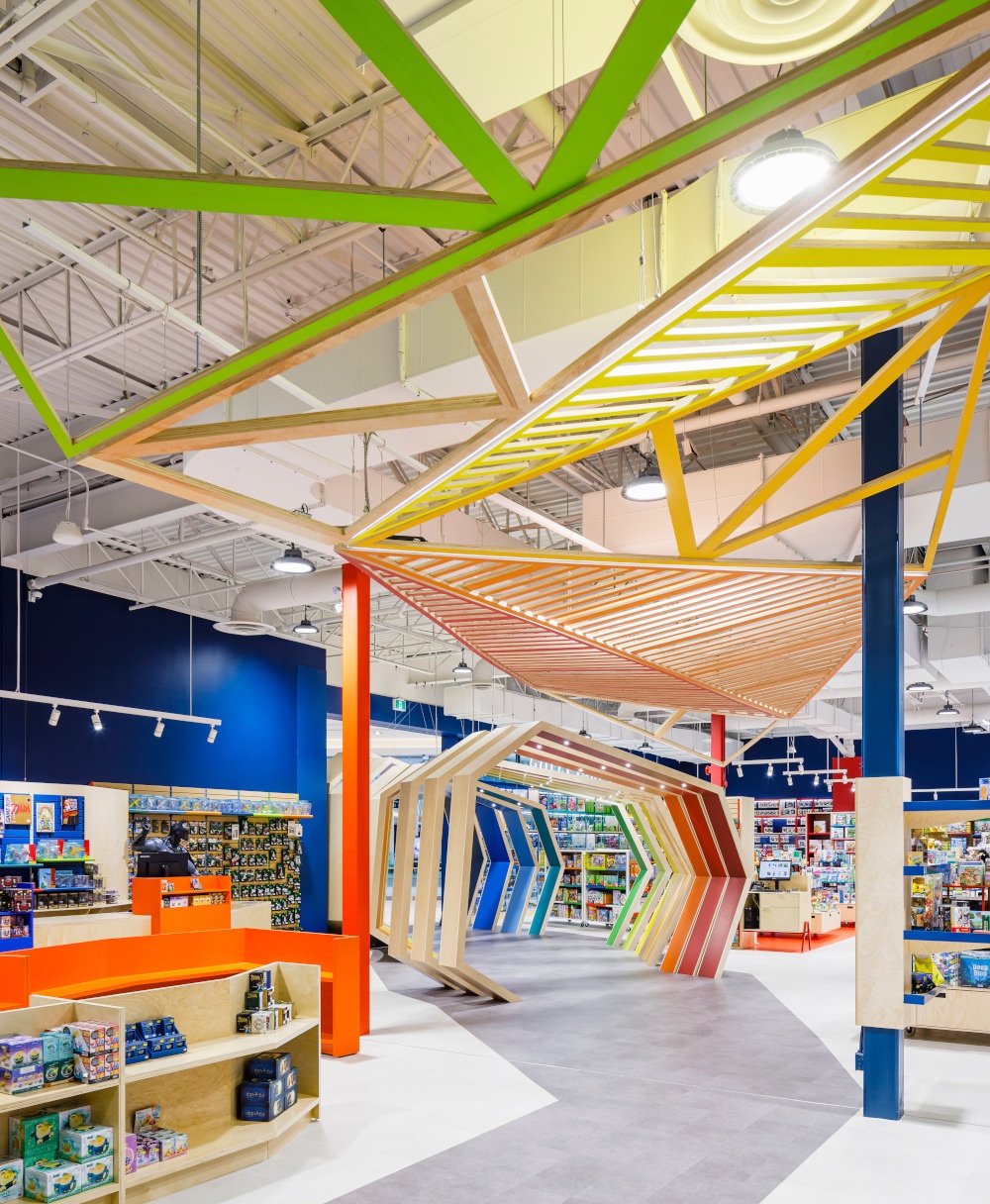 Source: Ulysse Lemerise
The spatial objective of L'Imaginaire of St-Bruno was to create an exhilarating and unique customer journey in the colors of the playful universe of the game store. This first branch in Montreal had to be representative of the effervescence of the metropolis and entertainment through the presentation of products that transcends mere display and becomes an experience in itself. With the owners being enthusiasts and long-time customers, the intention of creating a store in their image and up to the expectations of their customers was a pleasure and a priority for us.
Design intentions
The design intentions of L'Imaginaire are broken down through the different thematic areas, standing out from each other for their theatrical and singular character. Once linked by an intuitive and equally fun route, these different areas are transformed into a journey through the worlds of the game, bringing together mythical characters and settings.
The user first enters the space through a passageway wrapped in colored arches, ultimately opening onto the central aisle, a place conducive to meetings and exchanges and offering a panoramic view of the different sections. The monumental wooden structure constitutes the transition between the real and the fantastic worlds, while acting as a signature of the boutique's design. The innovative addition of a coffee counter at the entrance creates a multisensory experience, while also creating opportunities for sharing between the various enthusiasts.
Then, the circulation and product presentation spaces are delimited by colored regions on the ground and aerial structures, allowing users and employees to navigate freely and instinctively through the departments. At the end of the course, a huge counter inspired by genius bars brings together the greatest connoisseurs, eager to answer all your questions.
Our design mission was therefore to build an experience in itself that would make it possible to remove the shopping center atmosphere and offer enthusiasts a space for meetings and exchanges that seems to escape the real world. Our team also had the opportunity to work on the design of the Quebec branch, which puts forward an equally unique concept, and which is in progress.