Report • 28.09.2016
Giving books their own special space
Bookstores with individual designs highlight books
Shelves upon shelves and book spines next to book spines – that's what German bookstores generally look like. Oftentimes, there is not enough room to showcase individual products. Even cleverly placed book tables or book stands and displays can't change that. That's why we picked two very special stores that draw the attention to individual books by using a very individual concept.
Providing a framework for books
The "stories" bookstore in Hamburg's Hanseviertel stages books in an entirely different way. "Time for Stories" is the store's motto and that literally means every single story. When you enter the store, you first think you accidentally stepped into a gallery. Brown and white floor-to-ceiling shelves with narrow, rectangular cases dominate the store. Every single book is showcased in one of these cases – and in a rather atypical way for a bookstore, with forward-facing book covers. Similar to a picture frame, this offers each book its own little stage.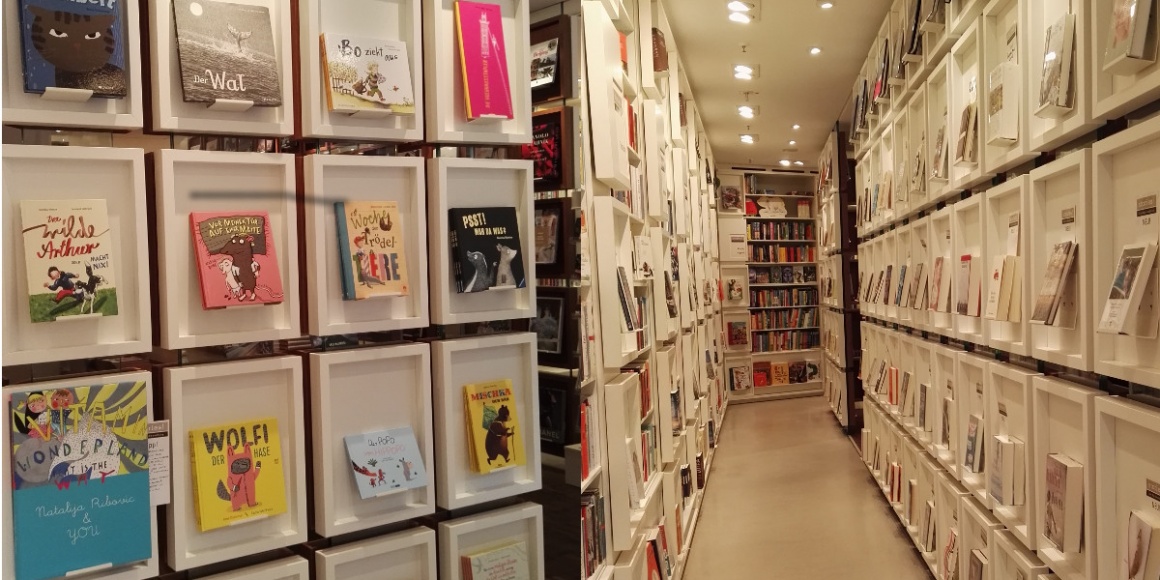 Source: iXtenso/Günther
What makes the store so special: the bookstore carries more than 7,000 titles, of which 1,000 are presented at any one time. The displays change every day so that the store gets a brand-new look in next to no time and keeps offering even regular customers a new story every time. Some shelves are sorted based on the color of the book cover or topics such as "bears" or "soccer" for example. After all, the sight of a monochromatic bookshelf confuses customers for a brief moment. Those who look for a classic layout by genre selection, search in vain. In addition, reviews from newspapers can be found behind some of the books.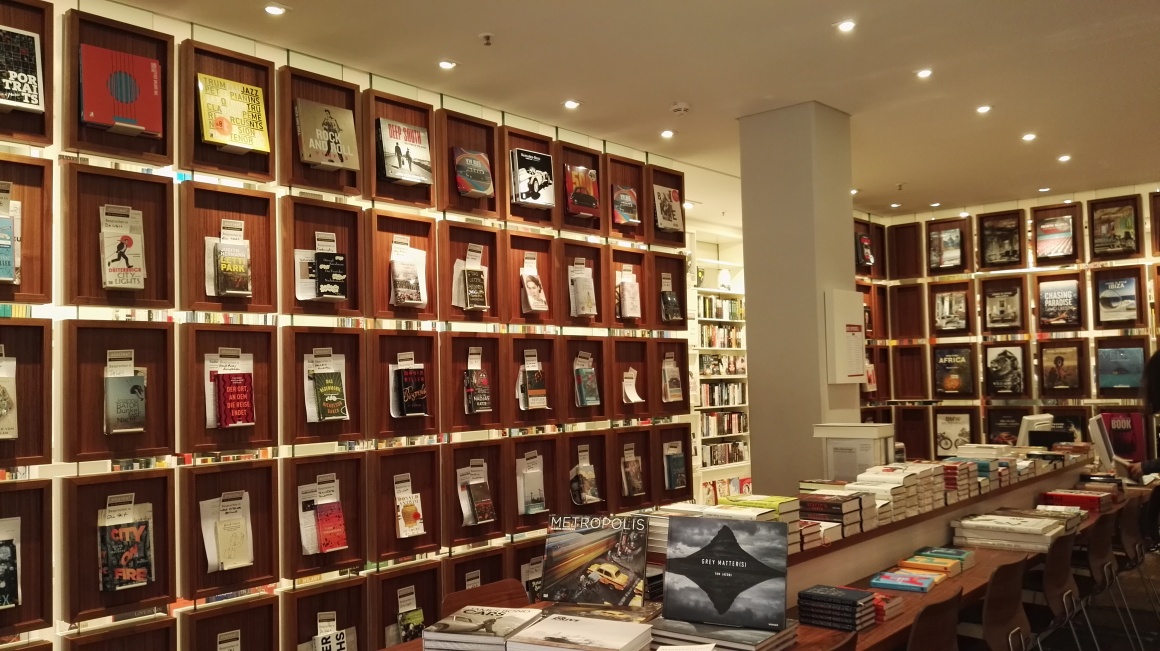 Source: iXtenso/Günther
The reading room is located in the middle of the store. Chairs along a long table invite you to linger and browse. The event titled "Abendbrot" (English: supper) regularly takes place right here. Staff members introduce their favorite books. Snacks and beverages are also provided. During store hours, customers can order a cappuccino in the Café area near the checkout counter and savor the homemade cakes.
The Stories! bookstore turns books into works of art and gives them their very own space. The eyes always gaze at just one single copy, even if that sometimes requires a ladder to reach all the way up to the ceiling.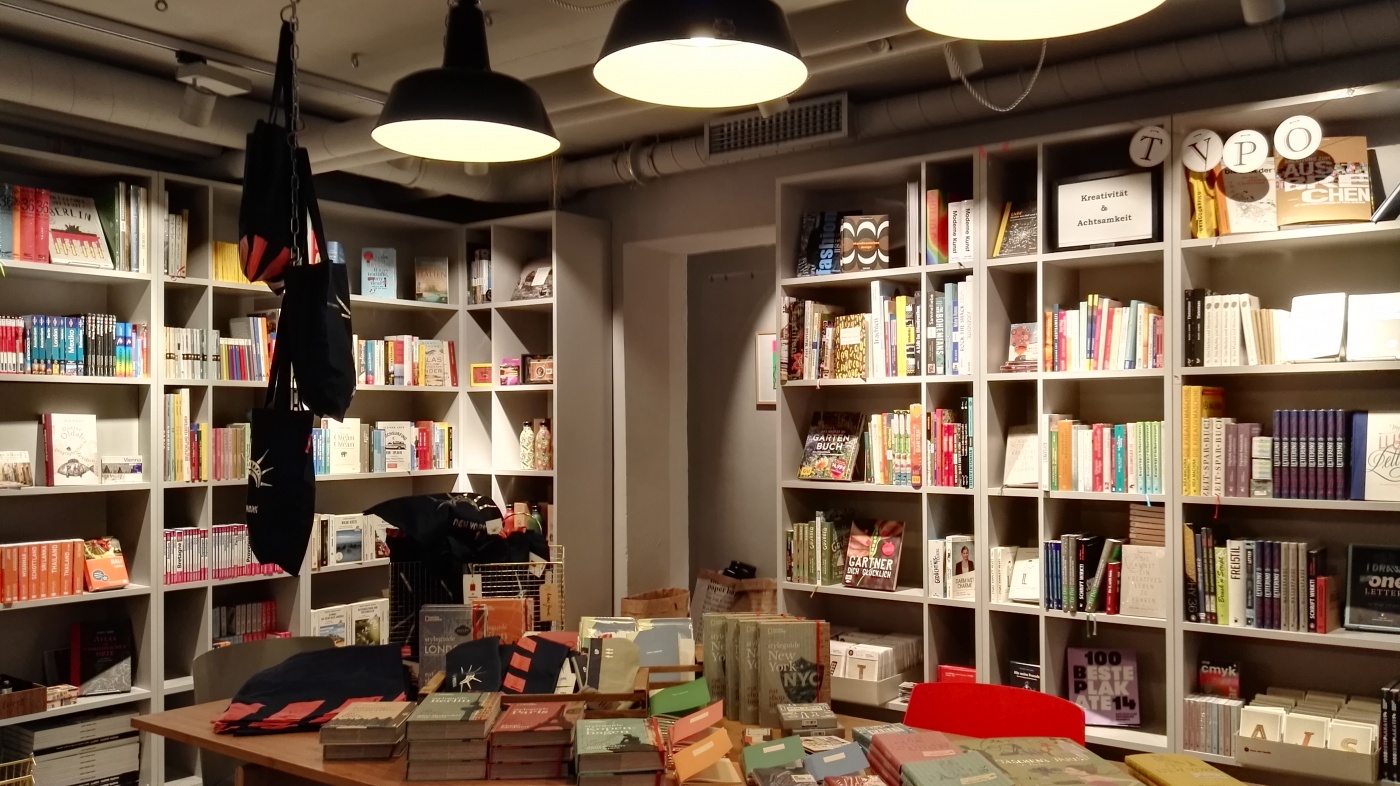 Source: iXtenso/Günther
Being in seventh heaven
The Belgian Quarter in Cologne is young and creative. The Bastei Lübbe publishing company from Cologne used this premise in 2013 and opened a concept store in the Brüsseler Straße. The "Siebter Himmel"(Seventh Heaven) combines books and design into a unique shopping experience. The merchandise is made up of 60 percent books, with the remainder consisting of articles from the fields of decoration, fashion, and games. Seven theme-related sections invite customers to go on an adventurous journey.
The first space is located directly in the entrance area and does double duty as a lounge. The back wall is entirely covered by a bookshelf. It features the personal recommendations by the bookstore associates. They are marked by portrait photos and reviews from daily newspapers.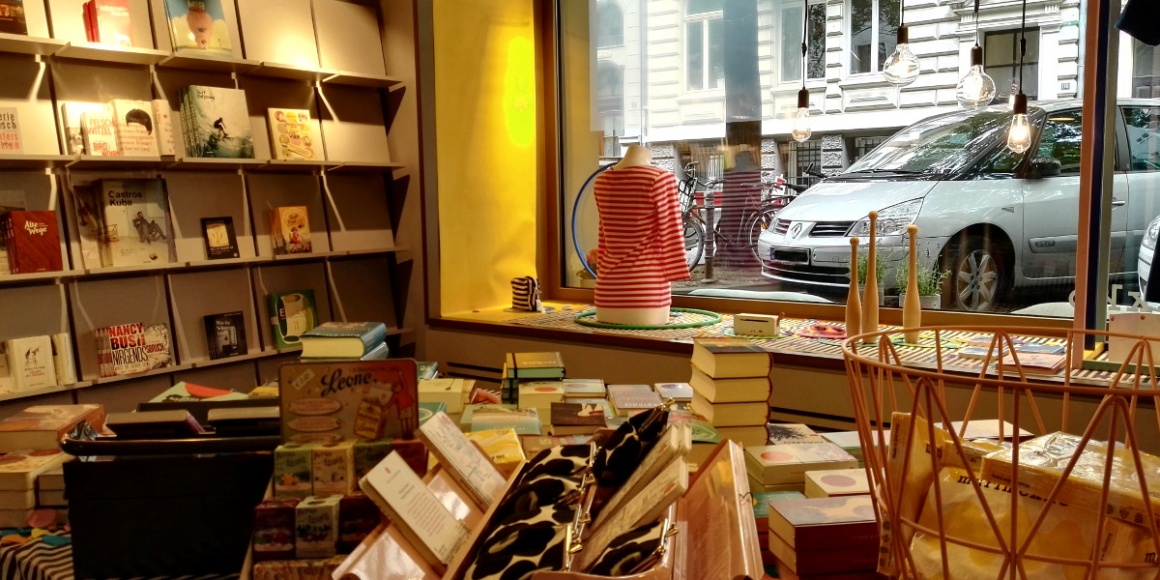 Source: iXtenso/Günther
The store window is also used as a multimedia space. With a projector, book recommendations can be projected onto a small screen attached to the window. Right below, a seating bench inside and outside invites customers to stay a little longer.
The room next door features the "Geschenkewelt" (World of Gifts), including the checkout counter. A friendly kiosk vendor on a photo in the connected "Büdchen" (booth) area smiles while looking out a window. The vendor is surrounded by a large collection of the iconic Bastei Lübbe series of booklets as well as daily newspapers, magazines and candy bars.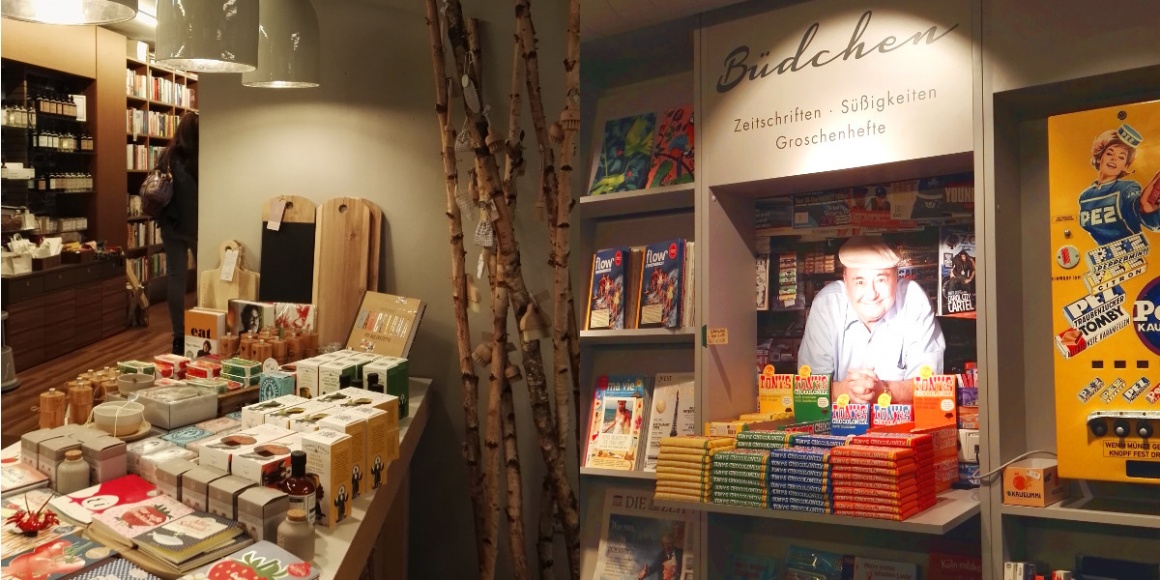 Source: iXtenso/Günther
After a long book table, you reach the crime and mystery section. The respective genre is indicated on the floor. This lets customers choose between "Regional", "Nordic" or "Political Thrillers". Two listening tables are also integrated. Here, visitors can leisurely tune into audiobooks of their choice. The bookshelves are painted in gray, which mirrors the look of the concrete walls, paired with wood tones that add warmth to the room. The "Büdchen" and "Crime and Mystery" sections are each located in self-contained rooms that seem like a room within a room thanks to windows and openings.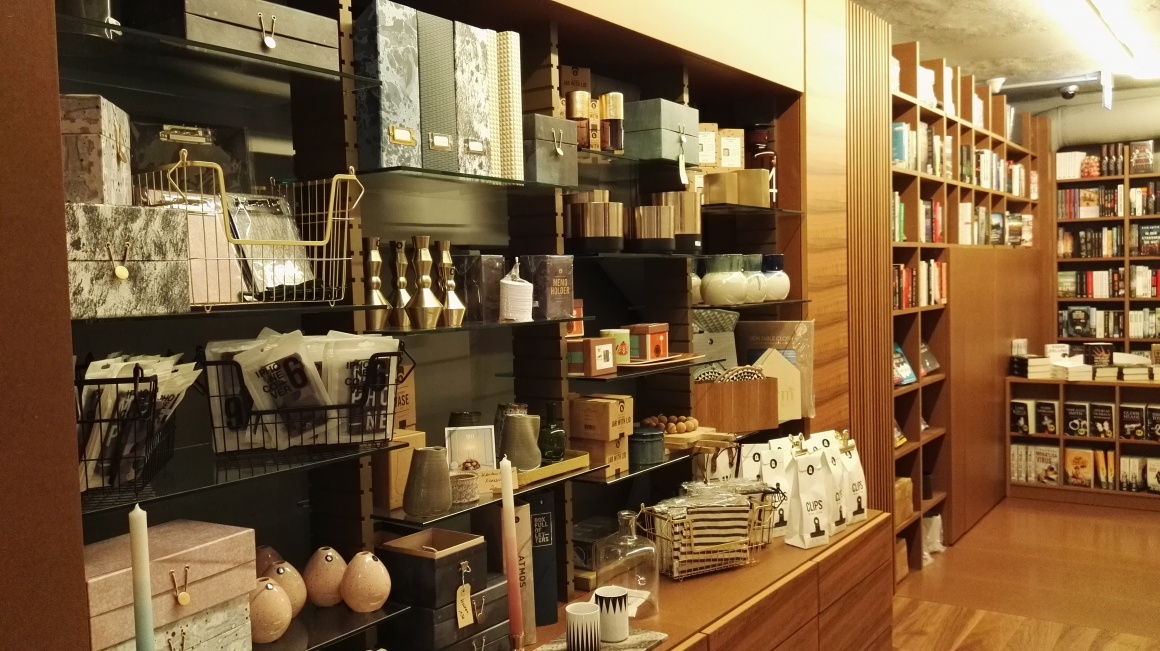 Source: iXtenso/Günther
Bastei Lübbe reserved the last room to feature entertainment, fashion and women's literature. The space includes a couch and a dressing room. A small exhibition space offers regional artists the chance to showcase their art.
The intent of the store is a focus on special, handpicked and unique items. Everything is individually selected and arranged with a lot of knowledge and a love of detail.