News • 25.11.2022
Dimension "Materials & Surfaces" at EuroShop 2023
New Dimension shows the impact design can have in difficult times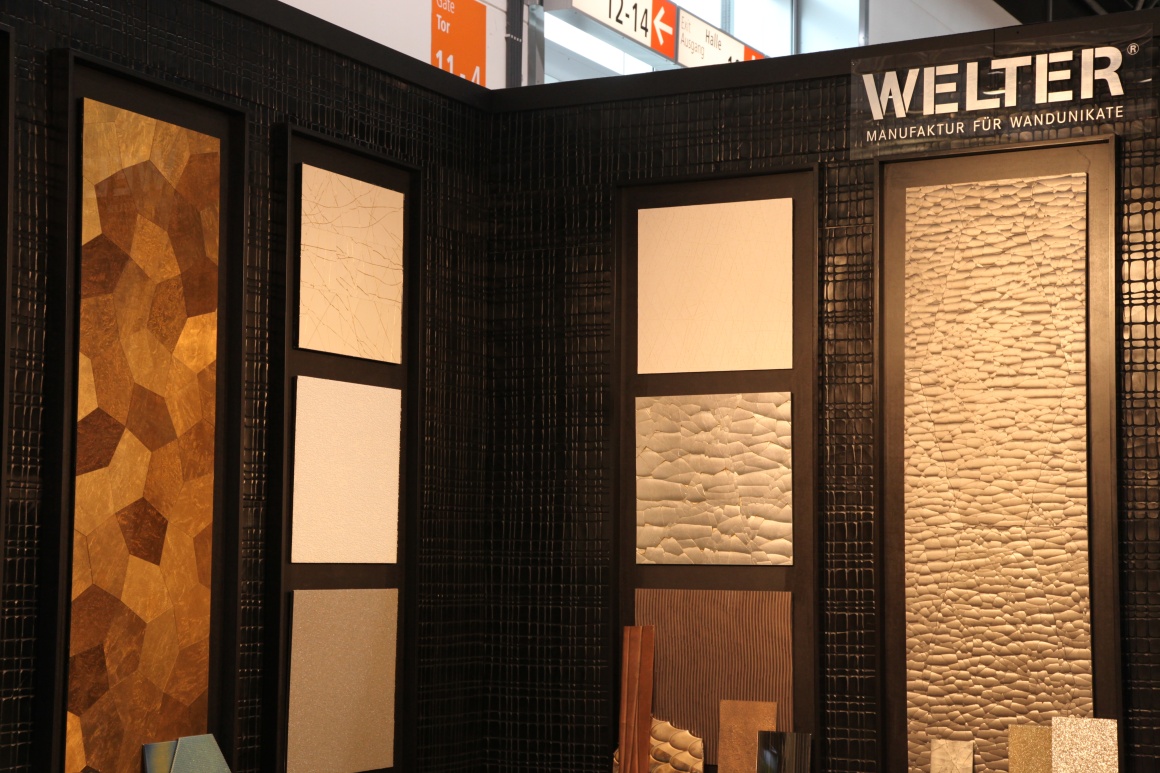 Source: iXtenso/Klein
Aluminium foam, translucent concrete surfaces or sheer gossamer structures that seem to balance the weight of massive boulders – visual "wows" are popular for staging the customer journey.
The Materials & Surfaces Dimension at EuroShop, the World's No. 1 Retail Trade Fair, from 26 February to 2 March 2023 in Düsseldorf, has a lot to offer in this respect. It is the trend exchange and inspiration "repository" for store architects, shop fitters and creative minds.
Changed signs, inner values
The framework for classic shopping trips has shifted, the on-going crisis mode presents physical retail with new tasks – and, hence, also the manufacturers of shop-fitting materials. "Compared to pre-Covid times planners today not only aim to make shoppers while away their time at the store as long as possible but to also distract them from the many everyday worries through a certain lightness and simplicity," says Klaus Monhoff, Head of Decoration and Design Management at Egger Holzwerkstoffe, in his analysis. Lively feelgood scenarios are called for that are characterised by "surprises, personalisation, creativity, experience, innovation, sensuality, convenience," adds Eleonora Zappanico, Marketing Operations Manager at high-tech textiles specialist S.I. Srl. from Italy. All details that touch the senses are given an increasing focus – even a velvety, caressing surface is a tactile welcome gesture increasing the quality of stay at a store.
Functional properties are generally gaining ground – high-performance "allrounders" for smooth processes and workflows are in demand: robustness for a longer lifecycle, easy-to-disinfect and anti-fingerprint surfaces. Decors and materials need to be suitable for versatile applications and great for combining with each other, and all of this flexible, readily available and in the greatest possible variety.
As "inner values" become more relevant, eye-catching looks are moving somewhat into the background in favour of more moderate surfaces. Wood no longer features a highly striking, rustic grain, pure white has been replaced by off-shades and warmer tonalities since Covid. A certain reduction in design is visible everywhere, harmony wins.
The charm of nature
Warm wooden looks, mock concrete, masonry and brickwork cladding on walls, floors and store furniture – near-nature, authentic surfaces continue to fit the picture well. It is striking to note that typical outdoor textures increasingly "migrate" into store interiors thereby eliminating the borders between indoor and outdoor spaces. "Colours and materials taken from nature to enhance the customer journey are a trend that reaches its epitome in biophile design," explains Francesco Maffei of the Italian tile manufacturer Ceramiche Keope. The floor tiling range 'Geo' was based on a "Raw Earth Effect": tiles with a clay effect that translate the optical imperfection of the earth they contain into a very elegant design.
At imi surface design, specialised in surfaces true to the original like concrete, rust, old timber and masonry for various substrates, a beautiful, pale limestone designed as a flexible, sealed surface is new to the range. Using conventional carpentry tools, this can be applied to walls, floors and even furniture to provide them with the effect of the brittle, porous texture of limestone but one which does not crumble or disintegrate and has the strength and durability required for shop fittings.
New timber tones
Wood looks are seeing diversification. So far, the classics walnut and oak have dominated the shopfitting scene but now it is high time for new accents, says David Lahnsteiner from the decor development department at Kaindl, a producer of decor and laminate composite panels and floors: "Softwoods like Abies, Polar Pine and Spruce set new accents in interior design in a beautiful, balanced and elegant manner." For the bestseller oak the light-dark scale is extended. "The Evoke family of oak shades offers almost limitless possibilities for 'Dark & Light'. The nearly black 'Infinity' picks up on the dark, homogeneous wood tones currently trending, while the pale, youthful 'Light' with pronounced colour contrasts is the perfect match for many solid tones," adds Lahnsteiner.
Appearing especially authentic are natural looks on substrates thanks to embossed 3D textures imitating the decor – so-called synchronous embossing or synchronous pore which also stresses the tactile texture of stone and concrete or the characteristic wood grain. Egger Holzwerkstoffe took this approach to the next level and finished the synchronous pore surfaces with a matt varnish and anti-fingerprint coating under the name 'PerfectSense Feelwood' – all of this on a low-emission wood substrate with recyclate content. "A benchmark," is what Klaus Monhoff calls this development and "a look that achieves an unprecedented natural feel."
Design 4.0
Pale wood paired with concrete looks, marble effects with high-gloss varnish, rough quarry stone combined with iridescent acrylic glass or mirror relief – unusual material contrasts that surprise us visually – all hold innovative potential. "The challenge for store architects is to come up with designs that catch the eye without distracting from the product and which have that something special you do not see everywhere," says Julian Theisen, CEO at Sibu Design, Austrian specialists for design panels. Sibu Design focuses on irregular surfaces for their design panels, on 3D and other textures, velvety matt surfaces. "Also in as high demand as before are mirror surfaces in a wide variety of colours, from smooth to coarsely textured. Very often we precisely echo CI colours; from mirror to fabric surfaces. The proportion of printed and embossed logos is also rising," Theisen adds. – Customising, unique details that set themselves apart, are gaining in importance.
Finds from the atelier
High-end store design increasingly looks to (hand) crafted objects from ateliers to stand out from competitors, mainstream and discounters. Here, too, visitors will strike it rich at EuroShop 2023 – at Glashütte Lamberts from Waldsassen, for example. The fascination of mouth-blown tinted flat glass, which was initially used for up-market architecture, at international hotels and for luxury brands, has now also been discovered for the food service scene, bakeries and retail chains. It is used for showcases, glass partition walls and backlit wall claddings, glazed ceilings (glass domes, etc.) and design luminaires, counters, furniture, tables, façades and windows.
Zahna-Fliesen GmbH is one of those atelier operations that produces handcrafted multi-coloured unglazed tiles according to historical models in small batches. Or its Portuguese counterpart Viúva Lamego, which apart from industrial-scale production also keeps the Portuguese tradition of hand-painted tailor-made tiles alive. In cooperation with international artists and architects new fields of application are explored realising, for instance, wall frescos with – modern to retro – tiles for guest rooms.
Also worth mentioning here are the filigree high-tech curtains and textile or chain-link partitions made by i-mesh or Kriskadecor, to name but two manufacturers. Their semi-transparent scenography serves as a segmentation and design element in store concepts of such high-calibre brands as Dior, Natuzzi and the Dutch luxury department stores De Bijenkorf.
Flexible, digital and cross-media
Flexibility has also become the buzzword for material suppliers. Digitalisation and technology applications demand more flexible, changeable furnishing concepts and a stronger event character from retailers; store interiors are often designed as dynamic, multi-functional environments fit for versatile purposes. This is why solutions are called for that enable quick changes. Sibu Design offers magnetic decorative plates that are perfectly suited for changing the decoration at the flick of a wrist thereby creating a fresh atmosphere.
Even photo floors – photorealistically printable vinyl flooring by visuals united – are no longer just used as "customer stoppers" and temporary promotion surfaces at the POS, reports Silke Hüsgen of visuals united AG. "Brave clients use a creative design on the floor in combination with augmented-reality content to fuse the analogue world at the POS with the digital one," says Silke Hüsgen of visuals united AG, and adds: "The past few years have turned the world upside down. Not only the pandemic but also the effects of the war in Ukraine require new and/or alternative manufacturing, communication and distribution approaches. This situation demands forward-looking solutions for sustainability and a cross-media POS from retailers."
Recycling design on a green path
All manufacturers of tile, timber and composite materials, decorative panels and custom products for shop fitting without exception have this on their radar: currently the biggest challenge is to initiate resource-conserving processes and sustainable products and – in the medium term – transition to closed-loop material and production cycles thereby developing viable future perspectives for shop fitting; after all, store design feeds on change and modification and is not an ideal fit for sustainability and the circular economy – you might think. "We would like to see this from a completely different perspective because – from a sustainability viewpoint – coated chipboard deserves an environmental Nobel prize," remarks Klaus Monhoff of Egger Holzwerkstoffe, and goes on to say: "Starting with the production that already involves a high percentage of recycled wood, chipboards can be recycled again 100% after the end of their lifecycle and therefore remain completely in their own closed-loop environmental cycle."
A series of marketable win-win solutions that reconcile the requirements for environmental compatibility with store architects' quality demands will be presented by Bencore. This Italian producer of composite panels is a member of the Green Building Council Italia, the local association for sustainable building. Their solutions include 'Wasbottle', a plastic made from recycled plastic flakes developed jointly with Autogrill with a view to re-using the waste produced by this travel-food company. Melting and compacting these multi-coloured flakes creates very special recycling aesthetics with a cheerful, motley terrazzo-type feel. Bencore comments: "We are firmly convinced that the production of recycled and recyclable products is a must for brands and suppliers."
A wide variety of innovative materials be it for floors, walls, ceilings or furniture can be found at EuroShop 2023 in the Dimension Material & Surfaces in Hall 13. The trade fair is open to trade visitors from Sunday, 26 February to Thursday, 2 March 2023, daily from 10.00 am to 6.00 pm.