Catering news • 15.12.2014
Donation handover to McDonald's Kinderhilfe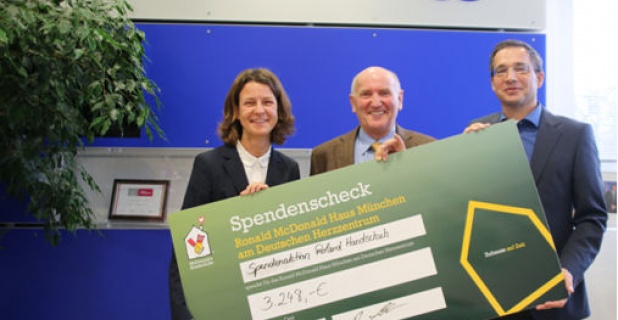 The donation campaign for the McDonald's Kinderhilfe initiated by Roland Handschuh on the occasion of his farewell led to an amazing result. Tanja Forderer-Barlag, Director of the Ronald McDonald House in Munich at the German Heart Institute came to Fürstenfeldbruck on Monday 1 December to receive the donation cheque from Robert Gerle and Roland Handschuh.
Donation campaign instead of farewell gift
Mr Handschuh had asked many friends and companions to donate for the Ronald-McDonald's Organisation instead of making personal gifts. After the campaign was terminated, Ms Forderer-Barlag informed us about the total donation amount: We collected a total of 1624 Euro. And as Güntner as a long-term supporter of the McDonald's Kinderhilfe promised to double the amount of the collected donation, Ms Forderer-Barlag received a donation cheque of 3,248 Euro.
"Temporary home" for parents of sick children
The foundation who runs 20 Ronald McDonald houses in the country near children's hospitals as temporary home for families with seriously ill children can now finance an appartment in the Ronald McDonald House in Munich for one and a half years thanks to this sum. For this period, the Appartement 22 – one of the 24 appartements in the Munich-based house of the foundation – is marked with the corresponding donator name "Spendenaktion Roland Handschuh/Güntner".

Source: Güntner
Supplier
Hans-Güntner-Str. 2 - 6
82256 Fürstenfeldbruck
Germany