Company News • 12.08.2016
Benefit Cosmetics opens its first boutique in Germany
Benefit Cosmetics, a Californian subsidiary of the luxury goods conglomerate LVMH, opened its first store in Germany on 27th July
Schwitzke Project supported its client's market entry as a general contractor and implemented the refurbishment works in the 85 square meter boutique, which is located in a landmarked building in Essen-Rüttenscheid.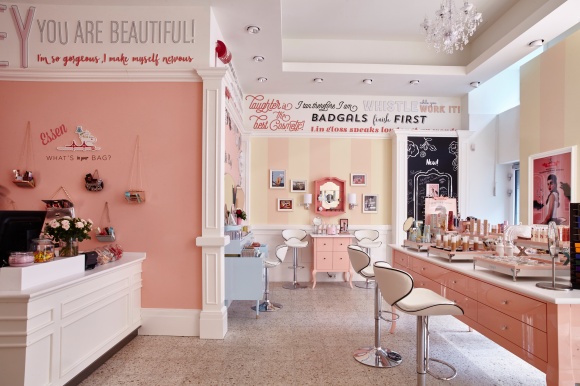 Source: Schwitzke Project
The trendy American brand Benefit Cosmetics is one of the current it-labels in the cosmetics sector. Women everywhere love the innovative products and swear by their effectiveness. The popular brand's unique selling point is its one-of-a-kind retro packaging in connection with creative and humorous product names. Correspondingly, the store design is colorful and features many lovely details: Powdery pastel colors, dollhouse-like furniture, playful lettering and white high-gloss wall panels create an ambience that fits the label perfectly. Schwitzke Project implemented the refurbishment and fit-out works in the boutique with much attention to detail. Benefit Cosmetics is already planning its further expansion in Germany – the next store will open in Düsseldorf.