Company News • 03.07.2012
T-Cuento wins the Silver in the POPAI AWARDS for Technology and Innovation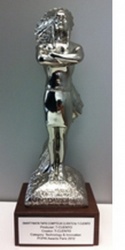 T-Cuento wins the POPAI Silver award in the category of Technology and Innovation for its intelligent people counting mat, SmartyMat® and collected the award at a gala reception celebrated on the 14th June in Paris.
The annual POPAI Awards are organized by the Global Association for Marketing at Retail, POPAI France, and took place this year during the Marketing at Retail Trade Show, which was held in Paris from the 27th to the 29th of March. Over 300 innovative products entered the competition.
At the close of the Show, the nominations were announced, and T-Cuento was one of companies to be nominated. The winners were announced at a gala reception on the 14th June in Paris, where T-Cuento was awarded the Silver POPAI Award for Technology and Innovation. The Gold was awarded to CPI Global for its automatic sales desk with RFID designed for Nespresso and the Bronze went to Gesa Form + Funktion Displaybau GMBH for its PLV Helix Solar made for Estée Lauder.
Since its foundation, T-Cuento has strived to create innovative tools related to their area of expertise, the measurement of pedestrian traffic in and out of stores.
In keeping with this, Abantia T-Cuento Engineering has just launched a new tool, TC-Street, an ecommerce portal which collects data on the flow of pedestrians in the shopping streets of over 70 Spanish cities and which entailed an investment of €400,000.
Supplier

20 rue des Petites Ecuries
75010 Paris
France