refive GmbH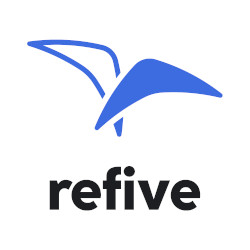 refive GmbH
Angermünder Straße 12
10119 Berlin
Germany

Phone: + 49 160 998 14 123

E-Mail: mitul.jain@refive.io
Internet: www.refive.io/de/
Founding Year: 2020
Number of Employees: 11-50

refive empowers retailers to easily collect in-store customer data, to increase engagement and to boost customer retention via smart digital receipts.
Retail Operations, Marketing and E-commerce teams use refive as a platform to capture customer data, collect real-time feedback, deliver personalized offers, run a loyalty program and connect offline purchase data to customer profiles.
refive integrates with existing POS systems to issue sustainable digital receipts, which are legally compliant with local and international regulations. It also integrates with CRM and other marketing tools to make customer data easily accessible where it's needed.
In order to receive their receipts, customers only need a smartphone - no email address, no additional hardware, no app download is required.