KRONOS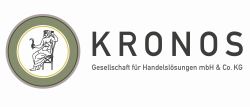 KRONOS
Gesellschaft für Handelslösungen mbH & Co. KG
Bellevue 48
22301 Hamburg
Germany

Phone: +49 (0)40 - 270 27 - 11

E-Mail: info@kronos-retail.com
Internet: www.kronos-retail.com/de/
KRONOS is one of the innovation leaders for visitor analysis, security solutions and digital price labeling.
The company was founded back in 1986, initially as a sole proprietorship, and since then has specialized in digital solutions in the fields of security systems, people counting and Electronioc Shelf Labeling (ESL), particularly in German-speaking countries.
KRONOS stands for customer-oriented, unbureaucratic services on equal terms and individually tailored concepts instead of standard solutions.