PCE Instruments UK Ltd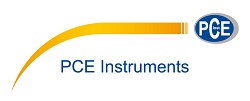 PCE Instruments UK Ltd
Unit 11 Southpoint Business Park Ensign Way
SO31 4RF Southampton Hampshire
UK

Phone: +44 (0) 2380 98703 0
Fax: +44 (0) 2380 98703 9
E-Mail: info@pce-instruments.co.uk
Internet: www.pce-instruments.com/english/pce-instruments-uk-test-instruments-anbieter_2.htm
Founding Year: 2011
Number of Employees: 1-10

PCE Instruments is a worldwide operating company with locations in Asia, Europe and America. A large variety of measuring instruments from PCE Instruments can be used for various measurements, such as electrical, mechanical, chemical or physical parameters in wholesale and retail trade.

Measuring instruments for people detection, especially in times of Corona, help to implement guidelines quickly and accurately. If the permitted number of persons is exceeded, it is possible to react immediately. With distance measuring devices, the passage between the shelves can be optimally adjusted without putting the customers in distress. The use of HVAC measurement instruments also helps to meet the prescribed guidelines with regard to the climatic conditions in the sales area and in the warehouse.

At all PCE Instruments offers all test instruments, which are necessary for transport, monitoring, incoming goods inspection, storage up to the presentation of the goods in the service counters, fresh food counters, etc.