PMS Perfect Media Solutions GmbH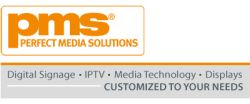 PMS Perfect Media Solutions GmbH
Hoheluftchaussee 108
20253 Hamburg
Germany

Phone: +49 (0)40 80 80 39 63 - 0
Fax: +49 (0)40 80 80 39 63 - 9
E-Mail: info@perfect-media-solutions.de
Internet: www.perfect-media-solutions.de
Founding Year: 2005
Number of Employees: 11-50

The Hamburg company PMS Perfect Media Solutions provides tailored solutions for Digital Signage, IPTV and media technologies.
PMS' range of services covers projects from start to finish: they consider long-term support and service, care and operation, maintenance, on-site repair and call centres to be just as important as professional advice, planning and implementation. Fairness, transparency and reliance are core values, and are seen as the key to lasting and successful partnerships.
As a manufacturer and independent Full Service Integrator, PMS draws up and implements customer-specific systems in the retail, stadiums and venues and corporate communication sectors.
In recent years PMS has installed more than 30,000 displays ranging from 10" to 140". Our customers include Reemtsma, Shell, Unilever, Axel Springer Verlag, Gruner und Jahr, Spiegel, Mediacom, Lekkerland, Asklepios, Olympiastadion Berlin, UKE Hamburg and the Elbphilharmonie.
PMS Perfect Media Solutions GmbH was founded in 2005 and currently has 34 employees.