PAPACKS Sales GmbH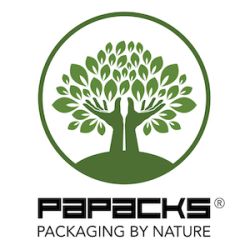 PAPACKS Sales GmbH
Von-Hünefeld-Str. 1
50829 Köln
Germany

Phone: +49 221 30163006
Fax: +49 221 30163007
E-Mail: info@papacks.com
Internet: www.papacks.com
Founding Year: 2013
Number of Employees: 11-50

Packaging waste not only destroys our environment, it costs businesses billions every year - alone for the production of disposable packaging.
PAPACKS ® develops and manufactures innovative packaging and products for a sustainable and ecological cycle of the packaging. These are tailored to the entire production and logistics processes of our customers up to the subsequent presentation at the POS (Point of Sale) and thus reach the consumer directly.
We offer you the opportunity to get us add value to your packaging process and ensure the reduction of packaging waste to the complete cycle of production without waste.
Our innovative, patented packaging concepts generate a saving of packaging material costs and even reduce your long-term handling and production costs throughout the process.
Our products offer real "green marketing" hands. In a time when environmental awareness is increasing daily, this gives you a clear competitive advantage over your competitors and higher sales for your product.