ratiotec GmbH & Co. KG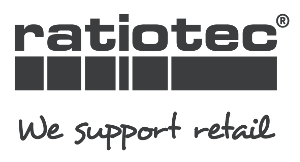 ratiotec GmbH & Co. KG
Max-Keith-Str. 66
45136 Essen
Germany

Phone: +49 201-361490
Fax: +49 201-3614926
E-Mail: info@ratio-tec.de
Internet: www.ratio-tec.de
Ratiotec. We support retail.
In Essen, in the heart of the Ruhr area, ratiotec has dedicated itself since 2003 to developing customized cash-handling solutions. Focused on the distribution of high class banknote detectors, banknote counters and money scales, ratiotec provides software as well as hardware developed by its own engineers and software developers. Also with its unique software for the EURO2 updates the company has established its position in the market. This ensures a trouble free detection of new banknotes in the future.
ratiotec has an exceptional reputation, both national and international. In 2008 a subsidiary in Ovada, Italy, was founded. Among our customers we count with major resellers, such as Printus, Otto Office and Schäfer Shop, as well as leading companies from the retail sector (e.g. Media-Saturn, Rewe, Edeka, Lidl) and the banking business (e.g. Santander, Sparkasse, Deutsche Bank).