Broki Metallwaren GmbH & Co. KG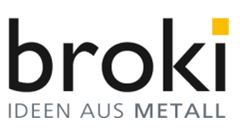 Broki Metallwaren GmbH & Co. KG
Mitglied im dlv – Netzwerk Ladenbau e.V.
Dieselweg 3 – 7
58706 Menden
Germany

Phone: +49 (0) 23 73 / 98 92 – 0
Fax: +49 (0) 23 73 / 98 20 1
E-Mail: Info@broki.de
Internet: www.broki.de
Broki is a family business that has been producing innovative products made of steel, stainless steel and aluminium for over 50 years.
On the one hand, we are a leading supplier of metal elements for individual project business and supply shopfitters, property and hotel fitters, furniture manufacturers and architects.
On the other hand, we undertake the design and production of small and large series for a large number of industrial customers from a wide range of sectors. We offer product solutions from prototype to series production. The production possibilities cover the complete range of metal processing.