Scan Sign Kft.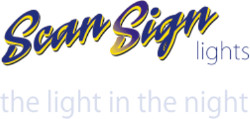 Scan Sign Kft.
Ócsai út 4.
1239 Budapest
Hungary

Phone: +36-1 4 21 30-30
Fax: +36-1 4 21 30-40
E-Mail: info@scansign.eu
Internet: www.scansign.eu
Founding Year: 1989

Scan Sign lights was founded as a producer of illuminated signages under Swedish direction in the Hungarian capital Budapest in 1989. Since 2000 the company has been controlled by the present German management and has achieved a state-of-the-art production standard. Therefore the future of our company does not primarily depend on the favourable factors of production anymore. Innovative in-house developments of high quality make our products competitive all over the world.

In 2010 we have opened a sales office in Nuremberg.

We produce a wide variety of indoor and outdoor advertising signs. At the same time we offer a one-stop solution: planning, consulting, manufacturing and installation of advertising signs. Beside of all important speciality departments, we have the possibility to produce neon signs in our own glassblowing workshop.

One of our strengths is the field of LEDs, which has become our main pillar on the international market through innovative and top-quality in-house developments. Thereby we take it for granted to enhance our products continuously and incorporate the latest technical innovations into them. We attach great importance to provide energy-saving and environmentally friendly signages at a good cost-performance ratio.