PTH GROUP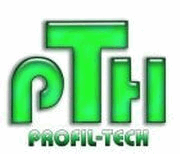 PTH GROUP
Via Ticino 15
21043 Castiglione Olona
Italy

Phone: 0039/0331 859191
Fax: 0039/0331 861878
E-Mail: info@pth-group.com
Internet: www.pth-group.com
Founding Year: 2000
Number of Employees: 11-50

PTH GROUP, is design and manufacturing plastic company specialized in the extrusion of Polycarbonate and Acrylic profiles or diffusers and tubes. To the basis of the company, the highest technology used in mold-making by our subsidiary company, the use of modern and technological advanced extrusion lines, the in-depth know-how in the extrusion sector combined with the competence in the utilization of plastic materials allow to PTH GROUP to satisfy the needs and requirements of its own customers in terms of design, realization and production of thermoplastic profile and tubes used for different application.
Lighting and illumination
Furnishing
Automotive
Building industry
Shopping centre and shop design
Industrial
Doors, Windows, Shutters
Medical
Food contact
PTH GROUP guarantees to its customers a total care in the development of the product to be extruded and in its production through a design office supported by the use of upgraded software in relation to the new market requirements and from the large experience gained by the subsidiary company in the mold production. This allow PTH GROUP to realize and develop particular projects on customer's request.
10 extrusion lines
Construction and carrying out of internal equipments
More than 200 produced profiles
CAD/CAM
Development of projects and technical elaboration of the profiles for the exclusive use of the customer
Advice in the choice of material to extrude
Advising and realization of the profile in short times
Test and trails of the mould
Mono and co-extruded products
Maintenance of equipments such to guarantee the constant quality of the product on time
Quality control
Product news by PTH GROUP