ACD Elektronik GmbH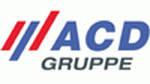 ACD Elektronik GmbH
Engelberg 2
88480 Achstetten
Germany

Phone: +49 7392 708-499
Fax: +49 7392 708-490
E-Mail: info@acd-elektronik.de
Internet: www.acd-gruppe.de
Founding Year: 1976
Number of Employees: 201-500

ACD is an owner-managed group of companies that belongs to the technological leading providers inside electronics.

In the fields of portable devices and applications for retail and logistics, EMS as well as customer-specific developed industrial electronics for medical, producing industries, mechanical and commercial vehicle engineering, ACD is a manufacturer and a system service provider at the same time.

Besides ACD Elektronik GmbH, ACD Group consists of ACD Systemtechnik GmbH, ACD Antriebstechnik GmbH and ACD Czech s.r.o. and is represented at two different locations in Germany and one location in the Czech Republic.

In total, the Group employs approximately 408 people at its two locations and achieved an annual turnover of 67.6 million EUR in 2014.