Brugger & Nielsen A/S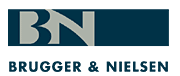 Brugger & Nielsen A/S
Store Kongensgade 36-38
1264 Copenhagen K.
Denmark

Phone: +45 (0)48 4042 12
Fax: +45 (0)48 4042 10
E-Mail: bn@brugger-nielsen.dk
Internet: www.brugger-nielsen.dk
Number of Employees: 11-50

Brugger & Nielsen is an internationally orientated development and consultancy company with expertise in design, shop hunting and architecture. We create unique and functional solutions when conceptualizing, designing, decorating, building and consulting.
We employ highly specialized and qualified people in our five departments: Graphics, Concept, Interior, Architecture and Planning.
Creativity, competence and trustworthiness are keywords in our process from vision to success.