GO IN GMBH

GO IN GMBH
Justus-von-Liebig-Str. 3-5
86899 Landsberg am Lech
Germany

Phone: +49 (0)8191 9194 200
Fax: +49 (0)8191 9194 299
E-Mail: info@goin.de
Internet: www.goin.de
Founding Year: 1972
Number of Employees: 101-150

For more than 30 years, GoIn has supplied gastronomy, interior designers, hotels and the catering industry with chairs, tables and barstools for professional use, both in- and outdoors. Our products are exported worldwide, with particular emphasis on the European market. Our particular strengths are:
Modularity: The broad range of our collections allows for a multitude of opportunities to mix colours, fabrics and designs. chairs, bar stools and table frames can be be combined with a great variety of upholstery and table tops. Our modular system of bar stools and tables, with its seemingly endless choice of components, allows for boundless freedom of layout and design


Prompt delivery ex-works: Because of our huge storage capacity, much of our range can be delivered at short notice. Production of our modular products, upholstering and varnishing takes only a few days. Take advantage of the speed and flexibility of our Landsberg production facility.


Quality: Our entire innovative and newly conceived range of furniture was developed by our internal design department specifically for professional use. The variety of our collections for both in- and outdoor use is based on our many years of experience. Construction, Design and ongoing Quality Control are a substantial part of our core expertise. Physical and mechanical testing, in accordance with official European certification (EN DIN) for furniture, are carried out in close co-operation with leading institutions. Many of our products carry the GS-label (Germany's quality and safety seal), and carry official design protection.


Good value-for-money: By the use of our catalogue, internet and exhibitions as sales vehicles, we are able to work effectively, cost-consciously and with a low administrative overhead. These advantages are reflected in the prices we charge our customers. All prices shown are net, ex-works and apply to orders with a minimum value of €500 (€1.500 for our Lloyd Loom Original range).
Do you want to know more? Then look through our catalogue and immerse yourself in the diversity of our collection. Detailed information on everything from orders to payment, freight costs to delivery can be found on page 298 onwards.
Product news by GO IN GMBH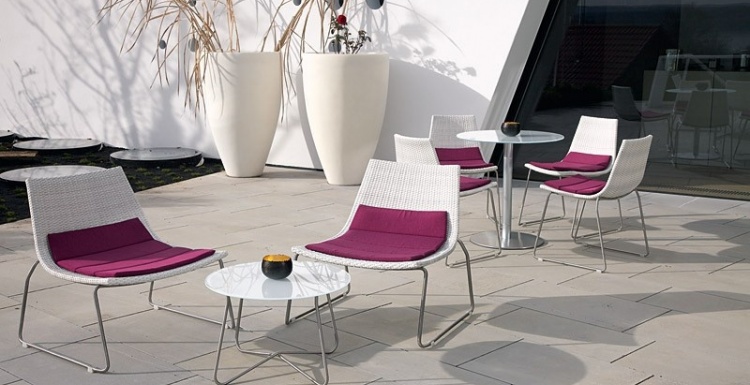 High levels of comfort and attractive materials are standard features of all products in the TERRAZZA collection