marketing-displays GmbH & Co. KG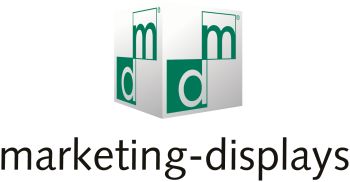 marketing-displays GmbH & Co. KG
Donatusstraße 22
50767 Köln
Germany

Phone: +49 (0)221 - 95 94 02-0
Fax: +49 (0)221 - 95 94 02-8
E-Mail: mdinfo@marketing-displays.de
Internet: www.marketing-displays.de
Founding Year: 1971

Quality products made in Germany
Art, design, production and sales in Cologne since 1971
We have been a successful producer of displays and sales promotion systems for the point of sale in Germany for over 40 years. All design, production, storage and sales take place at our company headquarters in Cologne, with a floor space of over 7,500 m² - everything from a single source. Our sales office in France is pleased to assist you with additional services as well.
Our modern production facilities allow for the quick and efficient manufacture of our standard products and bespoke customer-specific displays. Our company is set up to ship your products globally, quickly and cost-effectively. We arrange express shipping on request or can organise distribution to individual addresses as part of large-scale orders.
In addition to our standard program, we also develop and produce customer-specific, individual products, ranging from the visualization of prototypes to on-site installation. Our in-house prototype shop quickly and efficiently implements individual pieces, e.g. to present a project to a customer.
Thanks to the close cooperation of our design department with the engineers and project managers of our technical development department, our company can quickly bring together all necessary professional expertise to implement new product ideas reliably and cost-effectively. We specialise in the professional implementation of modern digital signage corporate solutions, entire CI-compatible product series, or displays with environmentally friendly LED technology and much more.
We offer a comprehensive standard program of digital signage systems, LED/illuminated displays, TEXFRAME, poster frames and stands, banner displays, brochure racks and information systems. All standard products are consistently in stock and are ready to ship within 24 hours after ordering. We will be pleased to store products for our customers in the context of call orders to allow for immediate product availability and short delivery times.